Crimes of Hao Weifu, Deputy Secretary of the Political and Legal Affairs Committee of the Heilongjiang Provincial Party Committee, in Persecuting Falun Gong
(Minghui.org) Around the 2022 Human Rights Day on December 10, Falun Gong practitioners in 38 countries submitted a new list of perpetrators to their governments, urging that these individuals be sanctioned for persecuting Falun Gong, including barring them from entry and freezing their overseas assets. The countries that were given the list of human rights abusers are the United States, Canada, the United Kingdom, Australia, New Zealand, 22 European Union nations, and 11 additional countries from Asia, Europe, and the Americas. Among the perpetrators listed was Hao Weifu, deputy secretary of the Political and Legal Affairs Committee of the Heilongjiang Provincial Party Committee. 
                                                                           * * *
Perpetrator Information
Full Name of Perpetrator: Hao (surname) Weifu (given name) (Chinese: 郝伟夫)Gender: MaleCountry: ChinaDate/Year of Birth: June 1965Place of Birth: Bin County, Heilongjiang Province, China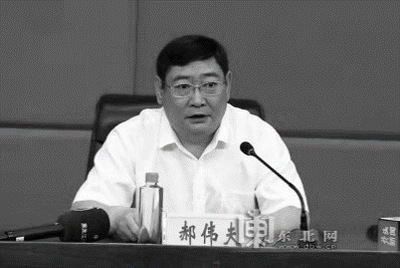 Hao Weifu
Title or Position
December 1990: Joined the Chinese Communist Party (CCP)
November 2011 – January 2012: Party secretary and acting president of Qiqihar Intermediate Court
January 2012 – May 2017: Party secretary and president of Qiqihar Intermediate Court
May 2017 – Present: Deputy secretary of the Political and Legal Affairs Committee (PLAC) of the Heilongjiang Provincial Party Committee
Main Crimes
The PLAC and the 610 Office are the commanding and executive agencies for the CCP's persecution of Falun Gong. During his tenure as deputy secretary of the Heilongjiang Province PLAC since May 2017, Hao Weifu personally directed the persecution, resulting in the arrest, harassment, and sentencing of a large number of Falun Gong practitioners in the province. 
From 2018 to August 2022, as many as 65 practitioners in Heilongjiang Province died due to the persecution, including 24 death cases in 2021 alone. Many more suffered relentless torture and became disabled.
Crimes as Deputy Secretary of the Heilongjiang PLAC Since May 2017
Persecution in 2022
In the first half of 2022 alone, at least 142 Falun Gong practitioners in Heilongjiang Province were arrested, 80 were harassed, 23 were sentenced, and 14 were persecuted to death. This makes Heilongjiang one of the provinces where the persecution of Falun Gong is most severe.
On July 12, 2022, under the command of the Heilongjiang PLAC and the Public Security Bureau, police in Daqing arrested more than 100 practitioners who had been targeted on a list. According to a police officer, the authorities had begun to follow and videotape the practitioners as early as nine months before the operation. The arrest date was not announced until a week prior. The officers did not give out their names, precincts, or their contact information while making the arrests, claiming that such information was a "state secret."
Most of the arrests were made early in the morning between 5 and 7 a.m. when the practitioners were home. Many of their personal belongings were confiscated, particularly Falun Gong books, photos of Falun Gong's founder, laptops, cell phones, and fliers that the practitioners used to raise awareness about the persecution. These items would be used as prosecution evidence for the police to pursue prison sentences against them.
Most of the arrested practitioners are women. Among the over 20 practitioners who are 70 or older, more than 10 are in their 80s and one is 98.
By the end of September 2022, eight practitioners remained detained in the Daqing City Second Detention Center. They are Ms. Du Chunxiang, Ms. Zhang Linying, Ms. Feng Yunjuan, Ms. Feng Lianxia, Ms. Cai Xiuying, Ms. Tang Zengye, Ms. Cheng Qiaoyun, and Ms. Chen Shuhua.
On the afternoon of August 27, 2022, the 610 Office in Suihua City ordered the arrests of at least ten practitioners, including Mr. Zhang Lianqing, his wife Ms. Liu Guiying, and their son Mr. Zhang Fengming.
The authorities had begun to plan the arrests three months prior. Dubbed "Hundred Days of War," the Suihua PLAC and 610 Office ordered the police and residential committee to monitor the practitioners' daily lives. Once a practitioner was found distributing truth-clarification materials, they would set up additional surveillance of him or her in order to discover and target all practitioners who had contact with them.
Persecution in 2021
In 2021, 125 practitioners in Heilongjiang were sentenced to prison, ranking the province as second in the country in terms of severity of persecution. There were 463 arrests and 872 harassment incidents, which both ranked fourth in the country. 
Mr. Li Lizhuang, 48, was arrested by police from the Daqing City Domestic Security Office and the Longnan Police Station on April 8, 2020. He was sentenced to 10 years and 8 months in prison with a fine of 80,000 yuan on November 17, 2021. Another practitioner arrested with Mr. Li, Ms. Tang Zhuyin, was sentenced to 9 years and 4 months in prison and fined 50,000 yuan.
Persecution in 2020
In 2020, the CCP carried out the so-called "Zero-out" campaign of Falun Gong practitioners across the country. A large number of practitioners were harassed and ordered to renounce their faith. 
On July 17, 2020, Hao held the communist ideology learning sessions and demanded his subordinates to "carry out special actions to prevent and crack down on cult organizations."
On September 22 and 23, an operation was ordered by Hao, resulting in the arrests of nearly 30 practitioners in Harbin City. The police arrested the practitioners according to a name list and they received bonuses for arresting a practitioner.
In 2020, at least 27 practitioners were sentenced in Heilongjiang Province.
Persecution in 2019
In 2019, staff from the Heilongjiang PLAC, the 610 Office, and the police targeted Falun Gong practitioners using the pretext of "maintaining stability" during the 70th anniversary of the founding of the CCP. At least 384 practitioners were arrested that year. Another 118 were sentenced to prison, making Heilongjiang Province the second highest province in the country for severity of persecution.
Persecution in 2018
In 2018, at least 475 practitioners in Heilongjiang Province were arrested, 169 were harassed, and 62 were sentenced. 
Ms. Li Xiumin was arrested at the end of October 2018. She was taken to a psychiatric hospital and injected with unknown drugs. She became bedridden and unable to speak clearly afterwards.
On November 9, 2018, 119 practitioners were arrested in Harbin City and Daqing City. The operation was planned for a long time by the Heilongjiang PLAC, the 610 Office and the Public Security Bureau.
Persecution in 2017
In 2017, the Heilongjiang PLAC, the 610 Office and the Public Security Bureau organized a so-called "door-knocking operation" to harass Falun Gong practitioners. The police tracked, videotaped, and collected personal information on the practitioners, as well as ransacked their homes. According to data from Minghui, as many as 676 practitioners were arrested and 1,043 were harassed in Heilongjiang in 2017.
Selected Persecution Death Cases
Case 1. Ms. Li Shuangyan Arrested and Persecuted to Death in One Day
Ms. Li Shuangyan was arrested on December 16, 2021 for making informational materials about Falun Gong. She was interrogated and tortured for nearly 30 hours at the Fuli Police Station. When she was on the verge of death, the police ordered her husband to pick her up after he got off work. 
When Ms. Li's husband arrived at the police station, she was unable to walk on her own and was carried out by three officers. Her husband called an ambulance upon returning home. Ms. Li died before the ambulance arrived.
Case 2: Mr. Lyu Guanru Tortured to Death in Tailai Prison
Mr. Lyu Guanru was a resident of Daqing City, Heilongjiang Province. On July 1, 2019, he was sentenced to seven years in prison by the Ranghulu District Court of Daqing City. Following his arrest, he resisted the persecution many times by going on hunger strikes and was force-fed. The force-feeding caused heart failure and stomach bleeding. He was sent to the hospital many times to be resuscitated. On July 30, 2019, Mr. Lyu was taken to Hulan Prison straight from the hospital. He was later transferred to Tailai Prison in November 2019. Despite his poor health, Tailai Prison continued to torture him and kept him in a small cell for more than a month. He suffered a cerebellar hemorrhage and died in prison on April 4, 2021, at the age of 69.
Case 3: Dr. Wang Shukun Died Days After Being Beaten by the Police
Dr. Wang Shukun, a 66-year-old physician in Haining City, Heilongjiang Province, was ordered to renounce Falun Gong in late June 2020. As she refused, the police beat her for hours. She suffered sharp pain in her leg and begged the officers to let her go. They agreed, but threatened that they would come for her again a few days later.
Dr. Wang crawled up the stairs to get back to her apartment unit. Her husband noted that she had bruises on her body. Her kneecaps were broken, and she was soaked in sweat. She suffered a cerebral hemorrhage in the afternoon of July 1. She was extremely dizzy and felt like throwing up. She passed away at around 4:25 a.m. on July 2.
Case 4: Mr. Wang Fengchen Tortured to Death in Custody
Mr. Wang Fengchen, 50, a geography teacher in Daqing City, Heilongjiang Province, was arrested on January 18, 2017, along with his wife, Ms. Leng Xiuxia. On October 11, 2017, both were sentenced to four years in prison with a 30,000-yuan fine. Later, Mr. Wang was taken to Hulan Prison and Ms. Leng to Heilongjiang Women's Prison. During his time in prison, Mr. Wang was abused until he was coughing and vomiting blood. He passed away in a hospital on August 9, 2020.
Case 5. Ms. Yang Lihua Persecuted to Death at the Heilongjiang Women's Prison
Ms. Yang Lihua was arrested with another Falun Gong practitioner, Ms. Qu Yongxia, on November 17, 2017, at the local government appeals office. Ms. Yang was sentenced to four years in prison and Ms. Qu to three years by the Sunwu County Court on December 26, 2017. Ms. Yang's family was informed by the Heilongjiang Women's Prison on November 5, 2019, that she was in critical condition. When her family rushed to the hospital, she had already lost consciousness. She passed away later that day at the age of 43. When her family asked why her body was covered in bruises, the prison guard said it was livor mortis. The prison authorities intimidated Ms. Yang's family into signing a consent form to have her body cremated.
Crimes as President of the Intermediate Court of Qiqihar City, Heilongjiang Province from January 2012 to May 2017
During Hao's tenure as the president of the Qiqihar Intermediate Court, he actively implemented the Jiang Zemin regime's policy of persecuting Falun Gong. He ordered courts at all levels to get involved, resulting in at least 23 practitioners being sentenced between January 2013 and June 2016.
Mr. Zhu Jinrui was arrested on January 10, 2013 and his home was ransacked. He was sentenced to four years after three months in the Fuyu County Detention Center. On the evening of May 6, 2014, the Bei'an Prison informed his family that he died suddenly from a heart attack, at the age of 44. After the family arrived at the prison, they saw blood foaming in Mr. Zhu's mouth and suspected that he had been beaten severely.
In 2014, eight practitioners from Qiqihar were sentenced. Among them, Ms. Mao Shuzhen was sentenced to five years, Ms. Shi Yuxia, Ms. Wu Guijing, and Ms. Li Derong were each sentenced to four years, Ms. Wang Jinying and Mr. Sun Haizhu each got three years, and both Mr. Zhang Xiaoguang and Ms. Liu Hui were sentenced to three years.
In 2016, seven practitioners were sentenced. On June 8, Ms. Zhan Shufen and Ms. Li Aiying were each given 4 years. On May 5, Ms. Yang Shujun, 78, was sentenced to 3.5 years. In June, four practitioners in their 70s, Ms. Zhao Xiuzhi, 78, Ms. Li Guazhi, 76, Ms. Li Fengqin, 72, and Ms. Peng Shurong, 70, were sentenced from 3 to 3.5 years in prison.
All content published on this website are copyrighted by Minghui.org. Minghui will produce compilations of its online content regularly and on special occasions.