France: Practitioners Wish Falun Dafa's Founder Happy Lunar New Year
(Minghui.org) To celebrate the coming Chinese New Year and to express their respect and gratitude to the founder of Falun Dafa, Master Li, practitioners in France gathered at The Arc de Triomphe de l'Étoile in Paris to send their greetings. Practitioners in Martinique, an overseas region of France, also came together to send sincere New Year greetings to Master Li.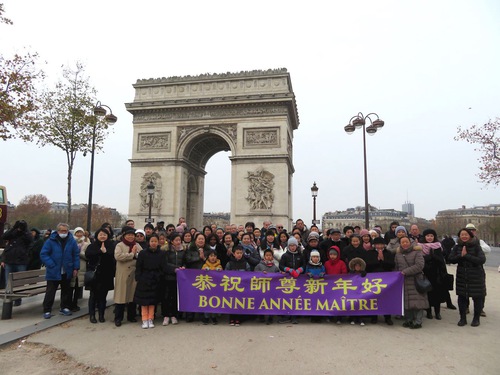 Practitioners wished Master Li Happy Lunar New Year outside the Arc de Triomphe de l'Étoile.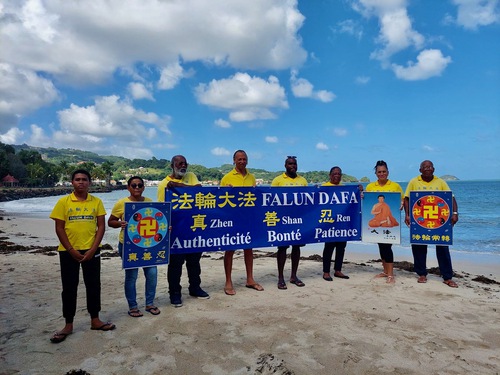 Practitioners in Martinique wished Master Li Happy Chinese New Year.
Practicing Dafa Changed My Life
Pierre, 38, lives in Soulac-sur-Mer, a seaside resort near Bordeaux. He works in a construction company.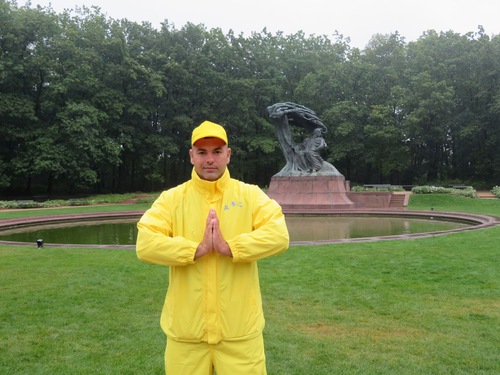 Pierre thanks Master Li for teaching him Falun Dafa.
In 2019, while living in Tarbe, Pierre had an argument with a friend. To stop the situation from getting worse, he went out to buy cigarettes and saw a flier in the shop. He picked it up and saw it was about Falun Dafa. Soon after returning to Bordeaux, he met a person who'd previously told him about Falun Dafa. He decided to practice Dafa.
In the beginning, Pierre encountered a lot of difficulties going to a practice site to do the exercises. Either he could not find the place or he went to the wrong address. But he did not give up. Before he practiced Dafa, he was nervous and easily became angry. He learned how to do the exercises and the more he practiced, the more tranquil he became. He felt full of energy, and had never felt so healthy before. 
As he began to read the teachings, Pierre found the answers to all his life's questions. He had many conflicts at work. He persisted in studying the Fa every day, at times reading a lecture a day. Every time, he would read something that gave him the answer to things he'd run into that day. He felt a strong energy field when reading Dafa books. His hands felt hot the first time he held the book, Zhuan Falun.
Pierre said that Dafa changed him completely. He learned to reflect on his shortcomings. He became patient and forgiving and stopped acting rashly. His family were delighted by his transformation.
Pierre said, "Cultivation is not an easy thing. While meditating or in tribulations, I try to follow the principles taught by Dafa. If I reach the standard, it means I progressed in cultivation."
He previously searched for spiritual cultivation but the other ways seemed to take him to a dead end. However, Falun Dafa brought him the ancient values of Truthfulness, Compassion, Forbearance. He said, "Falun Dafa is the path I want to take. It also gave me the greatest rewards."
With a heart full of gratitude for Dafa as Chinese New Year approaches, Pierre said, "Words cannot describe my feelings and my respect as well as gratitude to Master. Thank you for giving me everything."
Don't Forget Your Promise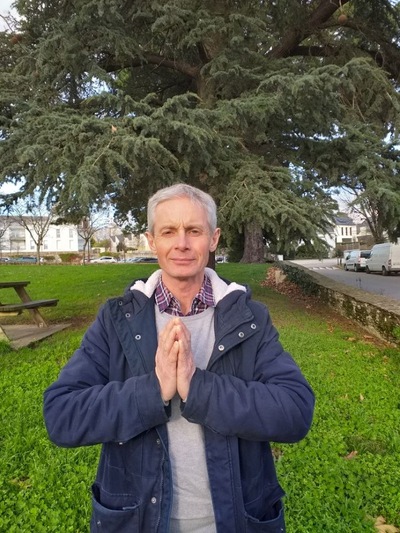 Sébastien thanked Master Li for giving him the opportunity to practice Falun Dafa.
Sébastien is a gardener who lives in Saint-Herblain, a town near Nantes. In 2018, he noticed an information booth in downtown Nantes, where Dafa practitioners were doing the exercises. Out of curiosity, he walked up to take a closer look, and the practitioners there told him about Falun Dafa. When he learned about the persecution in China, he was shocked. 
He found it hard to believe people were incarcerated, and worse, killed for their organs for living by the principles of Truthfulness, Compassion, Forbearance. Out of a sense of justice, he wanted to learn Falun Dafa and expose the brutalities.
Sébastien often pondered the meaning of life. He always felt one should not live in vain and that people came to earth for a purpose. The first time he read Zhuan Falun, he could not stop reading. He understood that one's purpose in life is to practice cultivation. He said practicing Falun Dafa helped him become cheerful and peaceful. Since he took up the practice, his health and mental outlook constantly improved. Even if there were lessons learned, it was part of cultivation.
Sébastien once went to a health expo with a friend. There was a lucky draw at a stall. He picked a card and turned it over. On the back was written: "Don't forget your promise!" It reminded him of Dafa and Master. He knew he had a mission to fulfill and only by practicing cultivation diligently can he accomplish his purpose his life.
He sent New Year greetings to Master Li, "Happy Chinese New Year, Master! Thank you for all the great things Dafa gave me and all Dafa disciples around the world!"
Not Injured During a Serious Car Accident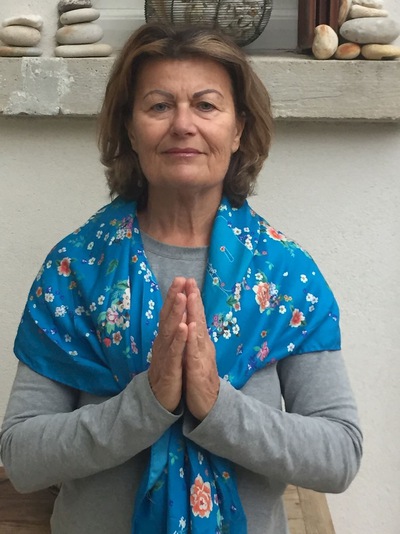 Florence thanks Master for the blessings that practicing Falun Dafa gave her.
Florence owned a real estate company. When she moved to Arbois in the Jura mountains in 2011, she had been practicing Tai Chi for about 5 years. When she went to the local government to ask if there were any Tai Chi classes, she was told there were none. Instead there was a Falun Dafa class and it had just started. Thus Florence began attending the Falun Dafa classes and soon she knew this was what she wanted.
She found balance in life after practicing Falun Dafa and her relationship with her daughter improved. Florence hadn't spoken to her daughter for years, but Dafa brought them together again.
She and her husband once drove to the outskirts of a town. As they drove past a stop sign, a 25-tonne truck came from the right side of the road. The driver was beeping the horn and applying the brakes. But the truck was too large and heavy to stop in time. The truck slammed into the front of their car, drove 600 meters, and then stopped. The main body of Florence's car was intact. She and her husband sat in the car unscathed. They did not sustain any injuries. The driver thought they were dead and only dared to walk over when he saw them getting out of their car. Florence's husband was so shook up that he wept. Florence knew at once that Master had protected them and saved their lives or else the consequences would have been unthinkable.
From the bottom of her heart, she wished Master a Happy Lunar New Year! "There are so many important things to do in the new year. I want to tell more people about Falun Dafa and the persecution. Thank you, Master!"
Copyright © 1999-2022 Minghui.org. Content on this page may be reproduced with attribution.