Zurich and Bern, Switzerland: Rally Held Protesting the Chinese Communist Regime's Persecution (Part 1)
(Minghui.org) Falun Gong practitioners held rallies in Zurich, Switzerland's largest city, and Bern, the nation's capital, to mark 23 years of protesting the Chinese Communist Party (CCP)'s persecution on July 22 and 23, 2022. 
Practitioners demonstrated the exercises and introduced the physical and mental benefits of practicing Falun Gong to passersby. They spoke out against the CCP's organ harvesting from living Falun Gong practitioners. Swiss politicians sent letters to show their support for Falun Gong practitioners' efforts to end the persecution.
Practitioners did the exercises near the Chinese Consulate in Zurich, collected signatures on a petition calling for an end to the persecution, and held a rally in the Paradeplatz in the city center on July 22.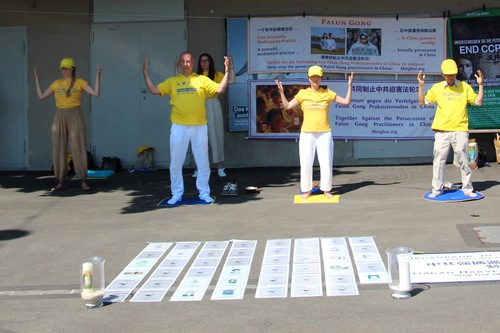 Practitioners perform the Falun Dafa exercises near the Chinese Consulate in Zurich on July 22, 2022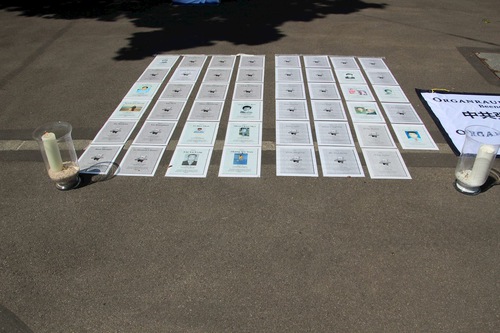 Portraits of some Falun Gong practitioners who died from the CCP's persecution
A similar rally was held the following day on Kornhaus square in the center of Bern. Some practitioners went to the Chinese embassy in Switzerland before the gathering and read an open letter, hoping that the embassy staff could distinguish right from wrong and make the right choice for their futures.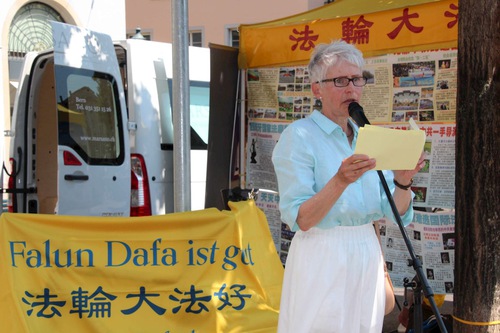 Rally in the center of Zurich introduces Falun Gong and protests the CCP's persecution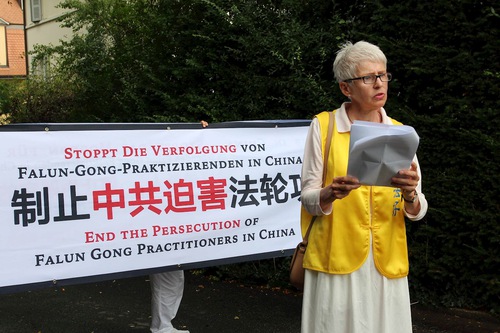 A practitioner reads an open letter to the Chinese Embassy in Bern, wishing staffers will make the right choice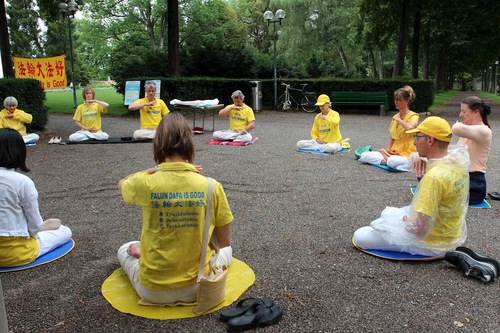 Group practice in Bern on July 23, 2022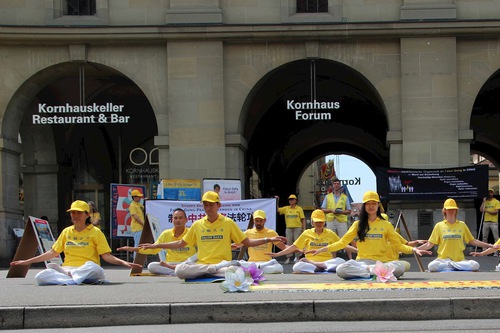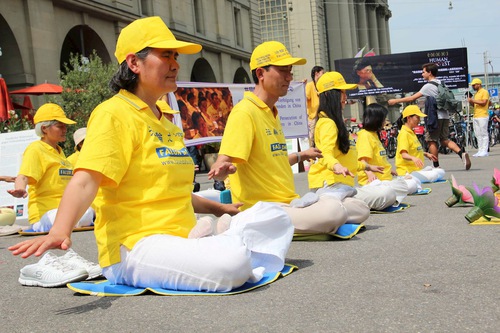 Performing the exercises on Kornhaus square on July 23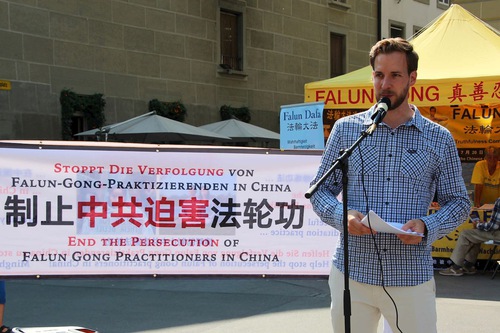 A practitioner speaks during the rally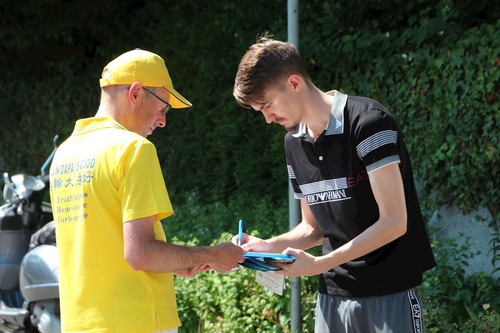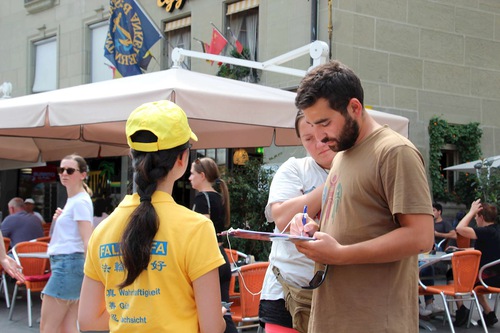 Passersby sign the petition calling for an end to the persecution
Elected Officials Express Support 
A former member of the Federal Assembly and Canton legislators sent letters to express their support for Falun Gong.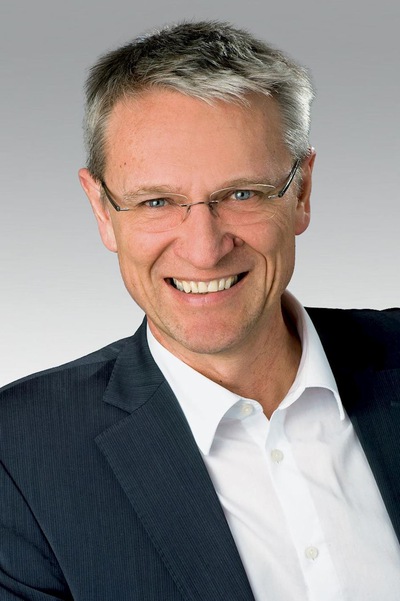 Dr. Bernhard Hauser, legislator of the Canton of St. Gallen
Dr. Bernhard Hauser, legislator of the Canton of St. Gallen, said that China, under the CCP's rule, is one of the countries with the most human rights abuses in the world. He stated that "clear and broader actions to resist the CCP regime need to be taken because systematic persecution of people in Xinjiang and Falun Gong practitioners and the current threats to Taiwan cannot be tolerated."
He thanked all those who support Falun Gong and freedom of speech all over the world.
Former legislator Eva Keller of St. Gallen
Eva Keller, a former legislator of the Canton of St. Gallen, wrote in her letter, "The human rights violations should be exposed and publicly condemned." 
"The persecution of Falun Gong practitioners by the CCP is still indescribable. This world power (under the rule of the CCP) tramples on human rights and is in contempt of the rule of law."
"Although Falun Gong is not the only one being persecuted, we must not forget them, because it is rare to see their news in a prominent place in the media. I thank you for your efforts for the sake of human rights and the rule of law, especially for Falun Gong. Only when human rights violations are made public will it be possible to turn around. The worst thing is to forget those being persecuted. Thank you for making this happen."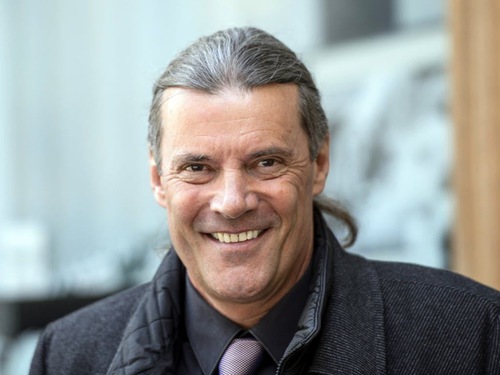 Oskar Freysinger, former member of the Federal Assembly
Oskar Freysinger stated in his letter, "You have come together today to protest the brutality of the CCP, to prove that compassion, charity, and human dignity are inviolable to you. I am very grateful and amazed for that. Your actions show your courage and prove that you will not submit to a dictator."
Public Condemn the Persecution
Roman Glaser, a retired teacher, first heard about Falun Gong in Zurich. He spoke out against the 23 years of persecution by the CCP, "This is a disaster, unimaginable, unreasonable, so bloody and inhuman. Of course, there is no doubt that the persecution should be stopped."
He said that the CCP was trying to expand its influence around the world, so he hopes practitioners will collect more signatures. "So more people can get more information. It will also let those who do business with the CCP think it over and the consequences." 
Maribel Garcia Gunzaler from Cuba lives in Switzerland and works as a translation consultant. She and her friend, who is a reporter, saw Falun Gong in Zurich, and she was very happy to encourage her friend to interview practitioners, and she helped translate.
She mentioned that she had learned to practice Falun Gong before, and she felt very good: "Practicing brought me peace, and I felt a lot of energy from the very beginning." Due to limited time, she did not continue. Now she is considering resuming her practice. 
After signing the petition to support Falun Gong practitioners, she said, "Of course I fully oppose the persecution. We Cubans are also suffering from persecution. What the CCP regime has done is really bloody." She admired Falun Gong practitioners' persistence in fighting the persecution over the past 23 years: "Someone needs to persevere until the persecution ends."
Gabriela Alic got a flyer at the Bern rally. She read it quietly, shaking her head, and then listened carefully to a practitioners' speech.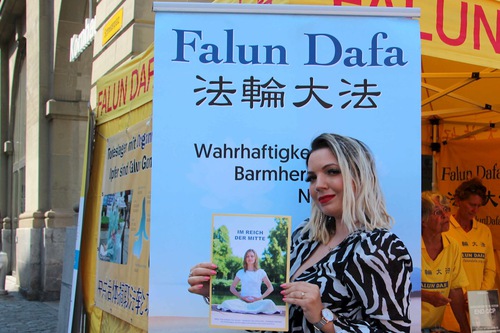 Gabriela Alic supports Falun Gong. 
She said, "I think live organ harvesting is very bad. These people [Falun Gong practitioners] are persecuted just because of their beliefs. I think this is very serious."
She also signed the petition to support Falun Gong practitioners and hoped to draw attention to the persecution. She said, "It is very important for people to understand what happened. This [persecution] has been going on for 23 years. This is a very important message. People should really pay attention to it, not turn a blind eye to it, should listen, act, and voice their concerns. We are human beings and we should support each other." 
Nina Neuenschwander, a nurse, learned about Falun Gong through a pamphlet she received before the Bern rally. Thus she knew about the CCP's organ harvesting. She said, "More people could think about, discuss this topic, and support stopping this crime" she said. She said any normal person would not agree with the persecution.
Background: What Is Falun Dafa and Why is the CCP persecuting it?
Falun Dafa (also known as Falun Gong) was first introduced to the public by Mr. Li Hongzhi in Changchun, China, in 1992. The spiritual discipline is now practiced in over 100 countries and regions worldwide. Millions of people who have embraced the teachings, which are based on the principles of Truthfulness, Compassion, and Forbearance, and have learned the five exercises, have experienced improved health and well-being.
Jiang Zemin, former head of the Chinese Communist Party (CCP), perceived the spiritual discipline's growing popularity as a threat to the CCP's atheistic ideology and on July 20, 1999, he issued an order to eradicate the practice.
Under Jiang's personal direction, the CCP established the 610 Office, an extralegal security organization with the power to override the police and judicial systems and whose sole function is to carry out the persecution of Falun Dafa.
Minghui.org has confirmed the deaths of thousands of practitioners as a result of the persecution over the past 23 years. The actual number is believed to be much higher. Countless practitioners have been imprisoned and tortured for their faith.
There is concrete evidence that the CCP sanctions the harvesting of organs from detained practitioners, who are murdered to supply China's organ transplant industry.
(Continued in Part 2)
All content published on this website are copyrighted by Minghui.org. Minghui will produce compilations of its online content regularly and on special occasions.