Bucharest, Romania: Events Mark 23 Years of Persecution of Falun Dafa in China
(Minghui.org) Every year as July 20 approaches, Falun Dafa practitioners around the world commemorate their colleagues in China, who have been persecuted since that date in 1999 by the Chinese Communist Party (CCP). It was dictator Jiang Zemin who gave the order banning the practice of Falun Dafa on July 20,1999, an order which violates China's constitution and laws, yet remains in practice today.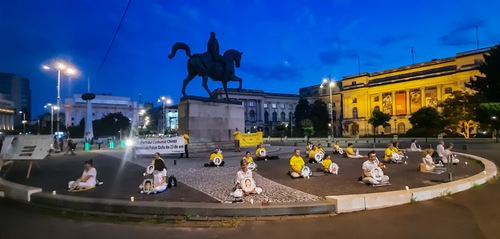 Candlelight vigil recognizing 23 years of persecution of Falun Dafa in China, at Revolution Square, 15.07.2022
Falun Dafa had won the title "Star of the Qigong Schools," meaning the best qigong school in China, shortly after its emergence. The CCP itself promoted Dafa after scientific circles in China recognized the authenticity of the practice. 
Falun Dafa helped decrease expenses for the national health service as people regained health after adopting Dafa's principles of Truthfulness, Compassion and Forbearance as their way of life. 
People from all walks of life including the government and military began practicing Falun Dafa. But the specter of communism lurks in the background, and by exacerbating the dictator's envy, he feared that his authority would pale in the face of the popularity of Falun Dafa. Thus he followed the usual line of communist rule: lies, evil, violence, corruption, murder.
Jiang's top priority now was to "eradicate" this group of peaceful people, by any means possible. This was at a time when one in thirteen Chinese were practicing Falun Dafa and their numbers were increasing rapidly. In fact, according to the Party's own estimates at the time, Falun Dafa practitioners outnumbered Party members, many of whom also practiced Falun Dafa.
In this context, Falun Dafa practitioners in Romania held several commemorative events on 15, 16 and 20 July 2022.
They started with a candlelight vigil on Friday evening in Bucharest's Revolution Square, then an information booth at the entrance to King Michael I of Romania Park on Saturday, and a peaceful protest at the Chinese Embassy, on Wednesday 20 July.
The public read the information displayed on panels, engaged in dialogue with practitioners and received information leaflets and lotus flowers. International tourists also received information, including a family on holiday from Israel, who were alarmed by the atrocities.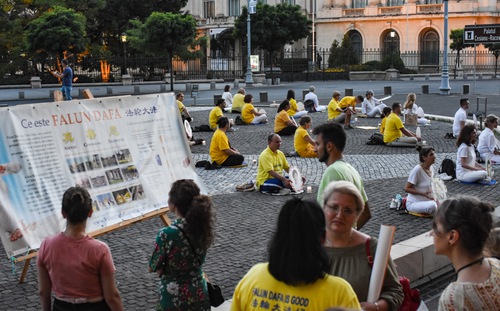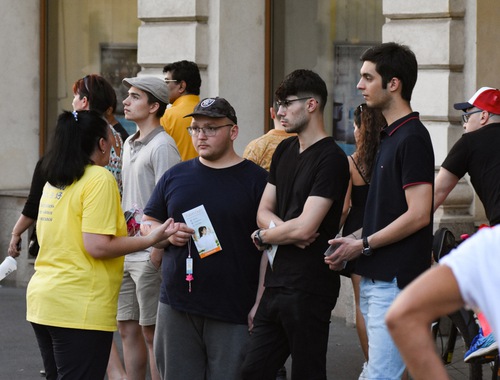 People learn about Falun Dafa at the Candlelight vigil in memory of practitioners who have protected the universal values of Truth, Compassion, Forbearance at the cost of their lives
Natalia Nutting wrote on July 20 in a long commemorative Facebook post:
"Why do you keep enduring this, my friends? Why don't you give in to the CCP?Because your endurance is what gives the world hope, is what reawakens our faith, is what keeps Truthfulness, Compassion, and Forbearance alive, even if we're all still half asleep! 
Your endurance is what gives each one of us certainty that this life is worth living!when we live it through the highest principles that make us worthy of being human,and one day divine!"
On July 16, Falun Dafa practitioners demonstrated the exercises and handed out information leaflets and lotus flowers at the entrance to King Michael I of Romania Park.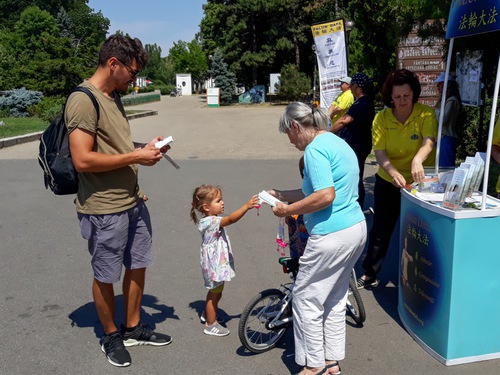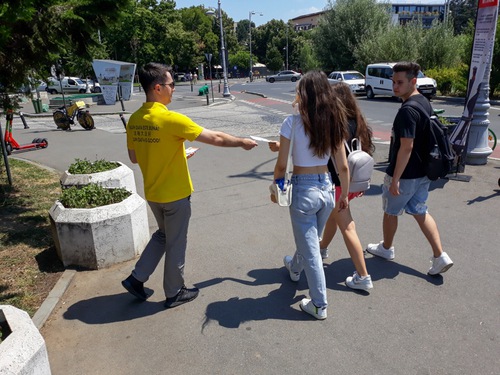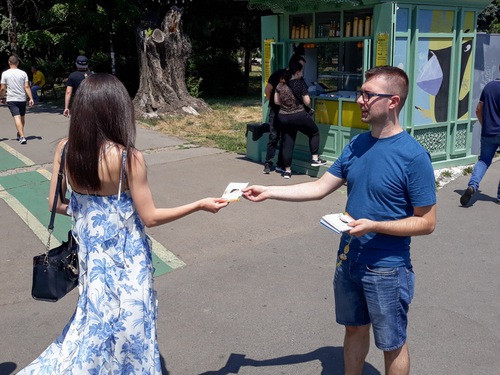 Falun Dafa practitioners demonstrate the exercises and hand out information leaflets and lotus flowers at the entrance to King Michael I of Romania Park, on 16 July
On July 20, Falun Dafa practitioners held a peaceful protest at the Chinese Embassy. They displayed banners with the school's principles - Truthfulness, Compassion, Forbearance – principles that the communist regime has tried to suppress by any means. They also held photos of practitioners who died as a result of persecution, and demonstrated the exercises so that Romanians would understand what the peaceful practice that China's communist regime is so afraid of is all about.
Peaceful protest at the Chinese Embassy in Bucharest on 20 July 2022. Falun Dafa exercises were practiced, and pictures were displayed of those who have died as a result of persecution in China.
As Falun Dafa practitioners were about to end their protest in front of the Chinese Embassy, a young man in his 30s approached the protesters and asked one of the practitioners why she was there and what she was protesting.
"I was driving by as I have something to do nearby, and when I saw you all standing here with these photos in your hands I wanted to know more. So I parked my car, determined to find out more. Initially I was thinking of asking the police officers what you were protesting for, but I'm sure they would have given me a curter answer as they are just doing their job. I took the liberty of approaching and asking: Basically, what is going on in China for you to be here?" asked the young man who added that he had come to Romania on vacation, as he has been living in Norway for over 10 years. 
The practitioner told him about Falun Dafa, the high principles of the practice and its benefits, but also about the persecution that Chinese practitioners face in China. The man was moved and said he would visit the website listed on the information leaflet he had received from the practitioner, in order to sign the online petition calling for an end to the persecution. 
The young man was interested in learning more about the exercises and teachings of Falun Dafa. In the end, he received a lotus flower with the principles of Zhen, Shan, Ren written on the label, he learned what the lotus flower symbolizes: People who try to elevate themselves spiritually in the midst of ordinary human society, by following the principles of Truthfulness, Compassion and Forbearance, are like a lotus flower, rising from the mud below to emerge clean and pure above the surface of the water. He thanked everyone and said he was happy he'd decided to come and find out what Falun Dafa was all about.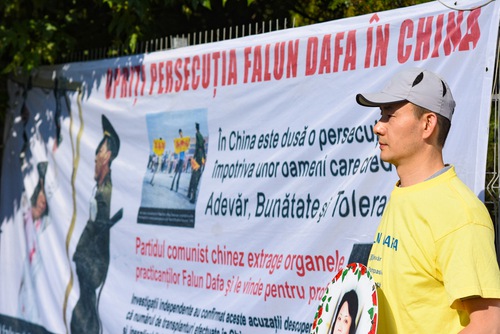 A practitioner stands by a banner exposing the persecution în China, holding a picture of a murdered fellow practitioner.
All content published on this website are copyrighted by Minghui.org. Minghui will produce compilations of its online content regularly and on special occasions.