Washington, D.C.: CCP's Forced Organ Harvesting Highlighted in International Religious Freedom Summit
(Minghui.org) During the International Religious Freedom (IRF) Summit in Washington D.C. on June 28-30, 2022, forced organ harvesting by the Chinese Communist Party (CCP) was discussed extensively in numerous sessions.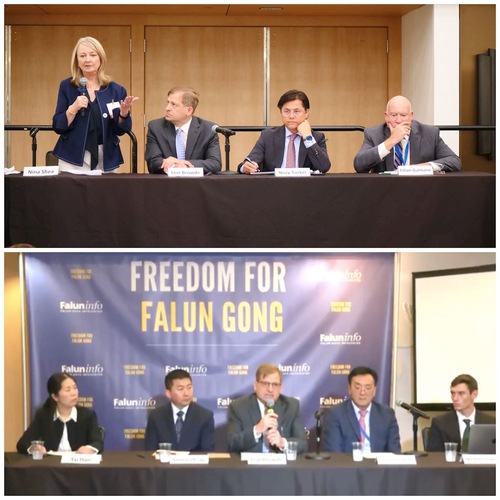 Panelists discussed forced organ harvesting by the Chinese Communist Party during International Religious Freedom Summit on June 28-30, 2022.
A documentary highlighting forced organ harvesting from Falun Gong practitioners was screened at the summit. The CCP's crimes depicted in the film shocked audience members, many of whom shared it on social media.
One Twitter post about forced organ harvesting against Falun Gong practitioners in China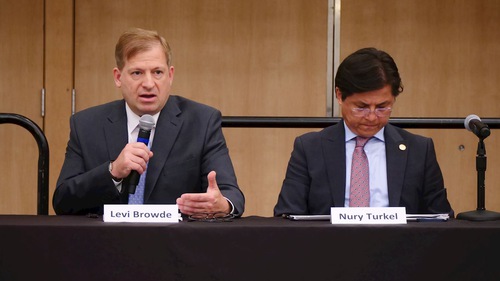 Levi Browde, executive director of the Falun Dafa Information Center, spoke at the conference.
Levi Browde, executive director of the Falun Dafa Information Center, spoke at two of the sessions held on June 30. One was "Hudson Institute: China's Forced Organ Harvesting Continues" and another was "Pandemic, Persecution, and Pushback—Trends and Analysis from the Suppression of Falun Gong." He said the suppression against Falun Gong in China has lasted 23 years and it still continues.
Katrina Lantos Swett, president of the Lantos Foundation for Human Rights and Justice, and Samuel Brownback, former ambassador at large for International Religious Freedom (2018 to 2021), were co-chairs of the annual summit this year. Antony J. Blinken, the U.S. Secretary of State, said in a video played at the conference, "Like all of you at this gathering, the United States has a deep and abiding commitment to protecting and promoting religious freedom for all people, everywhere," he said, "Supporting religious freedom is a core American value."
Hudson Institute: Forced Organ Harvesting Continues in China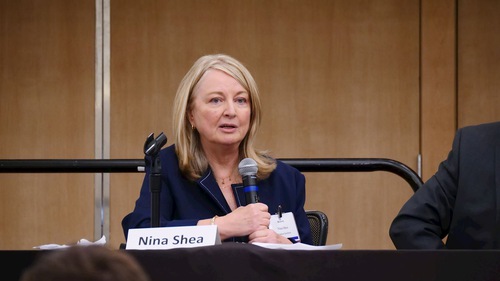 Nina Shea, a Hudson Institute Senior Fellow, hosted two sessions on forced organ harvesting in China.
Nina Shea is a Hudson Institute Senior Fellow and director of the Center for Religious Freedom. She hosted two sessions on forced organ harvesting. One was "China's Hideous Science of Forced Organ Harvesting" on June 28 and another was "China's Forced Organ Harvesting Continues" on June 30.
During the second session, Shea mentioned that the crime of forced organ harvesting was first exposed in 2006 and later confirmed by the short waiting time for organs in China. Browde highlighted the correlation between the mass imprisonment of Falun Gong practitioners and the organ harvesting in China.
In 2006, Annie testified in Washington D.C. that her ex-husband, a surgeon in Sujiatun Hospital, had removed corneas from over 2,000 Falun Gong practitioners. "My ex-husband told me that most of the Falun Gong practitioners were strong and healthy and many were still breathing when their organs were removed. After the removal, many of them were thrown into the (hospital's) crematory oven, so that no trace was left," she said, "For others, after their organs were removed, the openings on their bodies were stitched. Some families knew practitioners were detained here, so they would be asked to sign consent to have the bodies cremated in crematories outside."
Annie also apologized to Falun Gong practitioners on behalf of her ex-husband. "My husband had asked not to perform these operations, but at that time he had no control. He knew that if he stopped, his wife, child, and parents may all be killed. Even today, he didn't dare to speak up," she added. Later on, he faced consequences and had late-stage cancer.
Shortly after Annie's testimony, David Kilgour and David Matas started their independent investigations. When presenting their findings in Ottawa on July 6, 2006, Matas called the forced organ harvesting a "new form of evil on this planet." After publishing Bloody Harvest: The Killing of Falun Gong for Their Organs in 2009, the two authors received an award from the International Society for Human Rights in the same year.
In March 2020, the China Tribunal in London released its final judgment. "In the long-term practice in the PRC of forced organ harvesting it was indeed Falun Gong practitioners who were used as a source – probably the principal source – of organs for forced organ harvesting," wrote its conclusion.
Tortured to Death within Two Months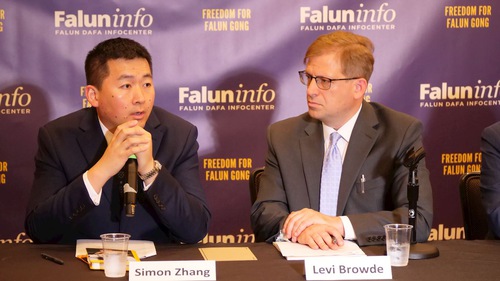 Simone Zhang (left), an architect from Manhattan, talked about the story of his mother.
Simone Zhang, an architect from Manhattan, shared how his mother, Ms. Ji Yunzhi, lost her life to the persecution by the CCP. Three months after beginning to practice Falun Gong in 1996, Ms. Ji found all her illnesses gone without medication. Following the principles of Truthfulness-Compassion-Forbearance, she became a better person and was well regarded by the community.
After the CCP launched the persecution against Falun Gong in 1999, however, Ms. Ji was sent to labor camps twice for her belief. She was repeatedly shocked with electric batons in the labor camp, and she developed heart disease as a result. Even after returning home, she was repeatedly harassed by police and had her home ransacked.
The latest arrest took place in February this year and Ms. Ji was in a life-threatening condition due to the abuse in custody. After 48 days of detention and torture, she died on March 21, 2022.
Man Likely a Victim of Forced Organ harvesting
Yu Han told the story of her father.
Yu Han, who currently lives in the United States, talked about what happened to her father. Mr. Han Junqing was a resident in Fangshan District, Beijing. He used to suffer heart disease and high blood pressure with both legs infested with pus all year long. Not long after starting to practice Falun Gong, his health improved dramatically. In addition, his bad habits such as smoking, alcoholism, and bad temper were gone.
Mr. Han was arrested in March 2004 and held at the Fangshan Detention Center, where he was badly beaten by over ten officers. He died less than three months later and his body was cremated immediately.
"I saw his body before he was cremated. He was terribly thin and bruised all over, but from his throat there was an incision all the way down to his torso," his daughter recalled, "In his stomach area, we could feel a hard block of ice beneath the skin that was stitched with thick black thread."
The police said he died of heart attack, but Yu Han knew it was not true since her father had been healthy all along. "It wasn't until three years later that I learned the truth – tens of thousands of prisoners of conscience like my father had been killed for their organs. That night I cried for hours until I passed out..." she added. That is why she hoped the atrocity could be stopped so that other families would not have to suffer miserably like her.
Change Will Come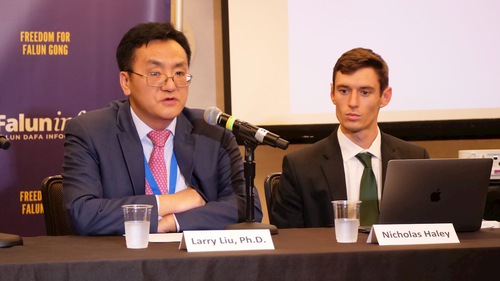 Larry Liu talked about the current status of Falun Gong in China.
Falun Gong was very popular after being introduced to the public in 1992. "Nearly every park in every city, there were residents practicing Falun Gong. When I was studying at Tsinghua University in 1995, I saw faculty and students practicing on the campus," he recalled. One year later, he moved to the United States and his mother also recommended the practice to him.
But the CCP's core ideology of class struggle, hatred, and lies fundamentally contradicts traditional Chinese culture including Falun Gong. That is why former CCP leader Jiang Zemin started the persecution in 1999, resulting in the arrest and torture of millions of practitioners and deaths of many thousands. In the past 23 years, Falun Gong practitioners have worked tirelessly raising awareness of the persecution, and Liu hopes the U.S. government as well as the international community can help to end the brutality.
Frank Wolf, commissioner of the USCIRF (United States Commission on International Religious Freedom) and former U.S. representative from Virginia, said he often prayed for a change in China, so that Falun Gong practitioners and other groups suppressed in China could regain their religious freedom.
All content published on this website are copyrighted by Minghui.org. Minghui will produce compilations of its online content regularly and on special occasions.