International Mainstream Media Focus on the CCP's Atrocities of Organ Harvesting (Photo)
July 09, 2006 | Compiled and reported by a Minghui/Clearwisdom reporter
(Clearwisdom.net) On July 6, 2006, former Canadian cabinet member David Kilgour and international human rights lawyer David Matas released their 68-page investigative report entitled, "Report into Allegations of Organ Harvesting of Falun Gong Practitioners in China." The charges in the report against the Chinese Communist Party's (CCP) atrocities of live organ harvesting captured extensive attention from the mainstream media in the West. Media outlets including Reuters, AFP, Canadian Press, Canadian Broadcasting Company, The Australian and other mainstream media published reports on it the same day.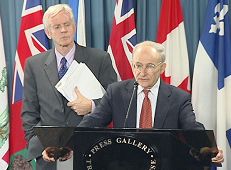 Organ harvesting from living people is a new form of evil on this planet
Reuters reported that respected Canadian human rights lawyer David Matas, and former Canadian cabinet member David Kilgour lent their weight on Thursday to charges that the CCP has been killing Falun Gong practitioners so it can use their organs. This is the conclusion they drew from their two-month investigation.
The report says that they provided transcripts of phone calls placed in Chinese to detention centers and organ transplant clinics in which officials said organs from Falun Gong practitioners could be made available for speedy use. They also conducted interviews of their own and investigated government records and other evidence.
Kilgour said, "Believe me, I used to be a prosecutor. ...I did my utmost to make sure that everything was satisfactorily and properly and ethically done."
One call, made on June 8, was to a Mr. Li in the Mishan City Detention Center in Heilongjiang Province, according to the transcript.
"Do you have Falun Gong (organ) suppliers?" Li was asked.
"We used to have, yes," he replied.
"What about now?"
"Yes," Li replied.
"Can we come to select, or you provide directly to us?"
"We provide them to you," Li said, adding that price would be discussed when the caller arrived. He said he had "quite a few" Falun Gong males under age 40 from whom organs could be taken.
The report also says that Kilgour released the transcript of an interview he conducted with a woman who said her former husband, a surgeon, had taken corneas from 2,000 people over two years. She said the victims would first be given an injection that would cause heart failure.
Matas said the practice amounted to a crime against humanity. "Our findings are shocking. To us, this is a form of evil we have yet to see on this planet."
The CCP's organ harvesting practice is still going on today
An AFP report cited the allegations of organ harvesting from living people in their investigative report. "We believe that there has been and continues today to be large scale organ seizures from unwilling Falun Gong practitioners."
They call upon the CCP authorities, the United Nations and international human rights organizations to conduct further investigation over the allegations.
The report of the Canadian Press reported that the investigative report says that hearts, kidneys, livers and corneas are removed from executed practitioners of Falun Gong and sold for transplant at hefty prices, sometimes to foreigners.
The Canadian Press report also cited the investigative report, "The very horror makes us reel back in disbelief. But that disbelief does not mean that the allegations are untrue."
Matas said at the press conference, "Who would have believed the Holocaust before it happened?"
The report calls on the United Nations to confirm whether the CCP has violated the UN Convention for the Suppression of the Traffic in Persons, including forbidding organ harvesting.