Southern Chinese Provinces Flooded by Heavy Rains
(Minghui.org) Heavy rains continued to pour down in several southern provinces in China, including Guangdong Province, Guangxi Province, Guizhou Province, Fujian Province, and southern Hunan Province. Rain is expected to continue until June 13 or 14.
The prolonged heavy rainfall in the first week of June has caused flooding in Guangxi Province, Jiangxi Province, Fujian Province, and Hunan Province. According to Chinese official media, as of June 8, 2022, a total of 1,794,500 people in Hunan Province have been affected and 10 died.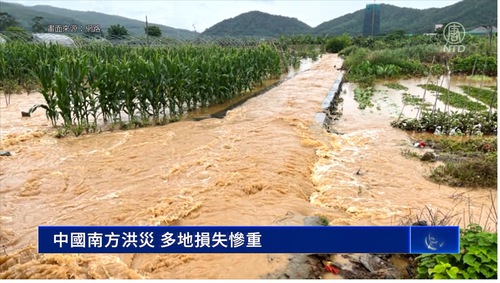 Heavy rain flooded farmland in southern China. (screenshot of news report by NTDTV)
Flood of the Xi River Hits Many Areas in Guangxi Province
Two floods occurred in the Xi River in Guangxi Province within one week. The water level of many rivers continued to rise. Flood peak passed through Wuzhou, Pingnan County, Guigang City, on June 7 and 8, 2022, causing floods along the river. A video showed flooded roads and houses along the river as residents rowed out.
According to Chinese media reports, on June 7, the second flood of the Xi River this year approached Wuzhou City, Guangxi Province. Affected by the upstream water, the water level rose at a speed of 8 centimeters per hour. According to the forecast of the Wuzhou Hydrological Center, the peak water level would be about 20.5 meters.
Due to continuous heavy rainfall and flooding of the Xi River, the Qian River and Xun River in Guiping, Guangxi Province recorded the highest water level this year. The peak water level of 30.06 meters in the Pingnan section of Xun River exceeded the warning water level by 1.06 meters. The flood discharge at the Dateng Gorge Water Hub increased. A video on June 7 showed that the Wu River, a tributary of the Xun River in Pingnan County, Guigang City, swelled sharply, and the pavilions by the river were almost flooded to the top.
In the previous flood a week ago, the water level of the upstream Longtan and other reservoirs was close to the warning line for flood discharge. Floods also occurred in Guigang, Hechi, and Liuzhou.
Flash Flood Causing Landslides on Main Roads, Farmland Damaged
Heavy rains were also reported in many areas in Fujian Province. Gutian Town, Shanghang County, received more than 236 mm of rainfall from 8:00 a.m. on June 5 to 12:00 p.m. on June 7. Local flash floods occurred in Gutian Town, causing landslides and damage to main roads, dams, and power lines. A total of 185 hectares of farmland were damaged.
Some electric poles in Gutian Town, Shanghang County collapsed. Power and communications in some villages were interrupted. A total of 1,132 people in the county have been evacuated.
Severe Floods in Guilin, Guangxi Province
The water level of the Li River in Guilin, Guangxi Province rose rapidly. At 2:30 a.m. on June 5, the water level of the Li River reached a flood peak of 146.10 meters, which exceeded the warning water level by 0.10 meters. This was the first time this year that the Li River had exceeded the warning level.
Severe floods occurred in the urban area of Guilin, and the entire Li River was closed for transportation. The ethnic market, Lusheng Square, and old streets in the county were flooded.
Heavy rains also poured down in northern Liuzhou, Guangxi Province from June 2 to June 6, and some areas had extremely heavy rains. At that time, more than 43,000 households were out of power.
Nearly 1,000 People Besieged by Floods in Jiangxi Province
The Ganxian District in Ganzhou City, Jiangxi Province was hit with heavy rainfall on June 6. The 24-hour rainfall in Hanfang Town in the Ganxian District was 380 mm, followed by 334 mm in Tangkengkou in Gan County. The flood besieged villages. More than 700 people were trapped in Changyan Village, Hanfang Town. Nearly 1,000 people in Hanfang Town were evacuated.
Hanfang Town, Yangbu Township, and Wangmudu Town in Ganxian District were severely affected by the floods. Some primary and secondary schools were closed. There was also a flash flood in Hanfang Town, Ganxian District, submerging a lot of farmlands, and turning Xu Town into a sea.
Heavy Rain in Hunan Province Leads to 10 Deaths, Affects 1.8 Million
Hunan Province recently experienced the longest and most intense rainfall this year. So far, 1.8 million people have been affected, with 10 dead and three missing.
The China News Agency reported that the Hunan Provincial Government Information Office stated on June 8 that during this wave of heavy rainfall, a total of 1,195 houses collapsed or were severely damaged, and 286,000 people were placed under urgent evacuation.
According to the report, since the beginning of the flood season this year, the rainfall in Hunan Province has been over 20% higher than that of a normal year. Especially since May 28, the rainfall is double what the area gets in a normal year, lasting longer and covering almost all of Hunan Province. Rainfall in many areas exceeded or approached historic maximums.
Heavy rainfall caused serious damage to a large number of industrial and agricultural infrastructures in Hunan Province. The affected area of crops in the province was 1.4 million acres. Eighty-eight places on expressways in the province were damaged by flooding. A total of 129 ordinary highways were blocked in 218 sections. Power stations and facilities in some areas were damaged. Power for 560,000 people was affected. And 2,799 geological disasters were recorded.
The Hunan Provincial Meteorological Bureau forecasted that there would be heavy rainfall in southern Hunan Province from June 9 to 12.
Views expressed in this article represent the author's own opinions or understandings. All content published on this website are copyrighted by Minghui.org. Minghui will produce compilations of its online content regularly and on special occasions.