Heavy Rainfall Floods Southern China
(Minghui.org) Many areas in southern China were hit with heavy rains in early June 2022.
The city hit with the heaviest rain was in Fenghuang County in Hunan Province. The water level of the Tuojiang River soared after the rainfall on June 2, causing Fenghuang County to be partially flooded. The heavy rain also caused a landslide in a highway tunnel in Huaihua, Hunan Province, killing two, with four missing.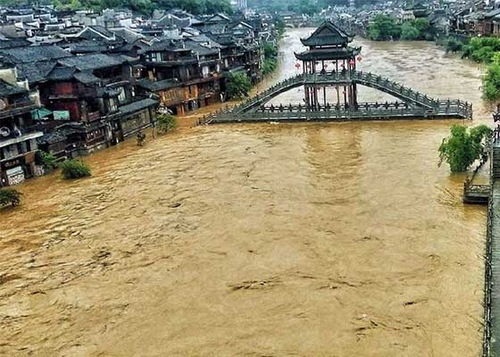 Fenghuang County suffered heavy rain and many areas were flooded.
Heavy rains occurred in Qijiang, Youyang, Xiushan, and other places in Chongqing, starting on the evening of June 1. Rainwater flooded farmland in some areas. Some stores were full of water, causing damage to the goods. The local government posted a video showing that "driving was like sailing a boat" in Youyang, Chongqing.
In addition to Hunan and Chongqing, floods were also reported in Qiubei, Yunnan Province, and Haikou, Hainan Province. The urban area of Haikou, Hainan Province experienced heavy rainfall in the afternoon of June 1. Flooding occurred in many places, causing large-scale traffic jams and citizens wading in water.
Fenghuang County Flooded, Two Killed in Landslide in Huaihua, Hunan Province
According to China Weather Network, Xiangxi Prefecture in Hunan Province encountered heavy rainfall on June 1-2, with Fenghuang County receiving a maximum rainfall of 246.5 mm. (9.7 inches).
The Fenghuang County Meteorological Observatory continued to issue a red rainstorm warning on June 2. According to media reports, the heavy precipitation caused the Tuojiang River to swell. Flooding poured into local residents' homes. Different parts of the county experienced various degrees of water accumulation in the streets.
A video circulating on the Internet showed that the landscape bridges and ancient bridges across the Tuojiang River in Fenghuang County were almost submerged. The water was rushing. Debris in the water flowed down the river, and flooding occurred in some areas. Shops along the river were flooded. Water in some streets was flowing rapidly. Many pedestrians had to seek higher ground to avoid the current. A merchant close to the street experienced a power outage after the rainstorm, and many customers canceled their orders.
Mayang Miao Autonomous County, Huaihua City, Hunan Province was hit with a torrential rainstorm at around 5:00 a.m. on June 2, which caused a landslide in the Daolongjiabao tunnel. Two people have been killed and four missing, as of 9:30 p.m. on June 2.
According to the latest weather forecast in Hunan Province, there were heavy rains from north to south in Hunan Province on June 2-5. The heavy rains were accompanied by strong convective weather conditions, including short-term heavy precipitation and thunderstorms. Continuous heavy rainfall often results in secondary disasters such as mountain torrents, geological disasters, small and medium river floods, and urban flooding.
Heavy Rainfall in Chongqing Continues, Supermarkets Flooded
According to the Chongqing Hydrological Monitoring Station, heavy rains occurred in five districts and counties for 24 hours beginning at 8:00 a.m. on June 1, including in Qijiang, Youyang and Xiushan in Chongqing. The largest daily rainfall occurred in Longdong Village, Xikou Township, with a record of 136.0 mm. (5.4 inches).
Many streets and the stores near the street in Dongxi Town, Qijiang, Chongqing were flooded. One female owner of a local supermarket said that their family had been living in the store. The rain became heavier early on the morning of June 1, and the river swelled sharply. Before long, their store was flooded. She and her husband had to lift the goods to higher places. However, the water rose too fast, and there was no time to react.
"The water was waist-high at that time." The owner said that at about 11:00 a.m., the water slowly receded, but the goods in her store were soaked and could no longer be sold, resulting in losses totaling tens of thousands of yuan.
The Chongqing Meteorological Bureau issued a number of messages on June 3:
"How much rain was it in Youyang this morning? Driving was like sailing a boat..."
"A severe convective weather imminent warning was issued at 3:37 p.m. on June 3. Short-term heavy rainfall and lightning in Wanzhou District and Kaizhou District are expected in the next two hours; secondary disasters such as river flooding, mountain torrents, urban and rural flooding, as well as lightning and thunder may occur."
"From 7:00 a.m. on June 2 to 7:00 a.m. on June 3, showers or thunderstorms occurred in most areas of Chongqing, with moderate to heavy rains in the central and eastern parts. Zhong County, Youyang County, and Pengshui County had heavy rain at 24 rainfall stations. Heavy rain was also reported at 55 rainfall stations in seven districts and counties such as Zhong County, Wanzhou District, Yunyang County, Pengshui County, Youyang County, Xiushan County, and Wulong District. The maximum rainfall was 207 mm. at Taohuayuan, Youyang County. The maximum hourly rainfall was 71.8 mm. There was rain fog in some areas."
Heavy Rainfall Hits Many Areas in the South
The Central Meteorological Observatory continued to issue a blue rainstorm warning at 6:00 a.m. on June 3: It is expected that from 8:00 a.m. on June 3 to 8:00 a.m. on June 4, there will be heavy rains in eastern and southern Guizhou Province, southeastern Chongqing, western and northern Hunan Province, northern Jiangxi Province, northern Guangxi Province, and northern Guangdong Province. There will be extremely heavy rain in the northwestern part of Hunan Province. Some of the above-mentioned areas could have short-term heavy precipitation, and local strong convective weather such as thunderstorms and strong winds.
The weather in the early summer of this year has been abnormal. The rainstorm pattern in the south started early. In mid-May, the north encountered the "start of summer cold." In the next few days, the temperature in Shanxi Province, Hebei Province, Inner Mongolia and other places may hit a new low for the same period in the past three decades, and snowfall may occur in some areas.
All content published on this website are copyrighted by Minghui.org. Minghui will produce compilations of its online content regularly and on special occasions.