San Francisco: Falun Dafa Receives Warm Welcome at San Leandro Cherry Parade
(Minghui.org) San Leandro held its annual Cherry Parade on June 4, 2022, and invited Falun Dafa practitioners to participate. The organizers said they were delighted, as practitioners are an important part of the community.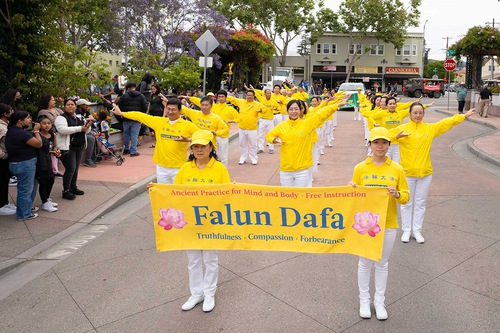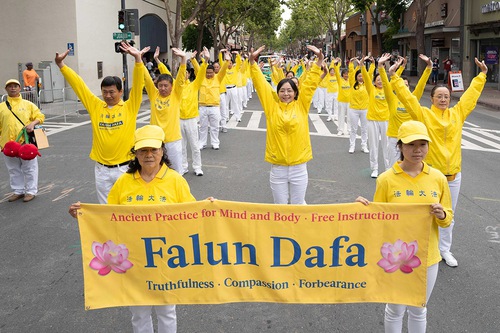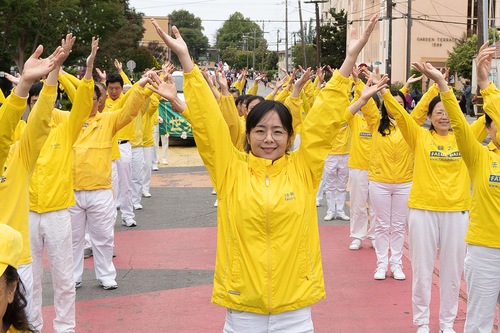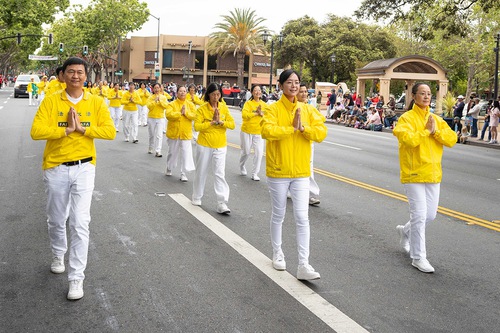 Practitioners participated in San Leandro's Cherry Parade.
The Cherry Parade was just one part of the day-long festival San Leandro held to celebrate its 150th birthday, which included dance performances, a fashion show, martial arts performances, as well as various vendors selling cherries and food.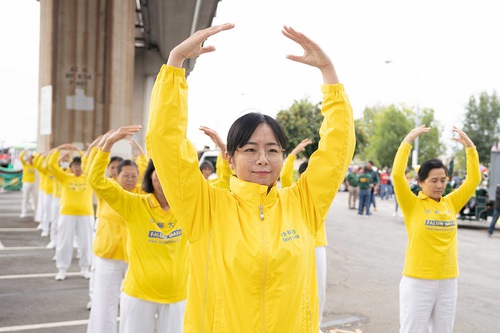 Practitioners did the exercises before the parade.
Before the parade commenced, practitioners did the exercises in the assembly area. Ms. Flo Montgomery noticed the peaceful scene and asked where she could learn the practice. She also followed along as practitioners did the exercises. When she learned that Falun Dafa was based on the principles of Truthfulness, Compassion, Forbearance and can help improve one's immune system, and relieve stress and anxiety, she said, "These principles are wonderful! This is just what I need."
The parade began at 10 a.m. and started off from Parrot Street, then headed east for one mile on East 14th Street. Practitioners demonstrated the exercise movements along the parade route while others handed out information along the way.
Wu Junxiang, one of the organizers of the Falun Dafa group, said, "We are here today to bring the beauty of Falun Dafa to local residents. We were welcomed by spectators on both sides of the road as we walked past. The fliers we prepared were soon handed out. People were receptive and wanted to know more about Falun Dafa."
Li Huimei, a practitioner who took part in the parade, said she was overjoyed to attend the event and help more people learn about the practice. "In China, many people don't have the opportunity to know the truth about Dafa. In the U.S., through parades like this, we show people the benefits of the practice. Spectators applaud when they see us, and wave at us."
The host introduced Falun Dafa as the practitioners neared the main stage, "The principles of Falun Dafa are Truthfulness, Compassion, and Forbearance. Since it was introduced to the public in 1992, hundreds of millions of people have benefited physically and mentally. Falun Dafa can be practiced by people of all ages." People waved and clapped after his introduction.
Ely Hwang, an organizer of the Cherry parade, said excitedly when he saw practitioners in the parade, "Falun Dafa is amazing, we are thrilled that they are able to attend this year's parade. They are an important part of the community."
Jasmine Moore, a parade judge, said she thought the practitioners' entry was great, "They look full of powerful but peaceful energy. I read on the flier that practicing Falun Dafa can relieve stress. This is wonderful to hear because I have anxiety disorder." She said she would remember what practitioners told her, "Falun Dafa is good."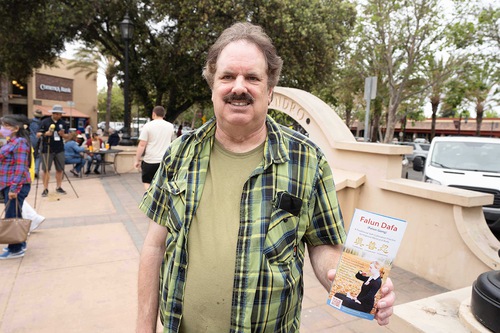 Jerry Hanna, another judge at the parade, said that the practitioners were outstanding in the parade.
Jerry Hanna, another judge said that practitioners were outstanding in the parade, "I love the principles promoted by Falun Dafa – Truthfulness, Compassion, Forbearance. They appear to be in high spirits, full of vitality wearing bright costumes."
Spectators on both sides of the parade route showed their support for practitioners by clapping, waving, or giving them a thumbs up.
Del, a San Leandro resident, was delighted to see the practitioners, "They are peaceful, I saw them doing the exercises in the park. They are great, very spiritual."
Another spectator, Paula, said, "Truthfulness, Compassion, Forbearance, these are just what we need now. Look at what is happening in the world at the moment, we need these. Alleviate stress and anxiety, boost one's immunity to fight the COVID virus, Falun Dafa is great. Can I keep this flier? Thank you."
Eric, another resident said, "I love this group, I love how orderly they are, their exercise movements are in sync. There are young and old people, and they all look amazing. I am glad to see them in San Leandro."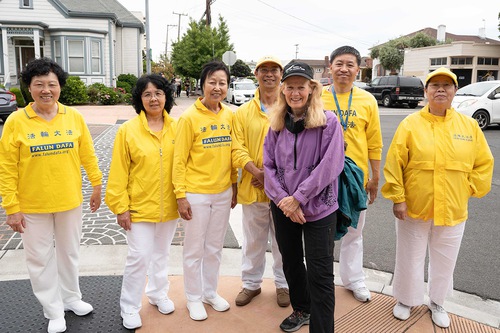 Linda Morine met several practitioners and took a photo with them.
Ms. Linda Morine met several practitioners while on her way home after the parade. She took a photo with them. She said she once traveled to China, "Chinese people are kind, but I know the Chinese communist regime is evil, they even take prisoners' organs by force."
As a Christian, Linda said she admired Falun Dafa, "The principles Truthfulness, Compassion, Forbearance are absolutely wonderful, I support you for sure. Every time I meet practitioners, I learn more about Falun Dafa."
All content published on this website are copyrighted by Minghui.org. Minghui will produce compilations of its online content regularly and on special occasions.