Falun Gong Practitioners Interviewed by a TV Station in Guadeloupe
(Minghui.org) Guadeloupe is group of islands in the Caribbean and an overseas region of France. On April 14, 2022, popular local television station Canal 10 broadcast a live stream interview with Falun Gong practitioners during a prime midday slot at 12:30 p.m. The practitioners introduced the mind body practice to the viewers and explained the persecution in China. The interview was broadcast simultaneously on Canal 10's Facebook page and a local radio station.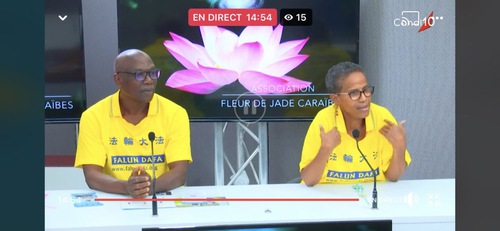 Falun Gong practitioners introduce the mind body practice on Guadeloupe's Canal 10 television station on April 14, 2022.
Practitioners told the viewers that Falun Gong is a high level cultivation way from the Buddha school that was first taught by Mr. Li Hongzhi in May 1992. It is guided by the highest principles of the universe – Truthfulness, Compassion, Forbearance – and the processes that underlie transformation throughout the universe. It consists of five sets of exercises that are simple to learn. By July 1999, an estimated 100 million people were practicing Falun Gong in China. These people became physically and mentally healthy through the practice. Marlene, a Falun Gong practitioner, shared some of the positive changes she went through after taking up the practice. Her chronic insomnia disappeared and she stopped having to take pills to go to sleep.
Falun Gong practitioners have been persecuted in China for 23 years. Despite the suppression in China, the practice has spread to every corner of the world. The Falun Dafa association in Guadeloupe regularly organizes group exercise and truth clarification activities to introduce the practice and inform locals and tourists about the ongoing persecution in China.
Guadeloupe has more than a dozen Falun Gong practice sites, including in Petit-Bourg, Gosier, Rivière Sens, Port- Louis, Ste-Anne, St-Félix, Plage de Roseau, Ste-Rose and Abymes. Anyone can go to any of these practice sites to learn the exercises.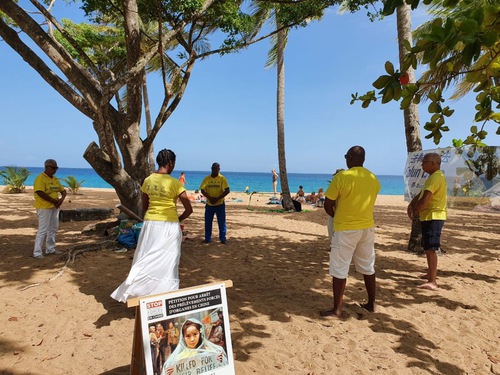 Falun Gong practitioners perform the exercises at Deshaies beach on July 18, 2021.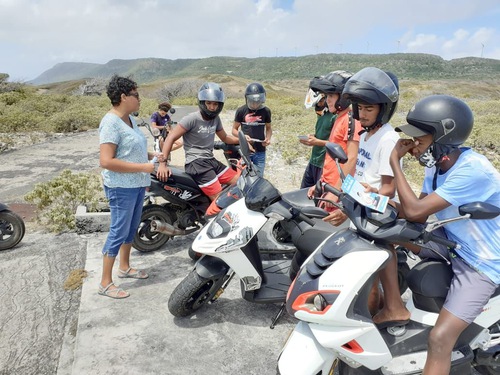 A practitioner (first left) introduces the practice to a group of motorcyclists at La Désirade, a small island in the south of Guadeloupe, on March 28, 2021.
A tourist signs the petition calling for an end to the persecution in China at Deshaies beach in Guadeloupe in July 2021.
During the program broadcast by Canal 10, the practitioners told viewers about the brutal persecution taking place in China. They explained that the persecution was launched by former communist party leader Jiang Zemin, who was threatened by the popularity of the practice. He ordered the state-controlled media to fabricate lies to vilify the practice. Since 1999, countless practitioners have been incarcerated, sent to labor camps, and mental hospitals where many have been brutally tortured, and worse still, had their organs forcibly removed and sold for profit.
The host of the show was shocked to learn about the extent of the human rights atrocities. He said he could not believe that a practice like Falun Gong, which benefits one's physical and mental well being, had become a target for brutal suppression by the Chinese communist regime. He said he plans to go to a local practice site to learn the exercises.
Views expressed in this article represent the author's own opinions or understandings. All content published on this website are copyrighted by Minghui.org. Minghui will produce compilations of its online content regularly and on special occasions.