Ukraine: Falun Gong Practitioners Share Amazing Benefits of Practicing in a Country Ravaged by War
(Minghui.org) Falun Gong practitioners held activities in downtown Kyiv, the capital city of Ukraine, on May 7, 2022, to celebrate World Falun Dafa Day. The event ran for three hours. Practitioners shared the beauty of the practice and its teachings, which are based on the principles of Truthfulness-Compassion-Forbearance, through exercise demonstrations, handing out information and giving people handmade lotus flowers.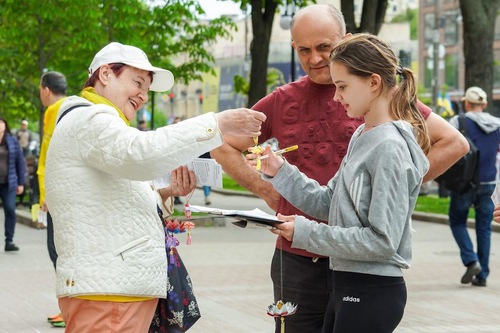 A practitioner (left) explains what Falun Gong is and hands a girl a lotus flower.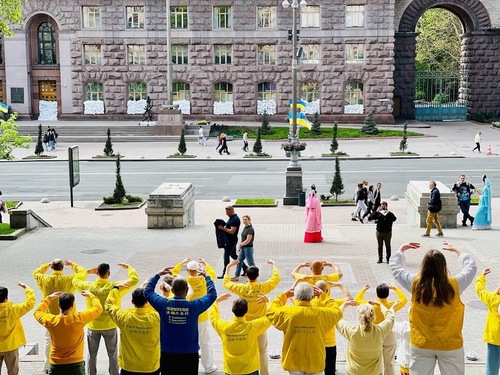 Falun Gong practitioners demonstrate the exercises across from the Kyiv City Council building.
Kyiv has been bombed many times since war broke out on February 24 this year. According to practitioners, bombs hit the city nearly every day in February and March. They could hear the sound of gunfire and were struck by the smell of smoke whenever they left their homes.
They credit practicing Falun Dafa and Dafa founder Master Li's protection for keeping them safe while living in a war zone. They have persisted in doing the exercises and studying the teachings of Falun Dafa, despite the tension and danger, because the practice helps them keep calm.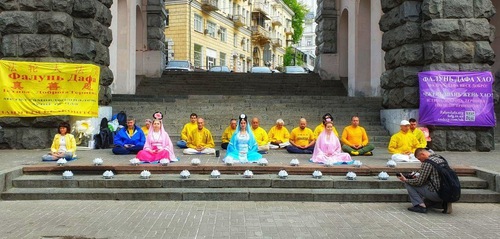 Practitioners do the sitting meditation during activities held to celebrate World Falun Dafa Day in Kyiv.
Practitioners introduce the mind body practice to residents in central Kyiv.
Grateful for Master's Protection
Falun Gong practitioner Tatyana lives in a rural district outside Kyiv. She experienced a shock wave from a bomb explosion.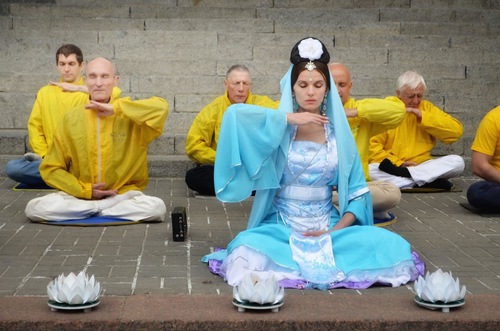 Falun Gong practitioner Tatyana (dressed in blue) doing the sitting meditation exercise.
Tatyana said practicing Falun Dafa helped her go through an extremely difficult time. During the war, Kyiv residents had to either frequently hide in air raid shelters or chose to leave the war-torn region. She and her husband did the exercises in their own backyard every day while the war was going on. The practice alleviated their mental stress. During the constantly evolving, turbulent times, their conviction in Falun Dafa's principles of Truthfulness-Compassion-Forbearance helped them keep a positive outlook. They have also made use of every opportunity during this stressful time to introduce the practice to others.
Becoming Fit and Healthy Through Practicing Falun Dafa
In 1998, a Falun Gong practitioner from China came to Ukraine to introduce the practice to local residents. Svetlana took up the practice at that time.
Svetlana chose to stay in Kyiv after the country was invaded and volunteered to cook meals for people. She said practicing Falun Dafa has given her good health and made her willing to help those in need.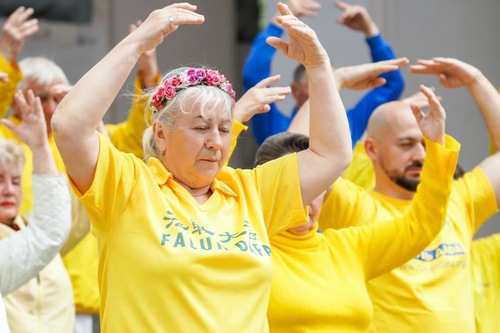 Falun Gong practitioner Svetlana does the second set of exercises.
Falun Dafa Is a Guide for My Mind
Another practitioner named Zoriana said that Falun Dafa is a guide for her mind. "It is my inner compass. It helps me understand who I am, where I am going and why I should go there. Its guidance is not on the everyday level, but deeper, spiritually. My faith in Dafa is bright, giving me energy, making me light and healthy, wise and capable. It enables me to help others," she said.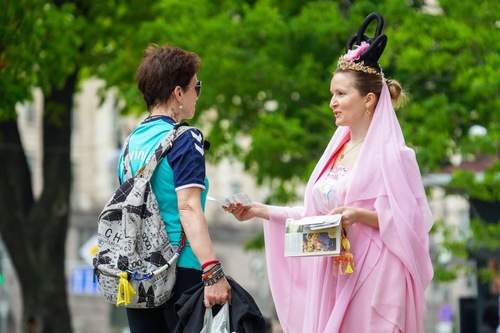 Falun Gong practitioner Zoriana (right) introduces the practice to people.
"People Should Be Calm Like Falun Gong Practitioners"
Natalia is from the city of Marioepol, which has been the target of severe attacks from the Russian army. She joined in doing the exercises with practitioners during the Dafa Day activity in Kyiv on May 7. She said she felt at peace while doing the exercises.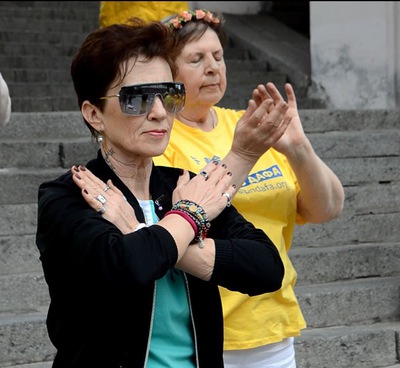 Natalia, who is from a war-ravaged region, does the exercises with practitioners in Kyiv on May 7, 2022.
The day after the activities, Natalia went to a practice site in Kyiv. She said she hopes everyone can be tranquil like Falun Gong practitioners.
Victoria, a university student, stood watching practitioners for a long time as they did the exercises. She was interested in the sitting meditation exercise. She had heard of Falun Gong before and said she had always hoped to learn more about it. She felt a deep peace after speaking to practitioners, as if she was doing the sitting meditation.
A soldier was drawn to the practitioners doing the exercises. The young man did not live in Kyiv. He asked how he could learn the exercises. Practitioners gave him a website where he could download the exercise instructions and the teachings of Falun Dafa.
Practitioners in Kyiv are determined to continue practicing cultivation and introducing Falun Gong to people regardless of the war or any other changes in the environment. They will continue to study the Fa and help Ukrainians know how wonderful Dafa is.
All content published on this website are copyrighted by Minghui.org. Minghui will produce compilations of its online content regularly and on special occasions.