Canada: Elected Officials Honor the 30th Anniversary of Falun Dafa's Introduction to the World (Part 4)
(Minghui.org) May 13 is World Falun Dafa Day and this year is the 30th anniversary of Falun Dafa's introduction. Elected officials at the federal, provincial, and city level sent letters of greeting, videos, and proclamations to congratulate World Falun Dafa Day. A total of 120 letters, videos, and proclamations have been received so far. The following are letters and videos from 14 elected officials. 
Video from Kevin Lamoureux, Member of Parliament (MP)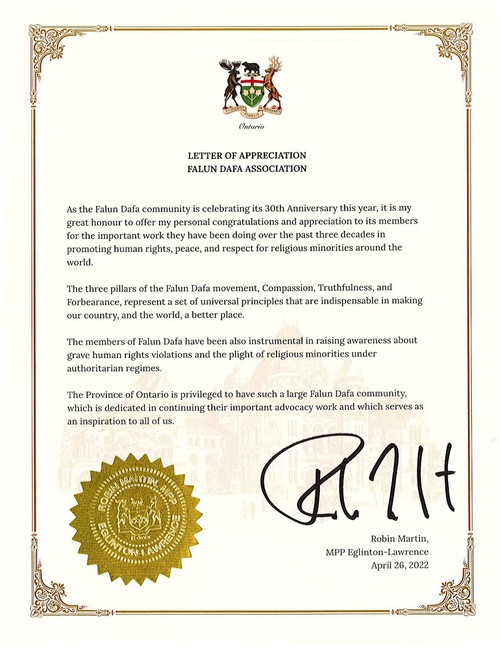 Letter from Robin Martin, Member of the Legislative Assembly of Ontario
In her letter Ms. Martin wrote, "As the Falun Dafa community is celebrating its 30 th Anniversary this year, it is my great honour to offer my personal congratulations and appreciation to its members for the important work they have been doing over the past three decades in promoting human rights, peace, and respect for religious minorities around the world.
"The three pillars of the Falun Dafa movement, Compassion, Truthfulness, and Forbearance, represent a set of universal principles that are indispensable in making our country, and the world, a better place.
"The members of Falun Dafa have been also instrumental in raising awareness about grave human rights violations and the plight of religious minorities under authoritarian regimes.
"The Province of Ontario is privileged to have such a large Falun Dafa community, which is dedicated in continuing their important advocacy work and which serves as an inspiration to all of us."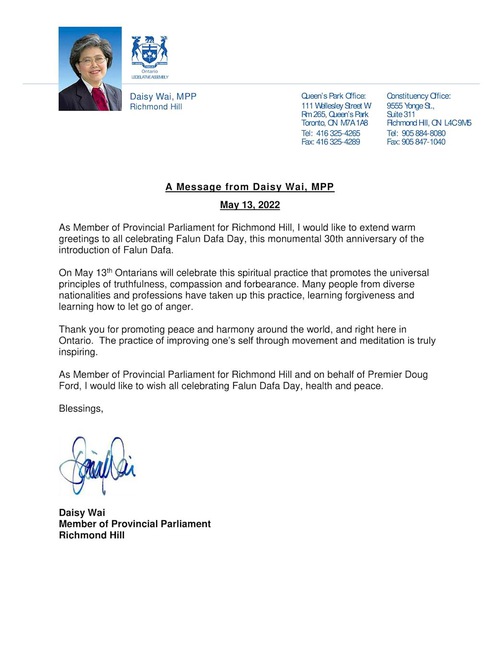 Letter from Daisy Wai, Member of the Provincial Parliament (MPP) of Ontario
Video greeting from MP Marilyn Gladu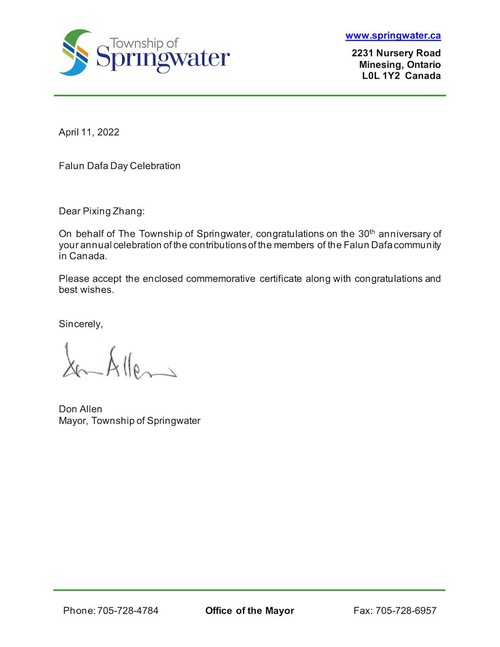 Letter from Mayor Don Allen of the Township of Springwater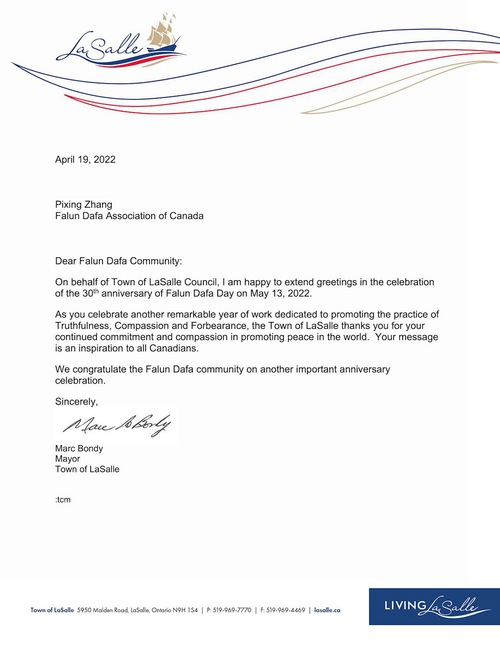 Letter from Mayor Marc Bondy of the Town of LaSalle
Resolution from Mayor Robin Jones of the Village of Westport
Proclamation from Mayor Darrin Thome of the Town of Flatrock
Letter from Mayor Christa Lowry of the Municipality of Mississippi Mills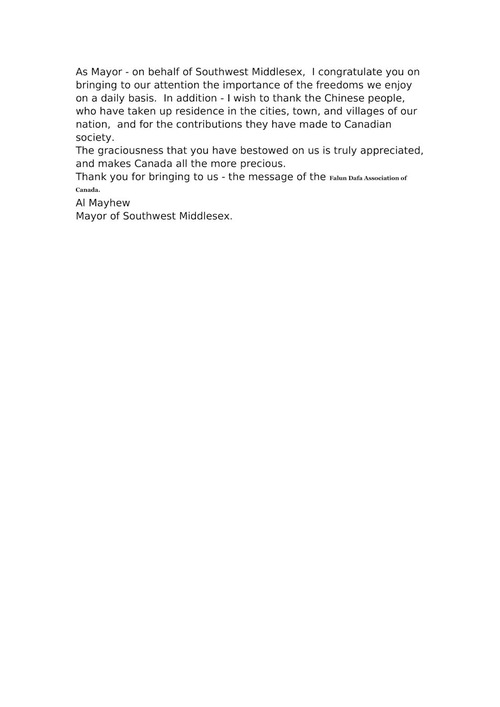 Message from Mayor Al Mayhew of Southwest Middlesex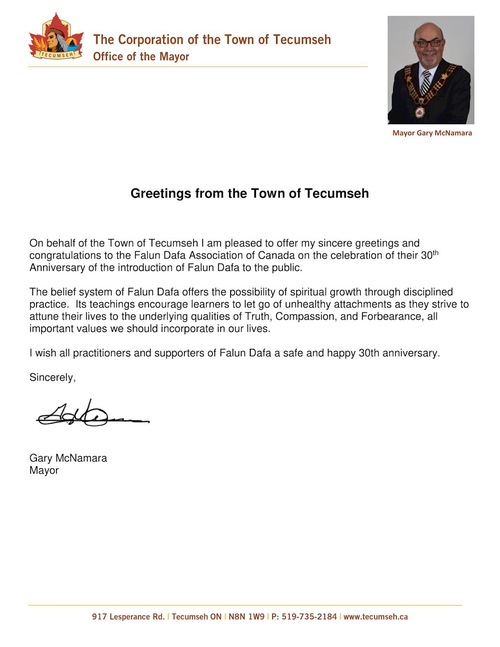 Letter from Mayor Gary McNamara of the Town of Tecumseh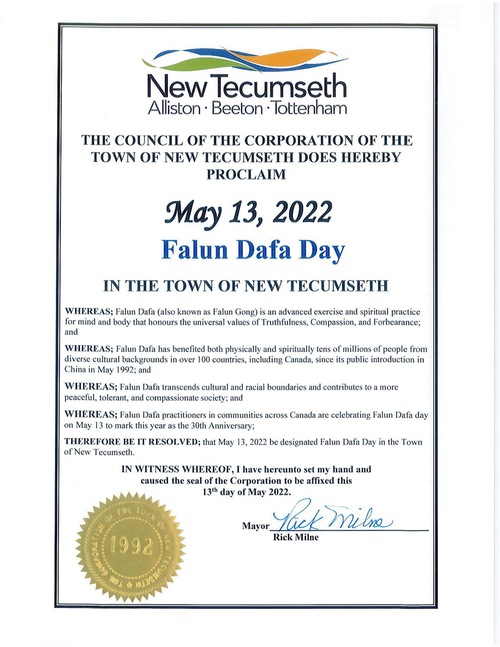 Proclamation issued by Mayor Rick Milne of the Town of New Tecumseth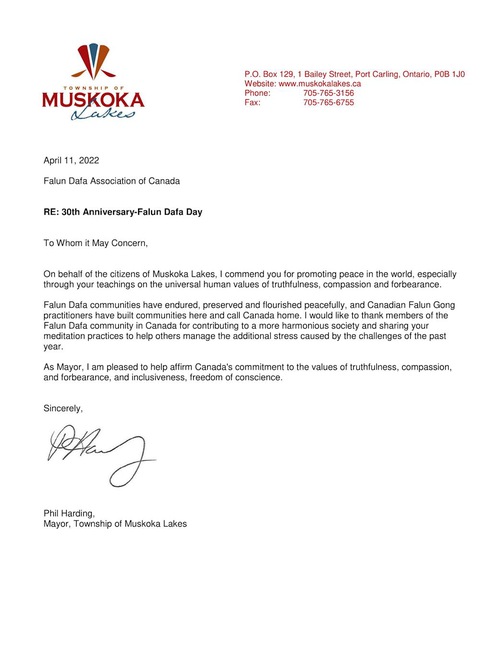 Letter from Mayor Phil Harding of the Township of Muskoka Lakes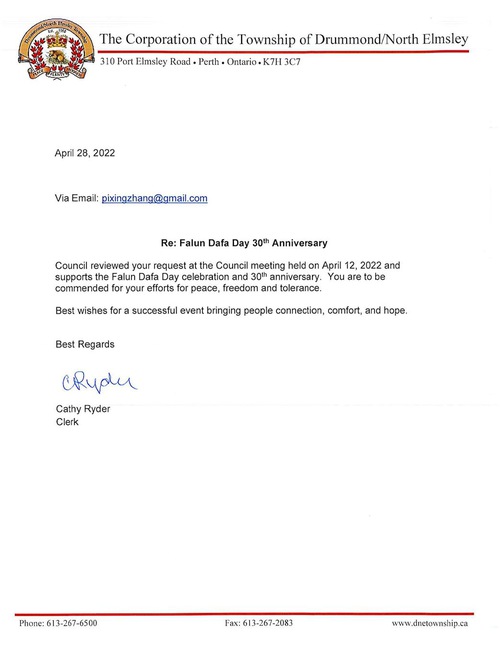 Letter from clerk Cathy Ryder of the Township of Drummond/North Elmsley
Background: What Is Falun Dafa?
Falun Dafa (also known as Falun Gong) was first introduced to the public by Mr. Li Hongzhi in Changchun, China, in 1992. The spiritual discipline is now practiced in over 100 countries and regions worldwide. Millions of people who have embraced the teachings—which are based on the principles of Truthfulness, Compassion, and Forbearance—and learned the five exercises have experienced improved health and well-being.
All content published on this website are copyrighted by Minghui.org. Minghui will produce compilations of its online content regularly and on special occasions.