Hesse, Germany: Elected Officials Recognize Falun Dafa Day
(Minghui.org) May 13 is World Falun Dafa Day and this year is the 30th anniversary of Falun Dafa's introduction. Elected officials in Hesse, Germany sent letters to congratulate Falun Dafa Day.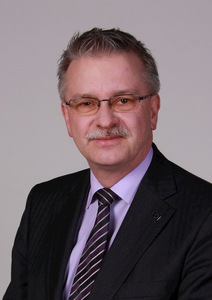 Michael Gahler, European Member of Parliament (EMP)
EMP Gahler stated in his letter, "On the occasion of the 23rd World Falun Dafa Day, I extend my heartfelt congratulations to you.
"The European Parliament supports peace, democracy and human rights around the world and has recently re-denounced the organ trade affecting Falun Dafa practitioners in China. You, like all other threatened groups in China, have not been forgotten. No dictatorship is permanent."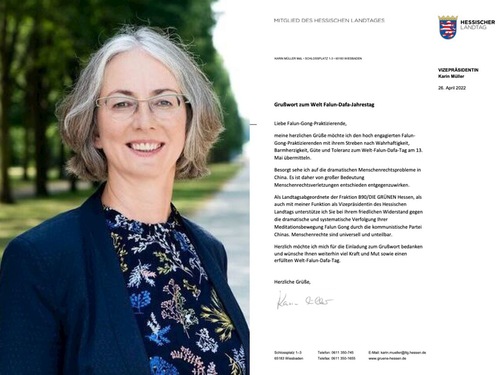 Karin Müller, Deputy Speaker of Hesse State Parliament and her letter
Karin Müller stated in her letter, "I am concerned about the growing human rights problems in China. So it is very important to firmly resist human rights violations.
"As a member of the Green Party in the Hesse State Parliament, and as the Deputy Speaker of the Hesse State Parliament, I support you in peacefully resisting the Chinese Communist Party (CCP)'s severe and systematic persecution of Falun Gong. Human rights are universal and indivisible to people."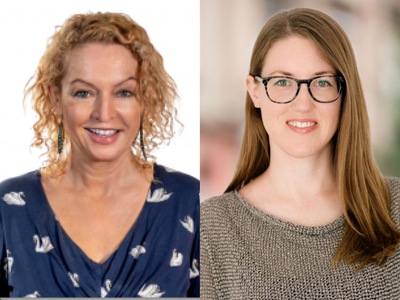 Martina Feldmayer (left) and Miriam Dahlke (right)
Martina Feldmayer and Miriam Dahlke, two deputy chairmen for the Green Party in the Hesse State Parliament, sent a joint letter. In the letter they stated, "We warmly congratulate you on this year's Falun Dafa Day and the 30th anniversary of Falun Dafa's spread to the world. The values of Truthfulness-Compassion-Forbearance you represent are more important today than ever, and remind us to treat people with different ideas with more tolerance and understanding. A culture of peaceful coexistence is essential to a free and democratic society. This year, we have to regret to remind everyone again that Falun Gong is still systematically persecuted and suppressed by the CCP. This arbitrary persecution by the Chinese government must stop. Falun Gong practitioners must also be allowed to live freely and safely."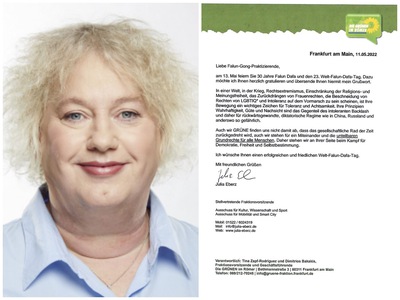 Julia Eberz, Councilor of Frankfurt City and her letter
Councilor Eberz mentioned that in this world, all kinds of separatist turmoil and restrictions on freedom of religion and speech are on the rise, and Falun Gong's principles of Truthfulness-Compassion-Forbearance are becoming more noticeable. 
Background: What Is Falun Dafa?
Falun Dafa (also known as Falun Gong) was first introduced to the public by Mr. Li Hongzhi in Changchun, China, in 1992. The spiritual discipline is now practiced in over 100 countries and regions worldwide. Millions of people who have embraced the teachings—which are based on the principles of Truthfulness, Compassion, and Forbearance—and learned the five exercises have experienced improved health and well-being.
All content published on this website are copyrighted by Minghui.org. Minghui will produce compilations of its online content regularly and on special occasions.