New Jersey: Practitioners Celebrate the 30th Anniversary of Falun Dafa's Introduction and Express Their Gratitude to Master
(Minghui.org) Falun Dafa practitioners from New Jersey gathered at Pier A Park in Hoboken, New Jersey, on May 8, 2022, to celebrate the 30th anniversary of Falun Dafa's public introduction to the world, express their boundless gratitude to Master and wish him a happy birthday.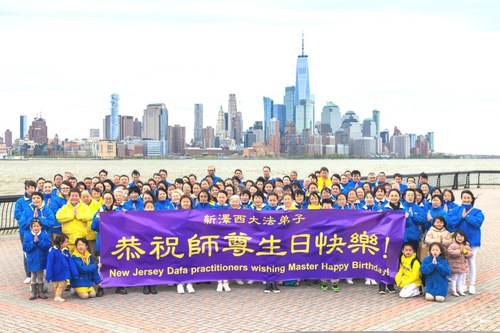 Falun Dafa practitioners from New Jersey gather at Pier A Park in Hoboken, New Jersey, to wish Master Li a happy birthday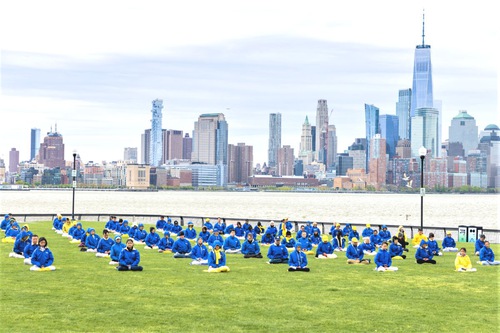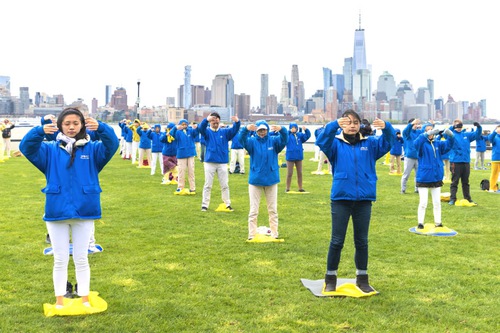 Practitioners perform Falun Dafa's exercises to celebrate World Falun Dafa Day
Falun Dafa practitioners demonstrated the five sets of exercises to the melodious exercise music. Their blue costumes looked like spring flowers blooming on the lush green lawn. It was a wonderful sight between heaven and Earth.
The principles of Falun Dafa are based on the characteristic of the universe, Truthfulness, Compassion, and Forbearance, and emphasize the importance of cultivating virtue and compassion. People who practice Falun Dafa report tremendous improvement in their health and moral values.
The main book of Falun Dafa, Zhuan Falun, has been translated into more than 40 languages. Over the past 30 years, the mind-body practice has spread to more than 100 countries and regions, and people from countless different ethnic groups practice. To date, Falun Dafa has won more than 5000 awards internationally and 200 of the awards were from the state of New Jersey.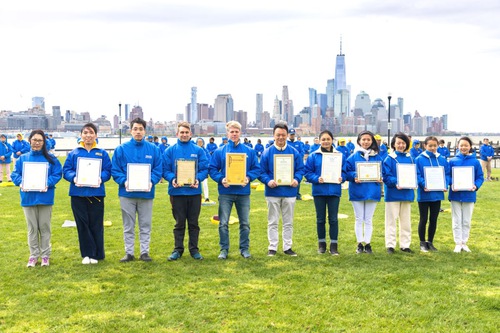 Practitioners display several proclamations and awards issued for World Falun Dafa Day from different cities and counties in New Jersey
One of New Jersey's Falun Dafa coordinators Zhu Xueye said, "Over the past few years, many of New Jersey's cities and counties have issued proclamations for Falun Dafa. They have also encouraged local residents to learn more about the practice and to cultivate Falun Dafa.
Young Practitioner Finds the Purpose of Life by Cultivating Truthfulness-Compassion-Forbearance Solidly
Liu Tao started practicing Falun Dafa with her parents at the age of three and works in the field of data science. Like many other young people, Liu Tao was once deluded by life with many material pursuits. "When I had everything I wanted in life, I realized that I had lost many things. I realized I did not know what to do with the material interests that I had fought for so hard."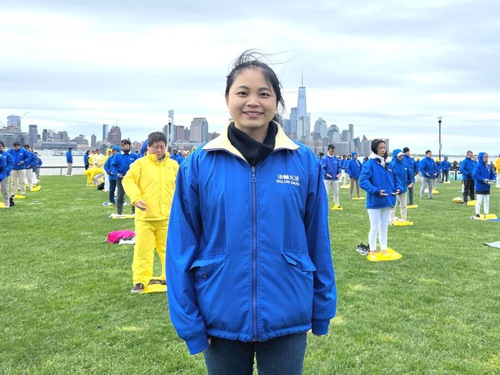 Liu Tao, a Falun Dafa practitioner, feels fortunate to have embarked on the path of cultivation.
Fortunately, the principles of Dafa had already taken root deep within her heart and Liu Tao decided to return to her path of cultivation. "I know the true purpose of life and want to abide by the principles of Truthfulness-Compassion-Forbearance to become a better person."
Liu Tao has found the purpose of life and said, "Being a human is not about fighting for fame and personal gain, it is about following high moral standards."
Ailment Disappears Miraculously
Shi Ningzeng was once a software engineer who worked at the Shengli Oil Field in Shandong Province. Spending a long time sitting in front of a computer screen had damaged her eyes. She was unable to look at any screen for more than 10 minutes because her eyes would start hurting.
She traveled all over China seeking a cure but nothing was effective. Her eye problem only worsened as time passed. She was only 26 years old at the time.
Her middle-school teacher had introduced her to Falun Dafa. "I felt very warm in my heart upon hearing the words 'Falun Dafa,'" she remembered, "This was the only qigong practice that did not collect any tuition."
During the 1980s and the 1990s, many qigong masters were finding many ways to make money. Ningzeng had her doubts and wondered why Falun Dafa was free of charge. When she attended a series of Falun Dafa lecture classes, she said, "I was shocked and amazed. Never did I attend such a good lecture class and encounter such a great Master." Words could not describe how happy she felt. After she attended all of the nine-day lecture classes, all of Ningzeng's problems seemed to have disappeared.
"The principles of Truthfulness-Compassion-Forbearance are truly great. I need to abide by these principles," she recalled thinking. Ningzeng started to abide by the principles of Falun Dafa and became a better person. A month later, she was able to work on a computer for eight hours without feeling any discomfort in her eyes. She realized that her eyes were completely healed! "You can imagine how I felt. I was very emotional knowing that my eyes were completely healed."
Enveloped by gratitude, Ningzeng has been practicing Dafa for 26 years. "May 13 is a special day. People from all walks of life and ethnicities gather to wish Master Li Hongzhi, the founder of Falun Dafa, a happy birthday! We are grateful to Master. Thank you Master!"
Immersed in Dafa's Blessings, Grateful Beyond Words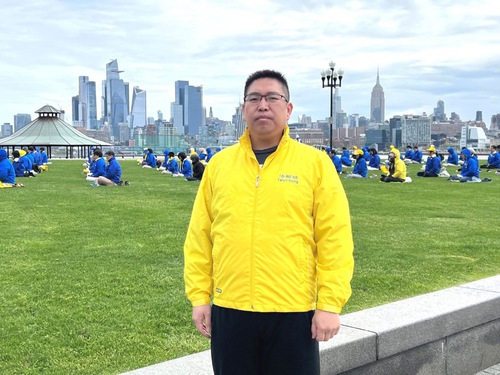 Xu Dejing, a Falun Dafa practitioner, wishes all Chinese people will learn the truth about Falun Dafa.
Xu Dejing was an electrical engineer at a Chinese oil company. He remembered that when he was growing up his mother always seemed to have a bad temper and enjoyed playing mahjong. After his mother began cultivating Falun Dafa in 1998, all her bad habits disappeared. Friends and family who witnessed the change in her were touched by it. Dejing's father was also moved by how much she changed and he began practicing Falun Dafa.
Dejing's father was a sales manager who often had to attend social activities and participate in various kinds of entertainment events, which included dancing and drinking. His father had been a heavy smoker and barely had any time to take care of his family. In Dejing's memory, his parents always quarreled. "My father quit smoking and drinking after he cultivated Falun Dafa." Dejing stated, "Those who drink and smoke know that it is quite hard to quit those bad habits. Not only did his father quit smoking and drinking, he also attended fewer social activities.
"My parents learned how to look inward after cultivating Dafa. They got rid of their bad habits and my family became more harmonious." Immersed in Dafa's blessings, Dejing experienced the warmth in his family. When he got older, Dejing decided to also start cultivating.
"Thank you Master. Thank you so much Master," Dejing said with deepest gratitude to Master. "I am unable to repay Master's salvation. Falun Dafa has been spread to the public for 30 years. I hope that all Chinese people will take their time to listen to the truth about Dafa, whether it is at a parade or local activities hosted by practitioners."
Dejing sincerely wishes that Chinese people everywhere can experience the beauty of Dafa.
Local Residents Praise Falun Dafa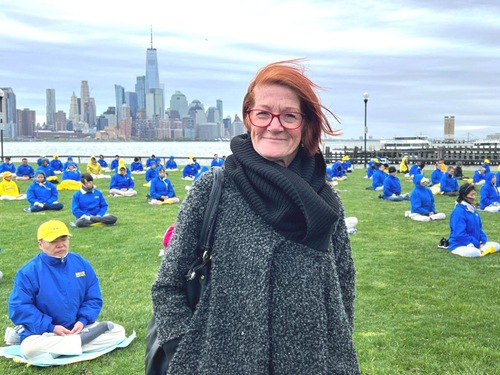 Rita Williams observed Falun Dafa practitioners activities and then learned to practice the exercises.
Rita Williams started observing Falun Dafa practitioners in the morning. After watching practitioners for a while, she voluntarily asked a practitioner to teach her the exercises. A practitioner patiently explained and taught her each exercise movement. Rita practiced attentively and was able to follow through with most of the exercise movements.
"I often come to this park and take strolls. I see Falun Dafa practitioners practicing the exercises every morning. I was interested in what they were doing and after seeing so many practitioners today, I decided to stop by and inquire about Falun Dafa and learn the practice. The exercises seemed like they could alleviate my stress and make me more relaxed," Rita said.
After she learned to practice the exercises, Rita said, "The exercise movements are very simple to follow and I enjoyed the content of it." Rita stated that she would come to the park more often to join the group practice site and learn more about this practice.
Many other passersby were also attracted to the practice. One of them was Nicholas Jordan. He had intended to take some scenic pictures of Manhattan from across the river but saw the Falun Dafa practitioners and was intrigued. He took many pictures of practitioners with his cellphone and said, "Practitioners make me feel very calm. I felt very peaceful just looking at them."
All content published on this website are copyrighted by Minghui.org. Minghui will produce compilations of its online content regularly and on special occasions.