Ireland: Elected Officials Offer Congratulations on the 30th Anniversary of Falun Dafa's Introduction to the World
(Minghui.org) May 13 is World Falun Dafa Day and this year is the 30th anniversary of Falun Dafa's introduction to the world. More than twelve elected officials at the state and local levels sent letters to congratulate the anniversary and commend the universal principles of Falun Dafa – Truthfulness-Compassion-Forbearance.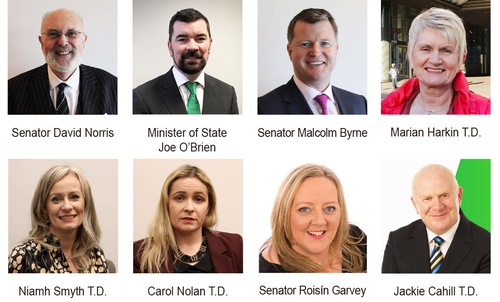 State-level elected officials who sent congratulatory messages
Senator David Norris stated, "The principles of Truthfulness, Compassion and Tolerance as outlined in the practice of Falun Dafa is highly commendable and is deservedly recognized worldwide. However, many Falun Dafa practitioners have suffered for their faith in particular in China and this must be highlighted and brought to world attention.
"I have spoken out on many occasions about this injustice and will continue to do so. Finally, I must say how much I admire the activists of the Irish Falun Dafa Association who are fighting injustice on behalf of their fellow practitioners. Please continue to create awareness and fight for justice and equality."
Joe O'Brien TD, Minister of State for Community Development and Charities, wrote, "I wish all practitioners the very best as you honor a day to bring focus on the values and contribution of this practice to our society. Enjoy the celebrations."
Niamh Smyth T.D. Wrote, "I welcome the health, moral and inner values espoused by Falun Dafa practitioners and how their work transcends cultural and racial divides. Their inhumane treatment at the hands of the Chinese authorities is unacceptable, reprehensible, and undermines the dignity and respect of the human body. I condemn this repression and support your right to practice openly."
Senator Malcolm Byrne wrote, "I am happy to wish all practitioners a happy World Falun Dafa Day on May 13. Our world is a better place when we have respect for and seek to understand the beliefs of others. It is important that governments respect minorities and uphold human rights. I share the concerns of so many that many of those rights are not being respected by the Chinese Authorities."
Marian Harkin T.D. Wrote, "I am very pleased to wish all Falun Dafa Practitioners a happy World Falun Dafa Day on May 13. I have had the privilege of collaborating with Falun Dafa practitioners at both European and Irish levels for many years and was happy to meet some of your colleagues outside the Convention Center in Dublin last year. I believe that the persecution of people who practice Falun Dafa is appalling and completely and totally unacceptable."
Carol Nolan T.D. wrote, "I am sure this is a time of great joy and cultural significance for your community. I wish to extend my heartfelt support for your effort to secure a peaceful existence where freedom of conscience is respected and protected."
Senator Roisín Garvey wrote, As I have said consistently, I stand in solidarity with the practitioners of Falun Dafa."
Jackie Cahill T.D. Wrote, "Wishing you and yours a very Happy Falun Dafa day for tomorrow. I hope you have a lovely day."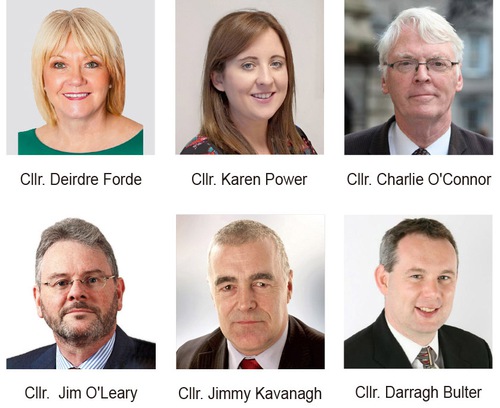 Elected officials at the city and local level who sent congratulatory messages
City Councilor Deirdre Forde of the City of Galway wrote, "I extend greetings and good wishes to all involved in Falun Dafa Day, especially on the 30th Anniversary of Falun Dafa in Ireland.
"It is regrettable and fundamentally immoral that such a benign practice with high ideals leads to persecution of human beings and their personal freedoms.
"I urge those who seek to destroy Falun Dafa to reconsider how this practice could be a force for good and those who believe in the practice to go forward in peace and harmony."
Councilor Karen Power of Fingal wrote, "Wishing all practitioners, a happy World Falun Dafa Day. It is important that those in authority respect minorities and uphold human rights. I share the concerns of so many that those rights are being persecuted by the Chinese authorities."
Councilor Charlie O'Connor of South Dublin, "I send warm greetings from Tallaght to celebrate the annual World Falun Dafa Day and applaud your endeavors to highlight the values and contribution to this practice in our society."
Councilor Jim O'Leary of Dun Laoghaire Rathdown wrote, "Just a quick note to confirm my support for the members of Falun Gong to be allowed to practice their beliefs free from persecution and oppression."
Councilor Jimmy Kavanagh of Donegal wrote, "I wish all practitioners a very happy Falun Dafa Day on May 13 as you celebrate this special occasion of your 30th anniversary. I also wish you continued success in your work and peace and good health to you all."
Background: What Is Falun Dafa?
Falun Dafa (also known as Falun Gong) was first introduced to the public by Mr. Li Hongzhi in Changchun, China, in 1992. The spiritual discipline is now practiced in over 100 countries and regions worldwide. Millions of people who have embraced the teachings—which are based on the principles of Truthfulness, Compassion, and Forbearance—and learned the five exercises have experienced improved health and well-being.
Jiang Zemin, former head of the Chinese Communist Party (CCP), perceived the spiritual discipline's growing popularity as a threat to the CCP's atheistic ideology and on July 20, 1999, issued an order to ban the practice.
Minghui.org has confirmed the deaths of thousands of practitioners as a result of the persecution over the past 22 years. The actual number is believed to be much higher. More have been imprisoned and tortured for their faith.
There is concrete evidence that the CCP sanctions the harvesting of organs from detained practitioners, who are murdered to supply the organ transplant industry.Under Jiang's personal direction, the CCP established the 610 Office, an extralegal security organization with the power to override the police and judicial systems and whose sole function is to carry out the persecution of Falun Dafa.
All content published on this website are copyrighted by Minghui.org. Minghui will produce compilations of its online content regularly and on special occasions.