Washington DC: Celebrating World Falun Dafa Day
(Minghui.org) May 13 was the 30th Anniversary of the public introduction of Falun Dafa and the 23rd World Falun Dafa Day. On Sunday, May 8, 2022, practitioners from Washington DC and surrounding areas held a rally on the National Mall, celebrating this holiday with songs and poems, a dragon dance, waist drums, musical performances, and exercise demonstrations.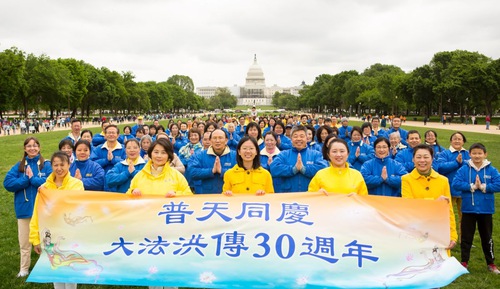 Practitioners wish Master Li Hongzhi a Happy Birthday.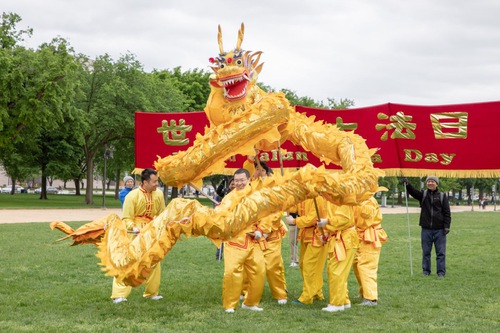 Dragon dance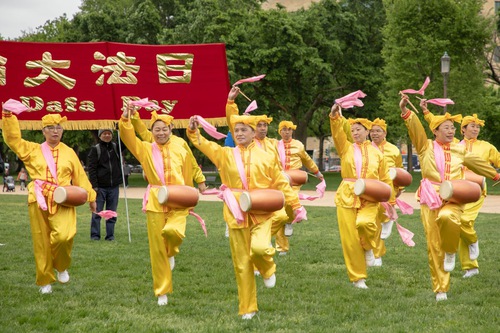 Waist drums
Congratulatory Letters and Support for Falun Gong
Several federal lawmakers and local government officials sent letters of congratulation, expressing their support for the principles of Truthfulness-Compassion-Forbearance.
Congressman David Trone thanks practitioners' for their contributions to society.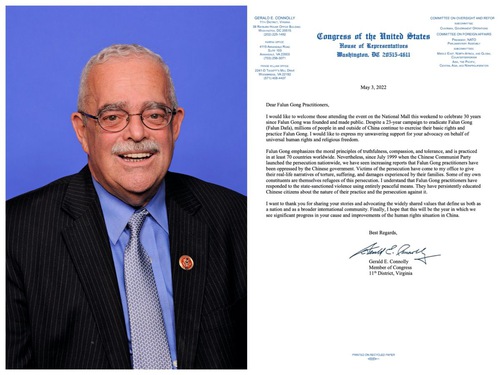 Congressman Gerald Connolly condemned the persecution and praised practitioners' efforts to end it.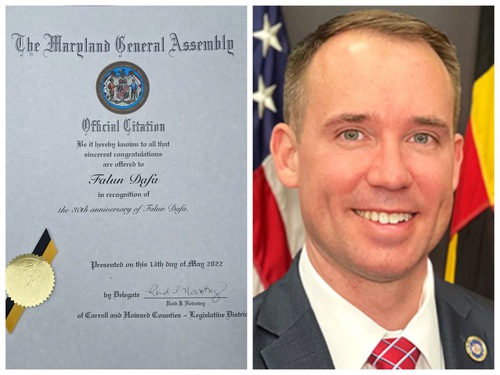 Maryland State Representative Reid Novotny's proclamation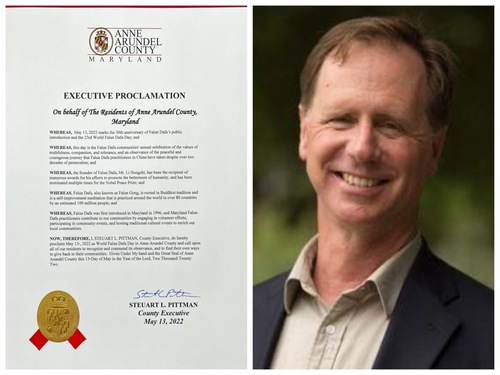 Congratulatory letter from Steuart L. Pittman, Jr., the head of Anne Arundel County, Maryland
Israeli Business Woman: Falun Dafa has changed my life.
Yael Lily lives in Israel. She started to cultivate Falun Gong, also called Falun Dafa, nine years ago. Today, she came to the US to share her experiences.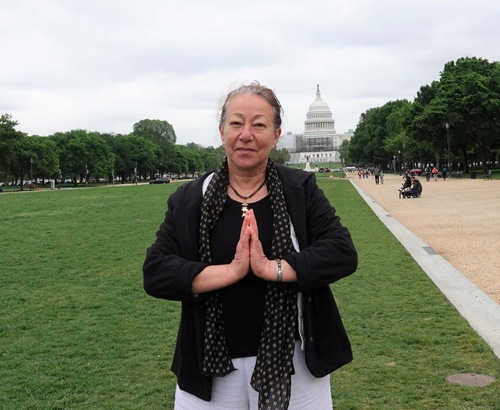 Yael Lily
Yael said, "Falun Dafa is so good. Cultivation has changed my life, changed my way of thinking. I used to worry all the time, always wanting to change this world. I'd been looking for something spiritual and tried many, and traveled the world and never found it.
"Falun Dafa completely changed my life from the inside out, and a lot of amazing things happened to me. On the first day of practicing, I quit smoking. I didn't truly understand it at that time. Now that I do, I know I have obtained such a great Way. On the path of cultivation, I can feel that Master Li is in charge of me. "
Yael, a jeweler, wore her own personally-designed "Truthfulness-Compassion-Forbearance" pendant to celebrate World Falun Dafa Day.
She said, "I bow deeply to Master. I have no words to express my gratitude to Master."
Journalist: America needs Falun Dafa more than ever.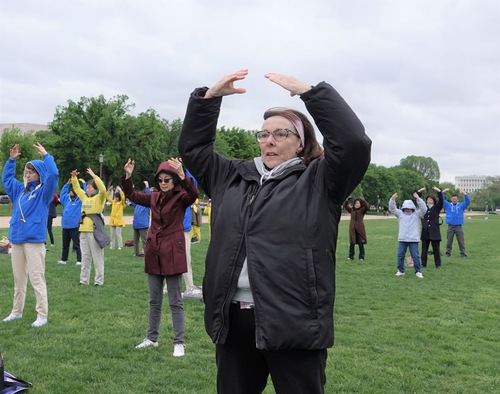 Laura Simon learning the second Falun Dafa exercise
Laura Simon is a journalist with 25 years of experience. She was a French free-lance war correspondent and a White House reporter and news manager.
Two days ago, she learned the Falun Gong exercises online, and today she came to the event for the in-person experience.
She often reads the Epoch Times newpaper and knew about the persecution and the truth of Falun Gong.
She said America needs Falun Dafa more than ever, because communism has infiltrated the country, from the government to education and family life.
"We are witnessing its fall. Now we need strong spiritual power to fight against the evil," she said.
Wishing Master Li a Happy Birthday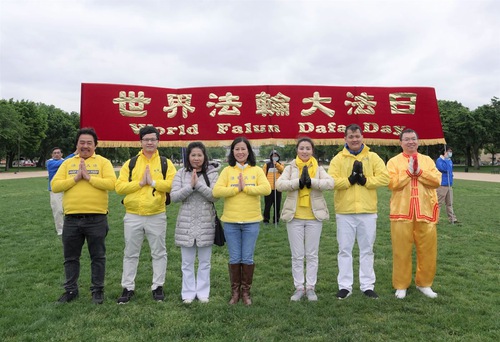 Vietnamese practitioners wish Master a Happy Birthday.
Ha Hoang, a Vietnamese practitioner, said that three-years of cultivation has brought her health and inner peace.
According to her, several hundred people in the local Vietnamese community are now cultivating Falun Gong.
Military Officer Has Great Respect for Practitioners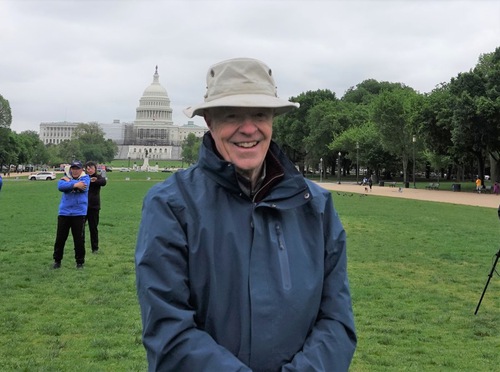 Bob Brotzman
Bob Brotzman is a retired military officer.
"I have a lot of respect for those who are brave," he said. "From Falun Gong practitioners, I saw the immeasurable courage they gained from their cultivation. They suffer because they hold fast to their faith. Their courage is admirable, and we should respect them. I am very supportive of Falun Dafa."
He said that the Falun Gong practitioners he came into contact with were peaceful and friendly.
"Many unpleasant things in life can easily make people angry, but they [Falun Gong practitioners] are never angry. They are very peaceful on the surface, but they are very strong on the inside, and this combination of external softness and inner rigidity makes a really perfect personality."
Brotzman paid tribute to Master Li Hongzhi, saying, "Over the past 30 years, you have spread Falun Dafa throughout the whole world... I respect this path of cultivation that you have brought to people."
All content published on this website are copyrighted by Minghui.org. Minghui will produce compilations of its online content regularly and on special occasions.