Germany: Practitioners Express Gratitude on the 30th Anniversary of Falun Dafa's Public Introduction
(Minghui.org) Since Falun Dafa was introduced to the public 30 years ago, it has been welcomed by people all over the world. There is a practice site and Fa study group in almost every city of any size in Germany. On the eve of World Falun Dafa Day, practitioners in Berlin, Bremen, Leipzig, Frankfurt, Hamburg, and Düsseldorf expressed their gratitude to Master Li, the founder of Falun Dafa, and wished him a happy birthday.
Falun Dafa in Berlin
There were few practitioners in Germany in 1999 when the Chinese Communist Party (CCP) launched the persecution of Falun Dafa in China. As more and more people started practicing Falun Dafa, eight group exercise sites have been established. The local police also learned the true story of Falun Dafa. One senior practitioner explained, "We got permits, which are hard to get, for our activities, because the police know we are peaceful cultivators and follow the rules. They support our truth clarification activities."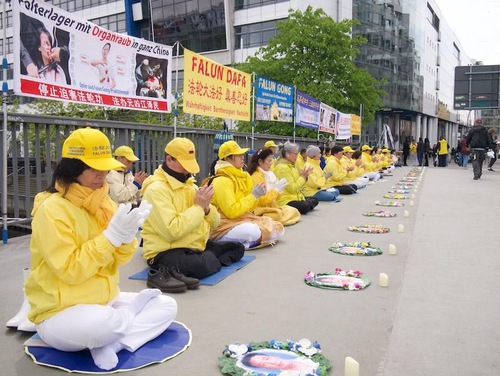 Falun Dafa practitioners in front of the Chinese Consulate in Berlin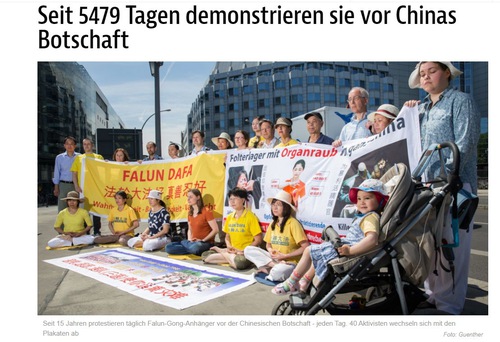 A media report in 2016 about the CCP's persecution of Falun Dafa
Another practitioner said, "We thank Master for allowing us to become his disciples during the Fa rectification period. His grace is incalculable. We will cultivate ourselves diligently and spread the truth to more people!"
Practitioners in Hamburg
Falun Dafa practitioners have held annual large-scale truth-clarification activities in Hamburg over the past few years. Because more and more people have started practicing Falun Dafa, they hold Information Days every Friday and Saturday in the center of Hamburg.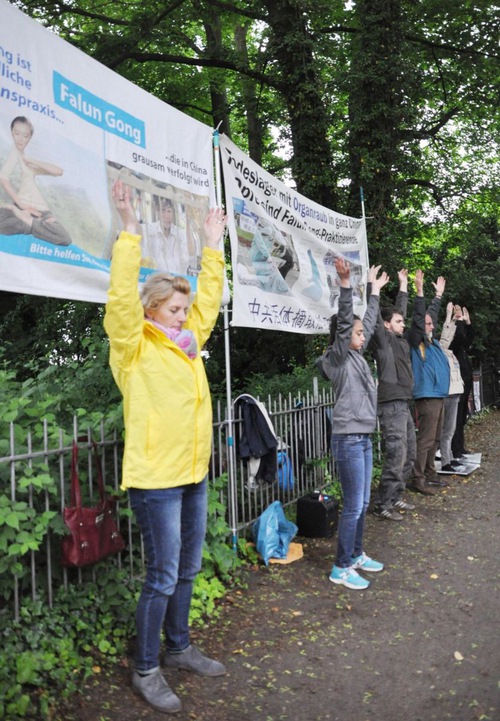 Practitioners in front of the Chinese Consulate in Hamburg
Julia, her sister Nina, her brother Florian, and their mother all practice Falun Dafa. Nina said, "Falun Dafa has taught me so much and pulled me up. I resumed my college studies and graduated. My sister and brother also graduated college and got married. My parents now have a good relationship. This is all because of Falun Dafa."
Florian and seven other Western Falun Dafa practitioners went to Beijing to speak up for Falun Dafa in 2002. They were arrested on Tiananmen Square after unfolding a banner and calling out, "Falun Dafa is great!" Florian said, "I wanted to tell the world that Falun Dafa is great and the Chinese Communist Party is wrong."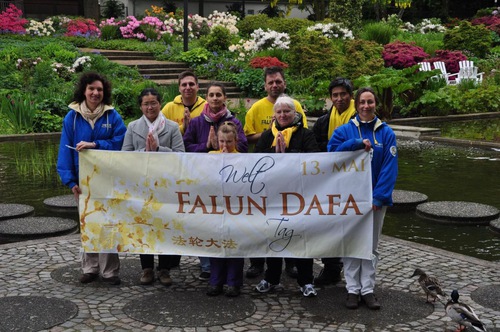 Practitioners from the Hamburg area thank Master and Falun Dafa.
Practitioners in Frankfurt
Frankfurt is a diverse city, with people from all over the world. Master taught the Fa in Frankfurt in 1998. Falun Dafa practitioners from five to 80 years old read the Fa teachings in Chinese, German, Romanian, Persian (Farsi), Vietnamese, and other languages when they study together.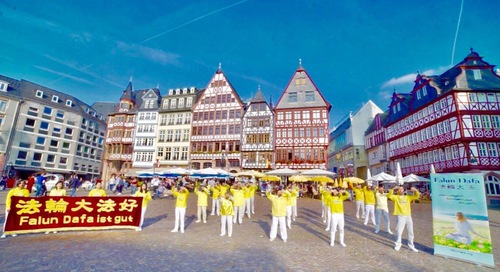 Practitioners in Frankfurt demonstrate the exercises on Römerplatz in Frankfurt.
On the eve of World Falun Dafa Day, practitioners recounted how they have grown more mature in their cultivation and in collaborating on projects to let people know about Falun Dafa. They said, "All Falun Dafa practitioners in Frankfurt wish Master a happy birthday and thank him for carrying us through difficulties. We are determined to walk the righteous path and fulfill our mission!"
Practitioners in Bremen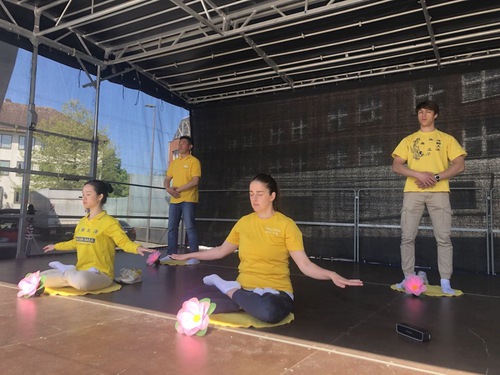 Falun Dafa practitioners demonstrate exercises during a festival.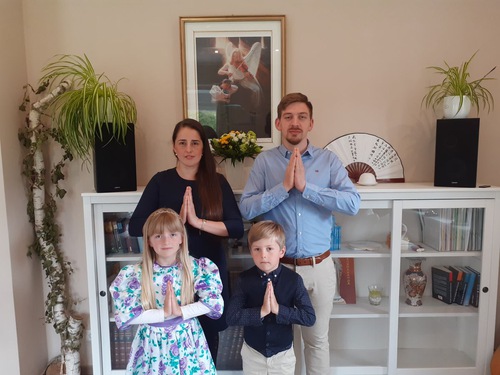 Mariken and her family
Mariken, her husband, and their two children all practice Falun Dafa. They recounted how they have benefited from their cultivation and thanked Master for his guidance.
Practitioners in Leipzig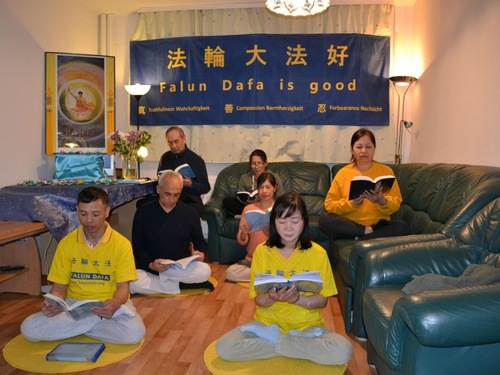 Practitioners in Leipzig study the Falun Dafa teachings.
Haroldo, one of the earliest practitioners, recounted his early experience: "I found that when I put Zhuan Falun in my hands, a warm energy flew from the book to my hands every time! I'd never experienced anything like that before."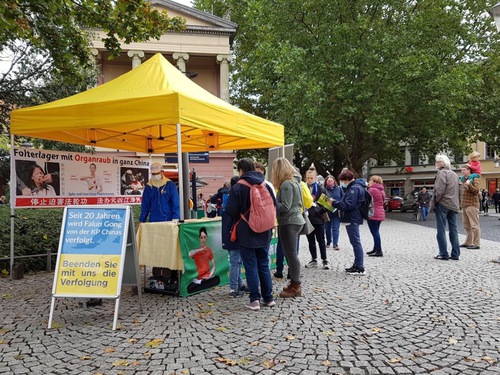 Practitioners hold activities in downtown Leipzig.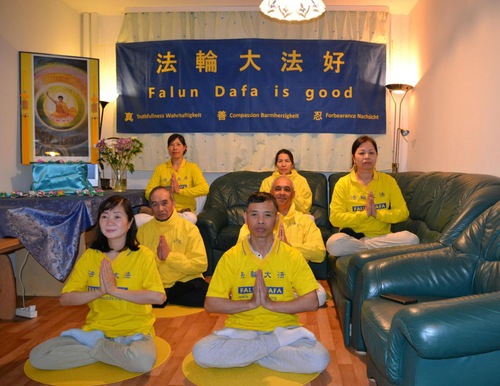 Practitioners in Leipzig express their gratitude to Master and their determination to do the three things well.
Practitioners in Düsseldorf
Practitioners in Düsseldorf hold information day activities three times each week, one in front of the Chinese Consulate and the other two in the center of town.
Doing the exercises together in Düsseldorf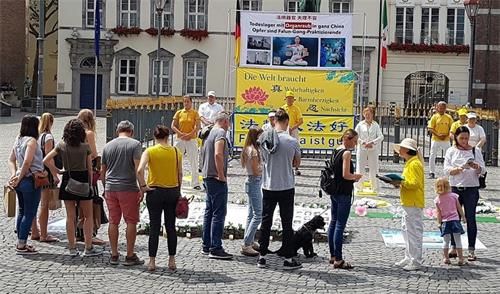 Activities in downtown Düsseldorf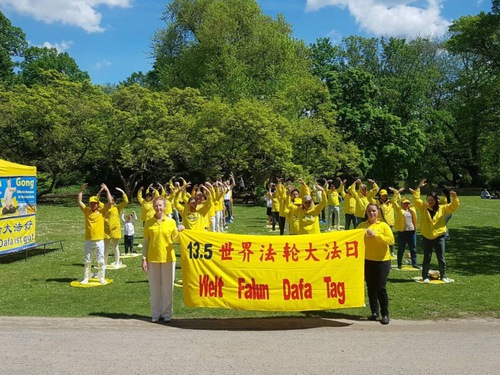 Practitioners in Düsseldorf celebrate World Falun Dafa Day.
All content published on this website are copyrighted by Minghui.org. Minghui will produce compilations of its online content regularly and on special occasions.