Young Falun Dafa Practitioners Celebrate World Falun Dafa Day and Respectfully Wish Master a Happy Birthday (21 Greetings)
(Minghui.org) Since the public introduction of Falun Dafa to the world on May 13, 1992, practitioners from all walks of life have benefited from the practice. Among these are young practitioners who have been immersed in the Fa with their families of cultivators. They have learned to study the Fa and upgraded their xinxing in times of conflicts and tribulations. Many of these young practitioners have excelled in their studies, gotten along with their classmates and were well-liked by their teachers.
With the 30th anniversary since the public introduction of Falun Dafa and the 23rd anniversary of World Falun Dafa Day, many young practitioners and their families have sent in greetings to Master Li Hongzhi, the founder of Falun Dafa.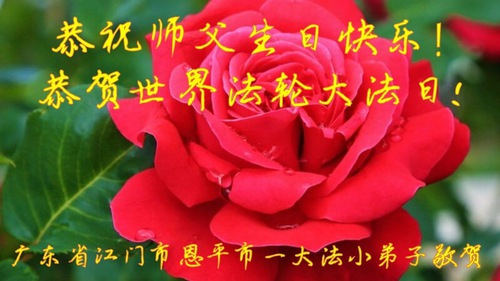 Two young practitioners wrote, "We have studied Master's lectures and will cultivate diligently. Our faith in Dafa will not waver. Happy Birthday Master!"
A young practitioner wrote, "Even though Master isn't by my side, I am still able to feel Master's presence. Master has been protecting me all along and I have become braver! I will cultivate diligently with my mother and return home with Master!"
An eleven-year-old practitioner composed a poem for Master and wrote:
Lost In A Maze
The red tide comes in and deludes people;Sentient beings are too lost.Dafa spreads the truth;Why do you refuse?Humans are reincarnations of Gods,The heavenly gates are reopened.Obtain the Fa and be awakened;Return back to the true origin.
A couple and their niece wrote, "It has been over 20 years and we have been blessed by Master's compassionate protection. We are Fa-rectification Dafa disciples and Master has bestowed upon us ultimate glory. With the ongoing pandemic, we feel a need to strive forward and fulfill our historic vows. Master has endured a lot for us. No words can describe our utmost gratitude. Only by being more cultivating diligently, studying the Fa, and saving sentient beings can we repay Master and not let Master down! Happy Birthday Master! Falun Dafa is good. Truthfulness-Compassion-Forbearance is good."
Greeting from these young practitioners and their families hailed from:
Enping City, Guangdong ProvinceLianyungang, Jiangsu ProvinceYunnan ProvinceJixi City, Heilongjiang ProvinceLishan District, Anshan City, Liaoning ProvinceWuchang City, Heilongjiang ProvinceDongli District, TianjinXinji City, Heibei ProvinceXindu District, Chengdu City, Sichuan ProvinceLixia District, Jinan City, Shandong ProvinceDaqing City, Heilongjiang ProvinceHaidian District, BeijingMeizhou City, Guangdong ProvinceQingdao City, Shandong ProvinceGangcheng District, Jinan City, Shandong ProvinceQuzhou County, Handan City, Hebei Province
Greetings from organizations hailed from:
Laigang Group, Shandong Province
Views expressed in this article represent the author's own opinions or understandings. All content published on this website are copyrighted by Minghui.org. Minghui will produce compilations of its online content regularly and on special occasions.