Falun Dafa Supporters Express Their Gratitude for Master Li's Teaching Dafa to the World (21 Greetings)
(Minghui.org) Thirty years ago, on May 13, 1992, Master Li Hongzhi first taught Falun Dafa, an ancient spiritual and meditation discipline, in a small park in Changchun City, Jilin Province.
Since then, the practice spread through word of mouth across China. Many people, although they don't practice Falun Dafa themselves, also identify with Falun Dafa's principles of Truthfulness, Compassion, and Forbearance, and have received blessings for their support.
On the 30th anniversary of Dafa's public introduction, which is also the 23rd World Falun Dafa Day and Master Li's 71st birthday, many of the supporters extended their warmest greetings to Master Li and wish him a Happy Birthday!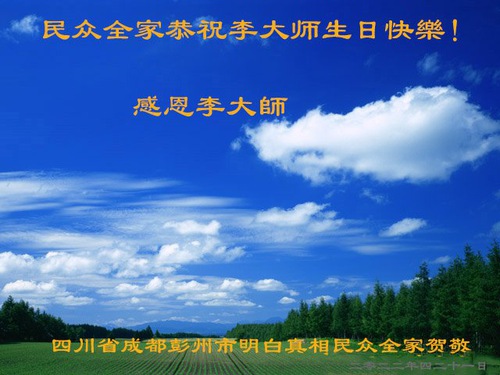 One military family in Beijing wrote, "My wife's friend is a Dafa practitioner, a manager of a big company...She is a super good person... Her personality makes us believe 'Falun Dafa is good and 'Truthfulness-Compassion-Forbearance is good.' We respect Dafa and all quit CCP and its affiliated organizations.
One day, we drove to another place to travel. On a highway, the brake was out and the speed was too high. In an emergency, my wife cried out, 'Master Li, please save us. Falun Dafa is good. Truthfulness-Compassion-Forbearance is good. And suddenly an exit appeared and we were able to drive out of the highway and stop at a sand pile. We were safe but scared and sweaty.
My wife said, 'It is Master Li who saves us because I bring a truth amulet with me.'
Our family's second lives are given by you. We believe our lives this time are for Dafa. We found it. A Beijing Military family of three Kowtow"
Other greetings come from the following regions:Pengzhou City, Chengdu City, Sichuan ProvinceChangping District, Beijing CityZhaoyuan City, Yantai City, Shandong ProvinceZhengzhou City, Henan ProvinceMacheng City, Huanggang City, Hebei ProvinceBaixiang County, Xingtai City, Hebei ProvinceSiping City, Jilin ProvinceNanjing City, Jiangsu ProvinceLinqu County, Weifang City, Shandong ProvinceHairou District, BeijingGaomi City, Weifang City, Shandong ProvinceGuangling County, Datong City, Shanxi ProvinceZhengzhou City, Henan ProvinceLinquan County, Fuyang City, Anhui Province
Views expressed in this article represent the author's own opinions or understandings. All content published on this website are copyrighted by Minghui.org. Minghui will produce compilations of its online content regularly and on special occasions.