Falun Gong Practitioners in Israel Mark April 25 at a Rally in Front of the Chinese Embassy
(Minghui.org) On Monday, April 25, 2022, Falun Gong practitioners in Israel gathered for a rally in front of the Chinese Embassy in Tel Aviv to commemorate the historic April 25 peaceful appeal.
April 25 marks the silent protest that was held in front of the Communist regime's central offices in Beijing in 1999 at the beginning of the Chinese Communist Party's (CCP) false propaganda campaign to discredit Falun Gong. The CCP's aim was to turn the hearts of the Chinese people against Falun Gong. When they peacefully assembled to make their concerns known, practitioners were accused of imposing a siege on the area and this later served as one of the "justifications" for the brutal persecution campaign launched against them in July 1999. 
At the event in Tel Aviv, practitioners performed the Falun Gong exercises, sent forth righteous thoughts, and handed out information leaflets to passersby. The event lasted several hours.
Moshe Feiglin, a former member of the Knesset (the Israeli legislative house) was present at the rally and was interviewed by Hebrew NTD television station. Mr. Feiglin said, "China exports [communist] values. It is an enslaving regime and its atrocities are the regime's number one export…It all comes from the idea that there is no God and that we, humans, will replace [God]. This issue is far beyond the cruel fate of Falun Gong practitioners in China, it is about all of mankind."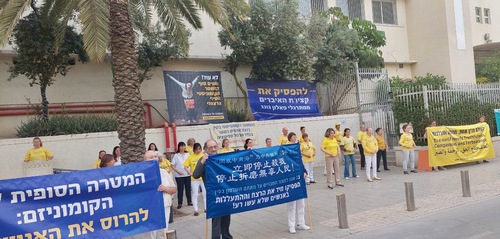 Practitioners holding signs condemning the persecution in China at a rally in Tel Aviv to commemorated the April 25 peaceful appeal.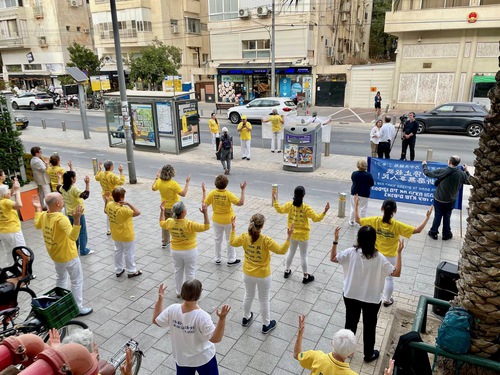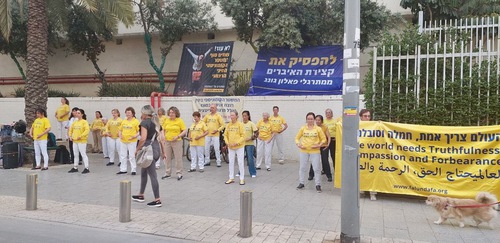 Performing the Falun Gong exercises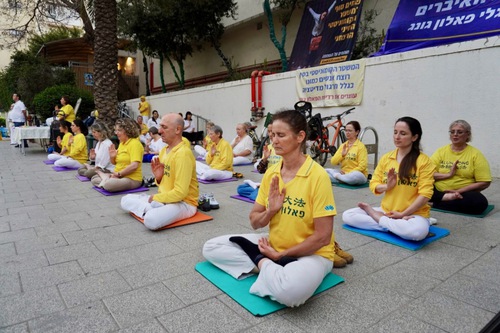 Practitioners send righteous thoughts in front of the Chinese Embassy in Tel Aviv.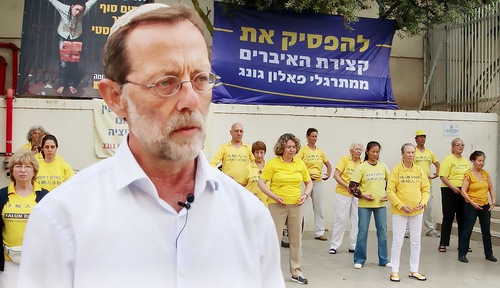 Moshe Feiglin, former member of the Knesset, speaks at the rally.
Views expressed in this article represent the author's own opinions or understandings. All content published on this website are copyrighted by Minghui.org. Minghui will produce compilations of its online content regularly and on special occasions.