New Zealand: Rally and Parade Celebrate the 30th Anniversary of Falun Dafa's Public Introduction
(Minghui.org) Falun Gong practitioners held a rally and parade in Wellington, the capital of New Zealand, on April 30, 2022, to celebrate the 30th anniversary of Falun Dafa's introduction to the world. 
Local people expressed their support for the principles of Truthfulness-Compassion-Forbearance and wished Falun Gong practitioners well.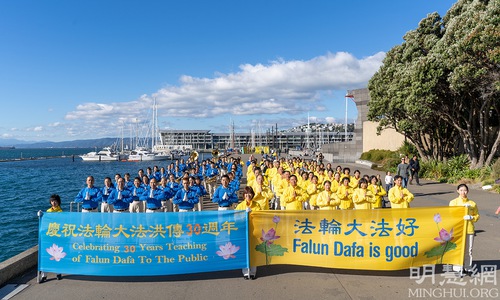 Falun Gong practitioners gather in Wellington to celebrate World Falun Dafa Day.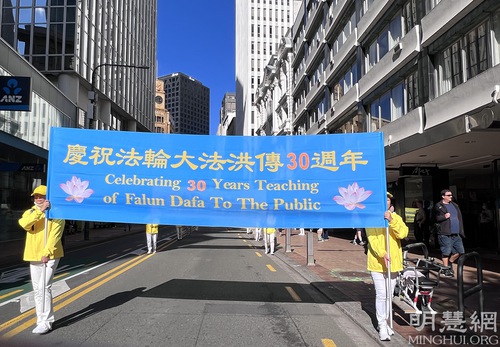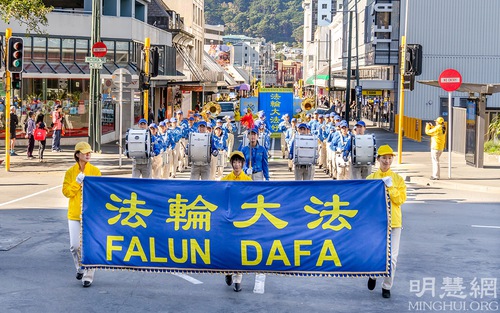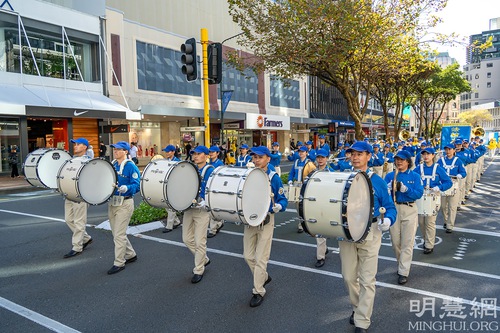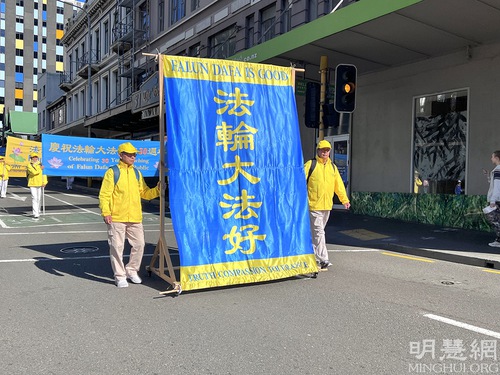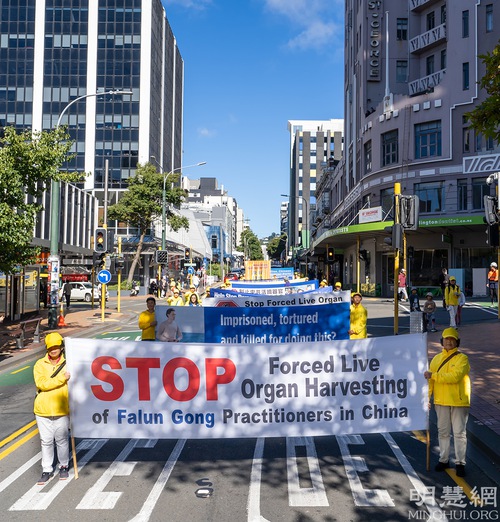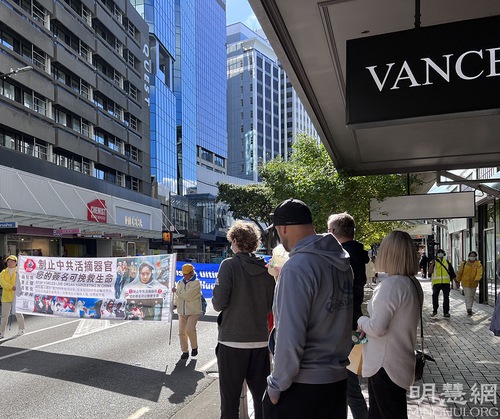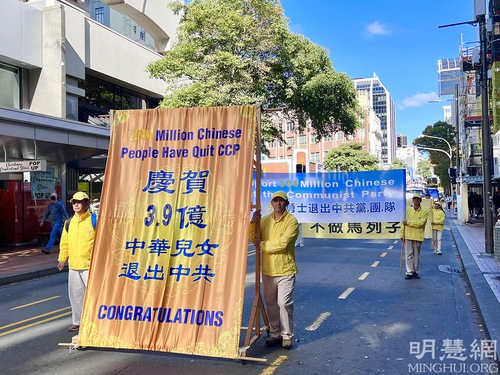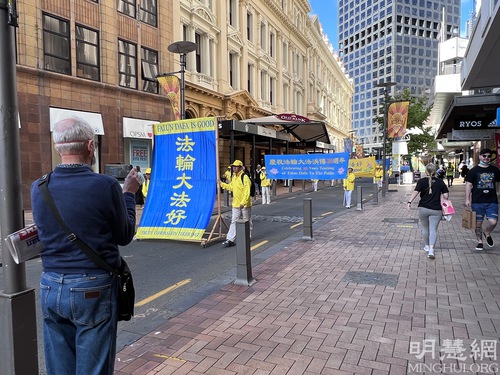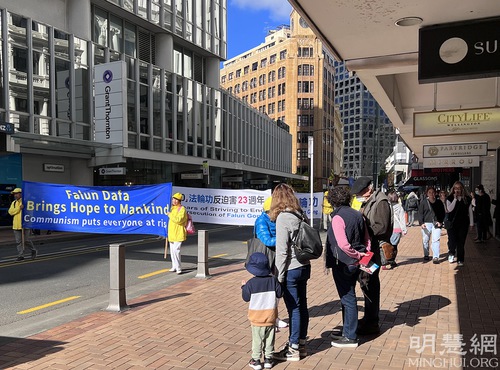 Parade in the center of Wellington
Human Rights Lawyer: Truthfulness-Compassion-Forbearance Brings Hope to Chinese People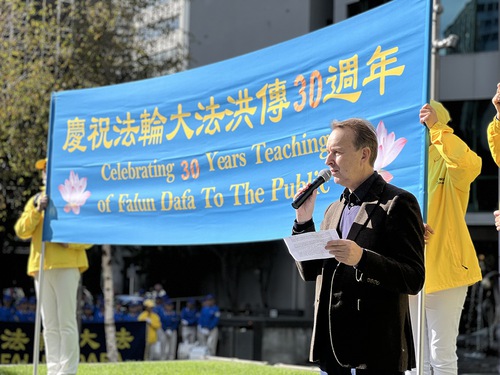 Lawyer Kerry Gore speaks at the rally
Human rights lawyer Kerry Gore spoke at the rally in Wellington about how Falun Gong has benefited people in China and abroad.
"It has been 30 years since Falun Dafa (aka Falun Gong) was introduced to the public in May 1992 by the founder of Falun Dafa, Master Li Hongzhi," Mr. Gore said. "Since then, many Falun Dafa practitioners have benefited physically, mentally and spiritually from the practice." 
"The principles of Truthfulness, Compassion, and Forbearance, which Falun Dafa practitioners are required to cultivate, have proved to be beneficial not only to the individual practitioner in the course of self-realization, but to society as a whole.
"Significantly, it has been these principles which have enabled Falun Dafa practitioners to weather the storm of persecution visited upon them by the Chinese Communist Party (CCP) on 20 July 1999. This is all the more remarkable given that this is a brutal, vicious and unprecedented persecution which unfortunately continues to this day.
"Yet there is hope for the future. The world is now coming to see more clearly the horrible nature of the CCP given the events of the last two years. The CCP cannot satisfy the spiritual aspiration of the Chinese people. It is morally and ethically bankrupt. It can offer only a discredited political ideology of Marxism.
"It is in fact the principles of Falun Dafa, Truthfulness-Compassion-Forbearance, which provide hope for the Chinese people. It is time for the Chinese people to enlighten to this truth and it is my view that this will happen at some point," he said. 
Falun Gong Is Peaceful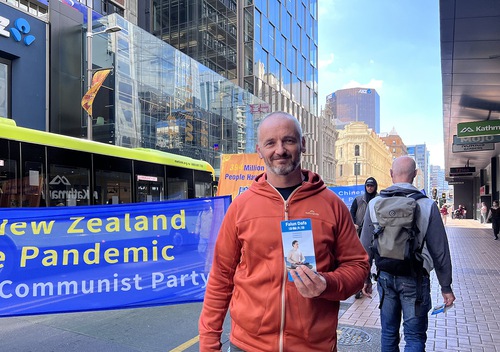 Primary school principal Tim Nelson
Primary school principal Tim Nelson commended the practitioners who took part in the parade in Wellington. "This parade is well organized and brings positive energy. Falun Gong practitioners are the most peaceful group. They are kind. I know that they usually meditate, which is beneficial to the human body. Because our school also teaches students to meditate, and the effect is very good. At the same time, I also like the traditional Chinese Buddhist concepts," he said.
Mr. Nelson felt that it was meaningful for Falun Gong practitioners to share their information through the parade. 
"They are so peaceful and have brought us such beautiful concepts. Truthfulness-Compassion-Forbearance is a very important concept. We all need it. At the same time, I know that Falun Gong practitioners are brutally treated in China and become victims of human organ trafficking. It is very terrifying. I also worry that the CCP may invade Taiwan, and the people of Taiwan will also lose basic human rights," he said.
Mr. Nelson praised the Falun Gong practitioners for their good work, expressed his hope that they would continue to persevere with their efforts to end the persecution, and gave them his best wishes.
Falun Gong Practitioners Clear the Fog in the Dark and Chaotic World
Mike Leslie
Mike Leslie, a business executive for a logistics company, watched the Tian Guo Marching Band's performance with his children. He said he admired the principles of Falun Gong. 
"We live in a world of information explosion. Many people are no longer as down-to-earth as they used to be and easily lose their way. Meditation enables people to calm down and control their own lives," he said.
"The Communist Party is very extreme," he said, "They not only abuse their power, but also arrest people who tell the truth. Many people have not heard of the evil of the CCP, and these dark things are easily hidden in the noise of the rest of the world. So I think that what Falun Gong practitioners are doing is really good and very important to wake up the people. Falun Gong practitioners are clearing the fog for people in a dark and chaotic world."
New Zealanders Support Practitioners
Students from a high school in Christchurch were happy after reading the banners in the parade and hearing the band's performance. The students told practitioners that they would like to join in. 
One student said, "The values of Truthfulness-Compassion-Forbearance are so good. Good people should not be persecuted. The CCP's persecution of good people should stop immediately."
Anita and her two children also enjoyed the band's music. Anita said happily, "This music is energetic, peaceful, and joyful, and we danced to the music. 
"Falun Gong practitioners have done a great job, advocating peace, and treating the world with sincerity and kindness, which the world needs. More people like them are needed in this world. I believe them, support them, and like them. What they do makes me happy. The rule of the CCP will not last long. It will soon be history."
Views expressed in this article represent the author's own opinions or understandings. All content published on this website are copyrighted by Minghui.org. Minghui will produce compilations of its online content regularly and on special occasions.