Toronto, Canada: Practitioners Hold Candlelight Vigil and Day-Long Events to Commemorate April 25 Appeal
(Minghui.org) Falun Dafa practitioners put up banners at ten busy intersections throughout downtown Toronto on April 23, 2022, and talked to people about the April 25 peaceful appeal in Beijing 23 years ago. That evening they held a candlelight vigil in front of the Chinese Consulate at 7 p.m. to peacefully call for an end to the persecution.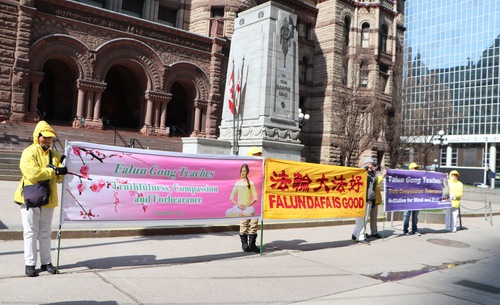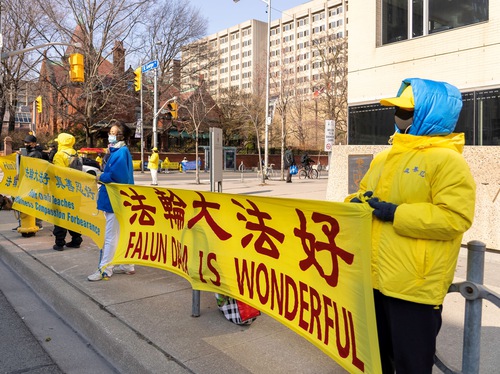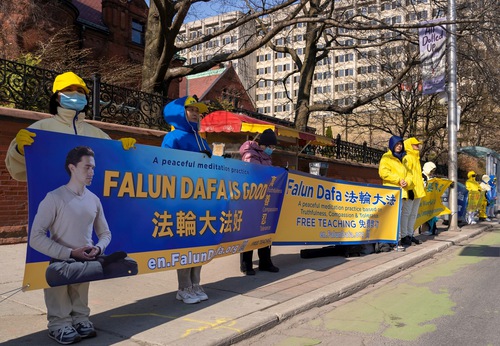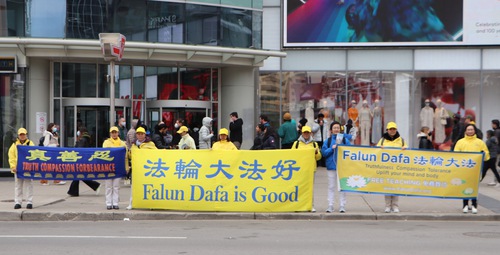 Practitioners in Toronto displayed banners and told people about the on-going persecution in China during a day-long event on April 23, 2022.
Many passersby signed the petition calling for an end to the persecution. Some people wanted to learn more about the practice. Others expressed their long-term support. Some Chinese quit the Chinese Communist Party (CCP) and its affiliated organizations on the spot.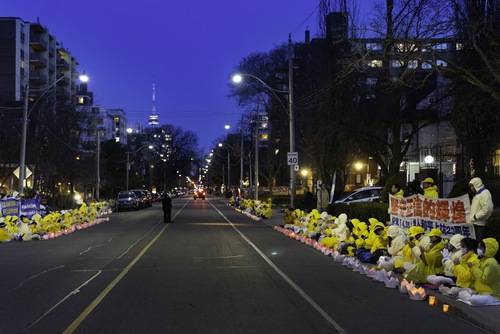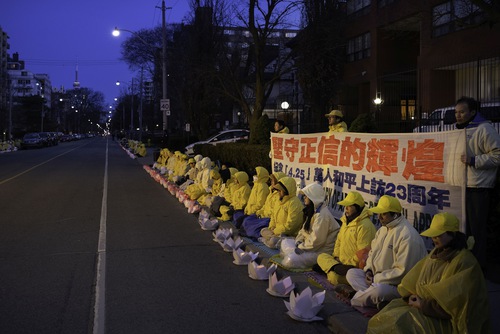 Practitioners held a candlelight vigil in front of the Chinese Consulate that evening.
Music Producer: I Admire Your Peacefulness
Mr. Douglas, a music producer, said he often saw practitioners in front of the Chinese Consulate. He said, "I knew about Falun Gong before, but I haven't seen such a big event. I've made music about religion and freedom of belief, and I'm going to incorporate elements of Falun Dafa into my music in the future."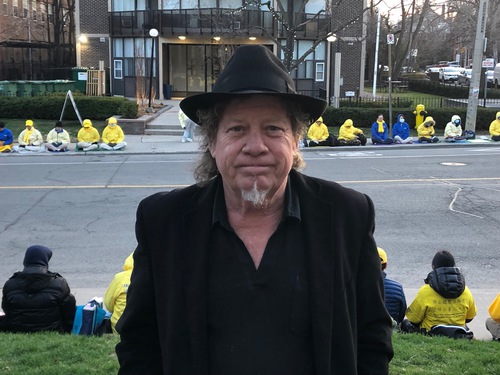 Mr. Douglas
Practitioners told Mr. Douglas about the April 25 appeal and how the CCP persecutes Falun Dafa. Mr. Douglas said, "You are all very peaceful. I admire you for remaining peaceful after experiencing the persecution. I live across the street from the Chinese Consulate, and I know how the CCP has infiltrated Western society. Telling people about the true situation is cleansing the infiltration." Mr. Douglas said he would continue to support practitioners.
Resident: The Whole World Knows about the CCP's Evil Deeds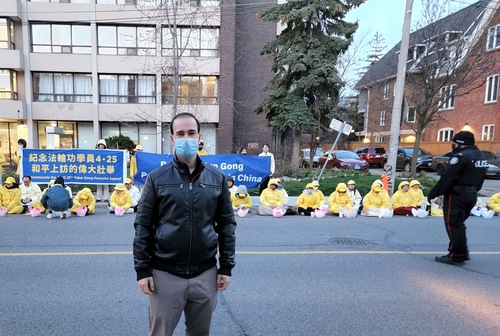 Mr. Liam supports practitioners' peaceful protest against the persecution.
Mr. Liam, who lives across the street from the Chinese Consulate, said he saw practitioners peacefully protesting in front of the Chinese Consulate before. He said, "I've been to China, but I don't like the CCP's totalitarian rule which makes everyone live under pressure." He said. "I moved to this neighborhood and was very honored to meet Falun Dafa practitioners, and I support this peaceful protest against the persecution."
He also expressed his admiration of the Falun Dafa's core values of Truthfulness-Compassion-Forbearance. He said, "The world needs such guidelines, and everyone can learn something from these principles."
He encouraged practitioners to continue exposing the persecution, saying, "I hope you can persevere. I feel great energy when I see your courage. I hope this energy will influence more people."
Mr. Liam hopes that the persecution will end immediately. He said, "Now the whole world is watching, and the whole world knows about the persecution and the CCP's evil deeds. I hope that everyone who practices Falun Dafa will have a free environment to practice."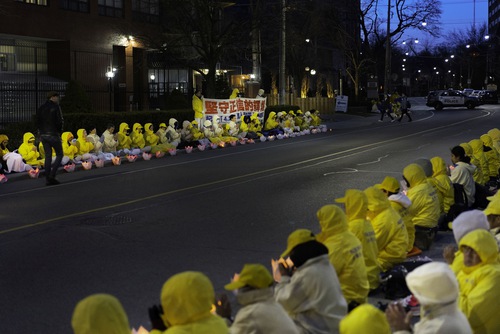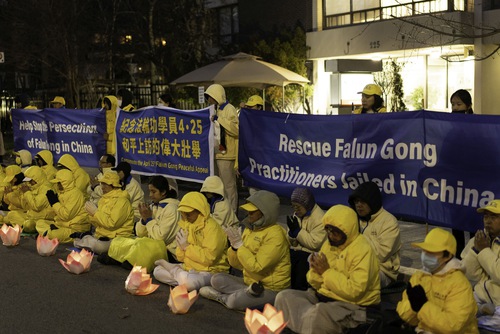 The practitioners held a candlelight vigil at night.
Police on Duty: Support Practitioners' Peaceful Protest Against the Persecution
After learning about the significance of the event, the police officers on duty blocked off half of the road and allowed the practitioners to sit in the road.
For several hours during the event, the officers on duty directed traffic and asked passing cars to slow down.
One officer said, "I participated in some of their other activities, so I knew why they held these events. I agree with them (Falun Dafa practitioners) for opposing the persecution of the CCP in such a peaceful way." He also said he was very aware of the persecution taking place in mainland China and said he knew there were no human rights there.
Immigrant from China: Our Family Knows Falun Dafa is Good
As Mr. Lu's family of five passed by the TV Tower, he smiled as he accepted the informational materials handed to him and said, "Thank you, we have been living in Canada for more than ten years, and our whole family knows that Falun Dafa is good."
Mr. Lu said he also knew about the CCP's persecution of practitioners, including the live organ harvesting. They quit the CCP and its affiliated organizations. They accepted the handmade lotus flowers with the message of Falun Dafa and said they know that Falun Dafa is good and Truthfulness-Compassion-Forbearance is good.
Museum Staff Wishes to Learn the Exercises
Mr. Brandy, who works at the Toronto Museum, listened very carefully to the introduction of Falun Gong and signed the petition. He said, "I think this practice is very good. I took a leaflet with information about the free online teaching. I will learn the exercises. Whatever the CCP doesn't like must be good."
He took an extra leaflet when he left and said, "I will give it to my friend. They will like it."
Manager: Falun Dafa Is an Ancient and Wonderful Practice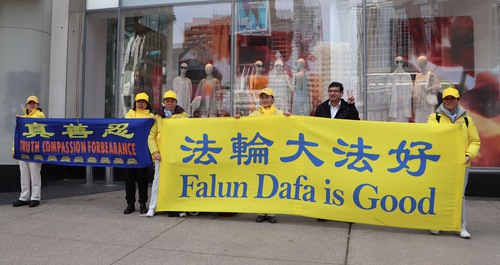 Mr. Mo wishes practitioners success.
Mr. Mo, the manager of an Internet company, was very excited to see practitioners. He took a photo with them as he passed by the intersection.
He said, "I know China has a 5,000-year history of traditional civilization, and Falun Dafa is an ancient and wonderful practice. I also know that practitioners are being persecuted very cruelly in China because the Chinese Communist Party is evil and wants to control the world. I believe that evil will not prevail and will meet its doom sooner or later. I believe that Falun Dafa will prevail."
Pastor: I Like Chinese Culture Before the CCP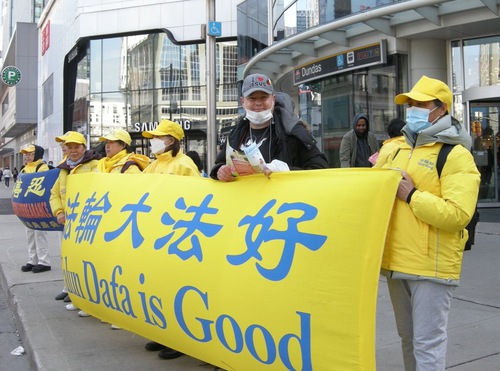 Mr. David A. Brown
Mr. David A. Brown is a pastor of a Christian church in Toronto and a high school teacher. After signing the petition, he said, "Falun Gong is very peaceful. The Chinese Communist Party shouldn't persecute them because of their beliefs, so I support their activities today."
He added, "China has a 5,000-year history of civilization, and I also know that China has the culture of Confucius, which preaches 'benevolence, righteousness, propriety, wisdom, and faith,' but the CCP has destroyed all of that. I like the traditional Chinese culture, before the CCP. That was the real China."
He said, "When I hear that Falun Gong practitioners are being persecuted by the CCP, even having their organs harvested while they're alive, I feel sad. This persecution needs to stop immediately." He gave the practitioners his contact information and said he would help if there was anything that he could do.
College Student: I Support You 100%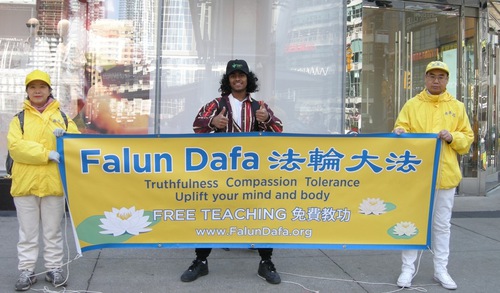 Mr. Mclovin, a college student, said he supported practitioners' efforts to end the persecution, "100 percent."
Mr. Mclovin is majoring in biotechnology at Ryerson University. When he learned that today's event was to commemorate the 23rd anniversary of Falun Gong practitioners' peaceful appeal on April 25, 1999, he said, "The Chinese Communist Party does not allow people to have any beliefs. Falun Gong practitioners should be free to practice their exercises."
He gave Falun Gong practitioners two thumbs up and said, "I support 100% your petition to end the CCP, call for human rights and sanction the CCP. I see that Falun Gong practitioners are very kind, and their activities are very peaceful. I think you are doing a great job!"
I Want to Practice Falun Gong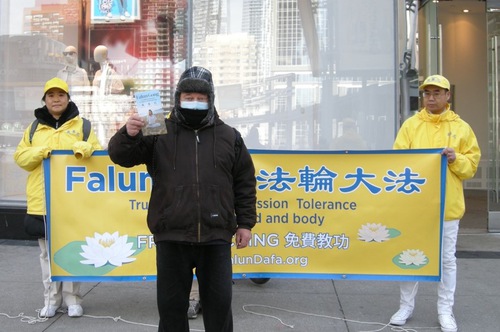 Mr. Botuslaw Tarlawsai
Originally from Poland, Mr. Botuslaw Tarlawsai moved to Canada forty years ago and is a retired postal worker. He said, "Falun Gong practitioners should be free to practice in any country. I signed the petition to support them. I also want to practice Falun Gong. I will learn it when it gets warm in May."
Background: What Is the April 25 Appeal?
Falun Dafa (also known as Falun Gong) was first introduced to the public by Mr. Li Hongzhi in Changchun, China, in 1992. The spiritual discipline is now practiced in over 100 countries worldwide. Millions of people have embraced the teachings—which are based on the principles of Truthfulness, Compassion, Forbearance as well as five gentle exercises—and experienced improved health and well-being.
On April 23 & 24, 1999, police officials in Tianjin, a city near Beijing, assaulted and arrested dozens of practitioners who had gathered outside a magazine office to discuss errors in a recently-published article attacking Falun Dafa. As word spread of the arrests and more practitioners inquired with officials, they were told they had to take their appeal to Beijing.
The following day, April 25, some 10,000 Falun Dafa practitioners spontaneously gathered at the Central Appeals office in Beijing, as they had been instructed by Tianjin officials. The gathering was peaceful and orderly. Several Falun Dafa representatives were called in to meet with Chinese Premier, Zhu Rongji, and members of his staff. That evening, practitioners' concerns were answered. The arrested practitioners in Tianjin were released and everyone went home.
Jiang Zemin, former head of the CCP, perceived the spiritual discipline's growing popularity as a threat to the CCP's atheistic ideology and issued an order to ban Falun Dafa on July 20, 1999.
Minghui.org has confirmed the deaths of thousands of practitioners due to the persecution over the years; the actual number is suspected to be much higher. More have been imprisoned and tortured for their faith.
There is concrete evidence that the CCP sanctions the harvesting of organs from detained practitioners, who are murdered to supply the organ transplant industry.
All content published on this website are copyrighted by Minghui.org. Minghui will produce compilations of its online content regularly and on special occasions.