Washington, D.C.: U.S. Congress Members Praise Falun Gong Practitioners for Efforts to Oppose the Persecution in China
(Minghui.org) Falun Gong practitioners held a peaceful rally in front of the Chinese Embassy in Washington D.C. on April 23 to commemorate the "April 25 Peaceful Appeal" that took place in Beijing, China 23 years ago. Members of Congress issued statements commending practitioners for their courage in opposing the brutality in China.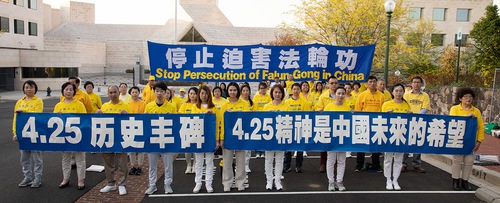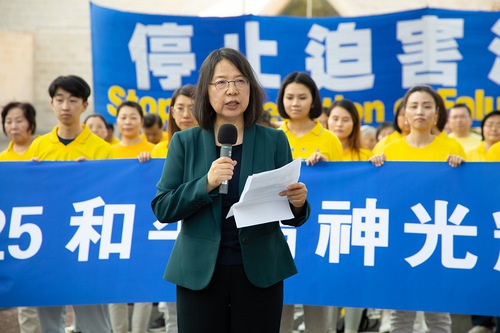 Rally by Falun Gong practitioners in front of the Chinese Embassy in Washington D.C. on April 23, 2022
Chinese expert Mr. He Bin reviewed the peaceful appeal in Beijing 23 years ago. After dozens of practitioners were arrested in Tianjin City on April 23, 1999, other practitioners were told the arrest order came from Beijing. About 10,000 practitioners thus held a peaceful appeal in Beijing two days later to seek justice for the detained Tianjin practitioners.
"These people were ordinary citizens and they simply wanted basic rights of practicing their belief in Truthfulness-Compassion-Forbearance," Mr. He added. Three months after the peaceful April 25 Appeal, the Chinese Communist Party (CCP) launched a nationwide campaign against Falun Gong and the persecution remains unabated to this day.
Statements from Members of Congress
"The bravery of Falun Gong that day continues to give courage to millions around the world who believe in and yearn for an end to the CCP repression," wrote representative Scott Perry from Pennsylvania.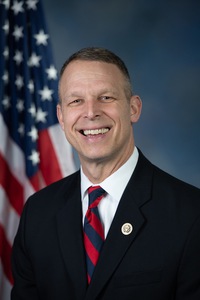 Representative Scott Perry
"Since its inception one hundred years ago, the Chinese Communist Party has dedicated itself to the promotion of a murderous, cultural Marxism that has contributed to the deaths of tens of millions of innocent people," he continued.
"The Chinese Communist Party's brutal response to the peaceful Falun Gong demonstrators back on April 25, 1999, underscores the bitter truth that democratic freedoms were a perceived threat to the Chinese government then and remain a perceived threat now, with the communist regime doing everything it can to crush Falun Gong members in China every day," remarked Representative Chris Smith from New Jersey.
"Even something as innocent as sitting in a lotus pose represents an affront to contemporary China's totalitarian overlords," he added.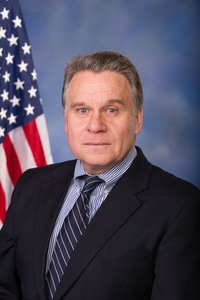 Representative Chris Smith
"Today, Falun Gong practitioners continue to be arrested, imprisoned, tortured, and subjected to the cruelest of deaths—including live vivisections to remove their organs for sale in the medical marketplace—simply because they believe in basic human rights and the fundamental freedoms of religion, speech, and assembly," Smith continued.
"We admire their courage and commitment in the face of such oppression," he added.
The Persecution Continues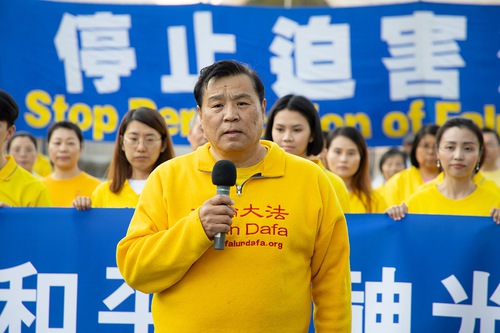 Professor Sen Nieh, spokesperson for the Washington D.C. Falun Dafa Association
The peaceful appeal by Falun Gong practitioners in April 1999 was special, explained Professor Sen Nieh, spokesperson for the Washington D.C. Falun Dafa Association. "With no slogans or banners, Falun Gong practitioners simply appealed for the freedom to practice their belief in Truthfulness-Compassion-Forbearance," he continued, "But for a totalitarian regime like the CCP, even this is not possible."
In fact, then CCP leader Jiang Zemin launched a Gestapo-like organization called the 610 Office on June 10, 1999, to implement his persecution policy.
As a professor in mechanical engineering at the Catholic University of America, Nieh has mentored dozens of Master's and Ph.D. students from China. Before the suppression started in July 1999, he was invited many times to attend activities at the Chinese Embassy and share with people the traditional Chinese culture.
But all this changed when the CCP began to persecute Falun Gong. To help expose the brutality in China and clarify the facts of Falun Gong, professor Nieh has appealed outside the Chinese Embassy many times.
As time went on, many people have learned what Falun Gong is and have severed ties with the CCP. Falun Gong is now practiced in over 100 countries and many nations have condemned the CCP's persecution of Falun Gong in China, especially the forced organ harvesting from living practitioners.
Living by the Principles of Truthfulness-Compassion-Forbearance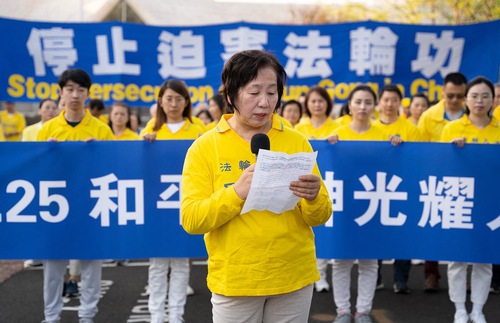 Former business owner Wang Chunyan
Ms. Wang Chunyan used to a have a private business in international shipping. Because of practicing Falun Gong, however, she and her two elder sisters were given forced labor and sentenced to prison multiple times. The three sisters' detention terms in Masanjia Labor Camp and Liaoning Women's Prison added up to 16.5 years.
Zhang Huidong, a former business executive
Mr. Zhang Huidong was a well-respected business executive in Dalian City, Liaoning Province. Because of his belief, however, he was detained a few times and tortured to disability. His family was later torn apart by the persecution and he fled to the U.S.
When he first began to practice Falun Gong in May 1998, Mr. Zhang had just graduated from college. "I learned how to be a good person by following the principles of Truthfulness-Compassion-Forbearance," he said, "from a low-level manager to a business executive, I learned how to be considerate of others."
That is why the persecution has turned every Chinese citizen into a victim, he added. By abusing the legal and justice system to suppress Falun Gong, and pushing ordinary citizens away from the principles of Truthfulness-Compassion-Forbearance, the CCP has undermined the entire society. As a result, Falun Gong practitioners distribute informational materials to the public to inform them of what is going on in China.
Mr. He Bin said that when people are enjoying their personal life, they may think the suppression by the CCP has nothing to do with them. But the pandemic shows that if the misinformation and lies by the CCP are unchecked, it would harm people inside and outside of China. Therefore, when practitioners hand out informational materials, they are not only seeking their own rights, but also helping the general public.
Professor Nieh said more and more people have now learned the history of the CCP, such as killing 80 million innocent lives. So far, over 394 million Chinese people have renounced their memberships and have quit the CCP organizations, which also include the Youth League and Young Pioneers.
Views expressed in this article represent the author's own opinions or understandings. All content published on this website are copyrighted by Minghui.org. Minghui will produce compilations of its online content regularly and on special occasions.