U.S. Ambassador-at-Large for International Religious Freedom Met With Falun Gong Practitioners on Anniversary of "April 25 Peaceful Appeal"
(Minghui.org) April 25 this year marked the 23th anniversary of Falun Gong practitioners' peaceful appeal in Beijing. Rashad Hussain, U.S. Ambassador-at-Large for International Religious Freedom, met with representatives of Falun Gong practitioners in the State Department on this day for an update on the persecution in China. He also reiterated support for Falun Gong practitioners and condemned the suppression in China.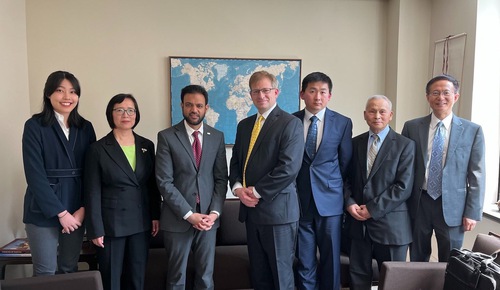 Rashad Hussain (third from left), U.S. Ambassador-at-Large for International Religious Freedom, met with Falun Gong Practitioners on April 25, 2022.
In his opening remarks, Hussain emphasized that the Chinese Communist Party (CCP)'s ruthless persecution of Falun Gong practitioners in China is unacceptable and intolerable.
Falun Gong practitioners who were at the meeting explained that, even during the pandemic lockdown of many cities in China, the CCP did not loosen the persecution of Falun Gong. For example, citizen journalist Fang Bin was arrested for covering the pandemic in Wuhan. Because he is a Falun Gong practitioner, however, his detention is especially long and he has not been released yet. As the lockdown is lifted in many places of China, the numbers of arrest and harassment against Falun Gong practitioners have also risen sharply.
Mr. Zhang Xiaofeng is an architect in New York and he talked about how his mother, Ms. Ji Yunzhi, a resident in Chifeng City, Inner Mongolia, died in custody last month due to torture. In both 2001 and 2008, Ms. Ji was arrested and sent to labor camps with a combined term of three years and five months. She was tortured during her detention and sustained serious injuries and developed heart disease as a result.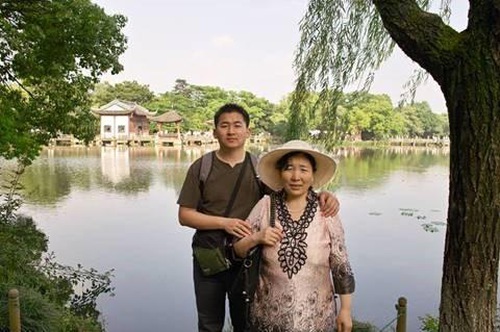 Mr. Zhang Xiaofeng and his mother
On February 1, 2022, three days before the opening ceremony of the Winter Olympics in Beijing, Ms. Ji was arrested and kept at Bairin Left Banner Detention Center in Inner Mongolia. After she went on a hunger strike to protest, guards and inmates beat, swore at, and humiliated her. She died miserably on March 21, 2022.
Ms. Zhang Yuhua, former professor and chair of the Russian Department at Nanjing Normal University in Zhejiang Province, talked about the persecution that she and her husband experienced. Ms. Zhang was sent to labor camps three times and imprisoned once, with a combined term of 7.5 years, during which time she suffered tremendously both physically and mentally.
Her husband, Mr. Ma Zhenyu, was an exemplary radar engineer and a volunteer assistant of a Falun Gong group practice site in Nanjing. Because of his belief in Falun Gong, Ma was kept at brainwashing centers, labor camp, and prison with terms adding up to 12 years. The physical and mental abuse was so brutal that he lost consciousness many times. Even after his last release in 2020, he was still being monitored and harassed by the authorities. Officials restricted his travel at train stations and airports, and his application for a passport to travel overseas was denied.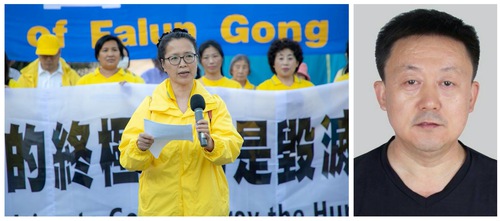 Ms. Zhang Yuhua called to rescue her husband (right) detained in China during a rally in front of the Chinese Embassy on September 30, 2020.
Hussain said he was disturbed to hear these tragedies. He also praised Falun Gong practitioners for their perseverance in safeguarding their faith despite the suppression. In fact, even before becoming U.S. Ambassador-at-Large for International Religious Freedom, Hussain had paid attention to the persecution in China. "On World Falun Dafa Day, we strive to uphold the universal tenets of truthfulness, compassion, & forbearance, ideals that are fundamental to the expression of the Falun Gong faith and we reiterate that no one should be persecuted for their beliefs, including Falun Gong in China," he wrote on Twitter on May 13, 2020.
Falun Gong practitioners explained that the 23-year-long persecution in China has not only brought endless tragedies to practitioners, but also harmed the entire Chinese society and the world. When the CCP pushed people away from the principles of Truthfulness-Compassion-Forbearance and rewarded human rights violators, the moral values declined in China quickly. As the coronavirus spread around the world, the world has been paying the price for the CCP's cover-up and misinformation. In addition, the artificial drug fentanyl kept pouring into the U.S., while intellectual theft costs the U.S. about $500 billion every year.
Various measures taken by the U.S. government to sanction the human rights perpetrators are effective. Fearful of sanctions and the impact on their children's chances of traveling overseas, some CCP officials have become less violent when interacting with practitioners. Falun Gong practitioners hope that such sanctions continue and on a larger scale. (Note: the U.S. government has many ways to sanction human rights violators. Some of the visa denials were announced but most of them were unannounced due to privacy reasons.)
Regarding the CCP's transnational repression, Secretary of State Antony Blinken announced on March 21 that "the United States rejects efforts by PRC officials to harass, intimidate, surveil, and abduct members of ethnic and religious minority groups, including those who seek safety abroad, and U.S. citizens, who speak out on behalf of these vulnerable populations. We are committed to defending human rights around the world and will continue to use all diplomatic and economic measures to promote accountability."
Practitioners hoped the U.S. government could pay attention to the transnational repression of Falun Gong practitioners. For example, Shen Yun performers were seriously harassed in the U.S. by people affiliated with the CCP.
Practitioners also gave Hussain two publications. One of them was "Minghui Report: The 20-Year Persecution of Falun Gong in China" and another was a human rights report recently issued by the Falun Dafa Information Center on the recent update on the persecution in the last two years.
In the end, Hussain thanked practitioners for their efforts and encouraged them to continue their endeavors.
Views expressed in this article represent the author's own opinions or understandings. All content published on this website are copyrighted by Minghui.org. Minghui will produce compilations of its online content regularly and on special occasions.