Senior Software Engineer Sentenced to Prison and Wife Awaiting Her Verdict, for Their Shared Faith
(Minghui.org) A senior software engineer in Changchun City, Jilin Province was sentenced to a 1.5-year prison term for practicing Falun Gong, a spiritual discipline that has been persecuted by the Chinese communist regime since 1999. His wife is awaiting the verdict for her shared faith.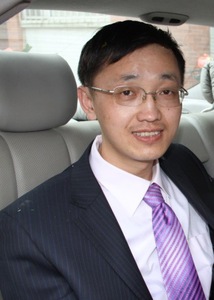 Mr. Xie Rongchun
Mr. Xie Rongchun, 51, and his wife, Ms. Xu Lina, 40, were first harassed by residential committee staff members on April 17, 2021. The residential committee staff members attempted to trick the couple into opening the door by claiming to be providing free coronavirus vaccine shots. As the couple refused to open the door, the police came three days later and arrested them. They were first given 15 days of administrative detention in the Weizigou Lockup, and put on criminal detention on May 5. Mr. Xie was transferred to the Changchun City No. 3 Detention Center, and Ms. Xu was taken to the Changchun City No. 4 Detention Center.
The police submitted Mr. Xie's case to Liu Yang of the Chaoyang District Procuratorate. He was tried by the Chaoyang District Court through a video conference on September 29. The presiding judge, Zhao Ruoyu, later sentenced him to 1.5 years on December 29, 2021. He is scheduled to be released on November 5, 2022.
Ms. Xu's case is being prosecuted separately. She has made one court appearance and is now awaiting the verdict.
When Mr. Xie's parents, who are in their 80s, went to the detention centers to visit the couple, they were so grief-stricken by their incarceration that they were unable to stand on their own.
Past Persecution
Mr. Xie has been working for a software company for many years and is one of three core members on the technical team. When the company experienced some financial crisis, some veteran employees left the company. But Mr. Xie stayed and worked hard to help the company pass the difficult time.
Prior to his latest sentencing, he has been arrested several times and served nearly six years for upholding his faith.
He was first detained for 15 days for sending an email with information about Falun Gong. In 2000, he received one year of forced labor for printing informational materials about Falun Gong.
After Falun Gong practitioners in Changchun tapped into a local TV signal to broadcast videos as a way to speak up against the communist regime's slanderous propaganda on March 5, 2002, the authorities arrested over 5,000 local Falun Gong practitioners, including Mr. Xie. He was given three years of forced labor on April 29 and almost died from torture.
Mr. Xie and Ms. Xu were arrested one more time at home on May 17, 2018. He was sentenced to one year and eight months, and Ms. Xu to one year and six months by the Erdao Court on December 27, 2018.
Related reports:
Software Engineer Mr. Xie Rongchun Arrested for His Faith
Married Couple Arrested for Their Faith, Husband Still in Detention
Eighty-Year-Old Mother's Open Letter Regarding Son's Detention for Practicing Falun Gong
Views expressed in this article represent the author's own opinions or understandings. All content published on this website are copyrighted by Minghui.org. Minghui will produce compilations of its online content regularly and on special occasions.