Woman Held in Hospital for 7.5 Years as Police Who Beat Her Unconscious Refuse to Cover Her Medical Bill
(Minghui.org) Ms. Shi Yunlan was beaten unconscious by police and underwent a craniotomy following her arrest on October 9, 2014 for practicing Falun Gong. Because the police refused to pay for her medical bill, she has been held at the hospital for over seven years and a surgery is yet to be performed to repair her damaged skull. The medical bill her family has received is over half million yuan. 
Falun Gong, also known as Falun Dafa, is a spiritual discipline that has been persecuted by the Chinese communist regime since 1999.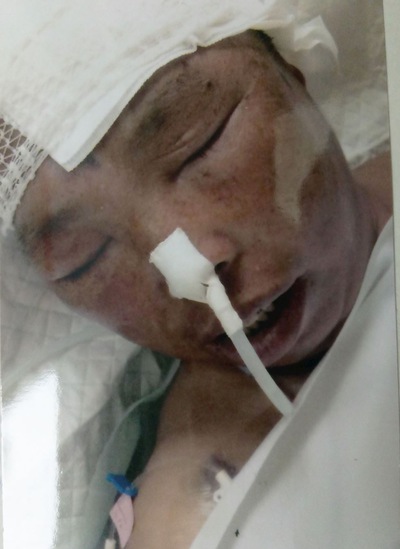 Ms. Shi Yunlan after being beaten unconscious
Ms. Shi, of Wuan City, Hebei Province, and another local practitioner, Ms. Liu Kaofeng, 60, were arrested on the evening of October 9, 2014 for putting up posters about Falun Gong. They were taken to the Huoshui Village Police Station in Wuan and interrogated in separate rooms by the police chief Guo Hongjie and deputy chief Li Xinshao.
Guo and Li beat Ms. Shi until she vomited and lost consciousness. Unable to wake her up, they took her to the Wuan First Hospital for resuscitation.
Ms. Shi underwent a craniotomy at 1 p.m. on October 10, 2014 at the hospital. But because her brain had been bleeding for too long, she could not talk clearly and was paralyzed after the operation. She also lost the ability to walk and has relied on a wheelchair to move around in the hospital for the past 7.5 years. 
The Huoshui Police Station initially paid 1,000 yuan when Ms. Shi was admitted to the hospital. They promised her family that they would cover her medical expenses and provide compensation to them. But after paying a few more hundred yuan, the police began to shirk responsibility, claiming that Ms. Shi's injuries happened after she tripped and fell.
Ms. Shi has stayed at the neurosurgery department at Wuan First Hospital since. Her medical expense has reached half a million yuan Because the police refused to provide a case report for her or pay the bill for her, the hospital refused to let her go. The doctors never performed the required operation to repair her skull either.
Meanwhile, Ms. Shi's family filed several complaints with the Handan City Procuratorate, Hebei Provincial Procuratorate, Hebei Provincial Public Security Department and Ministry of Public Security, against officers Guo and Li. They demanded to hold the two officers accountable for Ms. Shi's condition and have them cover Ms. Shi's medical bill. 
In September 2017, the Wuan City Political and Legal Affairs Committee ordered the Huoshui Village government and Huoshui Police Station to compensate Ms. Shi's family. The Huoshui Village government initially paid the family 10,000 yuan, but stopped after the family showed them the entire medical bill. The Huoshui Police Station never made any additional payment for Ms. Shi.
Perpetrators' information:
Fan Zhongqing (樊中青), deputy secretary of Wuan Municipal CommitteeZhang Chenliang (张臣良), former secretary of Wuan Municipal Committee Huang Yukai (黄玉凯), former director of Wuan Public Security Bureau Guo Hongjie (郭宏杰), head of Huoshui Police Station: +86-13803201001Li Xinshao (李鑫绍), deputy head of Huoshui Police Station: +86-18931600150, +86-15081019110Wang Baoshu (王保书), deputy head of Huoshui Police Station: +86-18231051520
Related reports:
Hospital Terminates Care for Paralyzed Woman after Police Refuse to Pay Compensation for Beating Her into Unconsciousness
Woman Remains Hospitalized 3 Years After Being Beaten Unconscious by Police
Medical Payments Withheld as Ms. Shi Yunlan Remains in Hospital After Police Beating
Two Women Severely Beaten, One Requires Craniotomy as a Result
Views expressed in this article represent the author's own opinions or understandings. All content published on this website are copyrighted by Minghui.org. Minghui will produce compilations of its online content regularly and on special occasions.