Persecution of Falun Gong Claims Mother's Life and Gets Son Detained for Eight Years
(Minghui.org)
Name: Wang LianshuangChinese Name: 王莲双Gender: FemaleAge: 71City: SanheProvince: HebeiOccupation: N/ADate of Death: October 9, 2022Date of Most Recent Arrest: August 22, 2016Most Recent Place of Detention: Sanhe City Detention Center
During the past 23 years of the persecution of Falun Dafa, a mother and son in Sanhe City, Hebei Province, have suffered frequent arrests, detention, torture, brainwashing, and harassment. The mother was incarcerated for two years and the son for eight years. The physical torture and mental stress took a toll on Ms. Wang Lianshuang's health. She passed away on October 9, 2022, at the age of 71.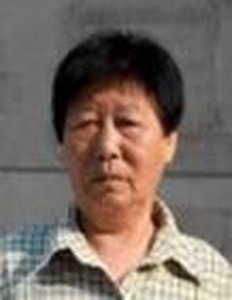 Ms. Wang Lianshuang
Persecution of Ms. Wang Lianshuang
Ms. Wang had severe dizziness, back pain, and arthritis before she began practicing Falun Dafa. She survived on painkillers and needed a lot of care from her family. Her oldest son, Mr. Wang Zhanqing, a middle school teacher, introduced Falun Dafa to her in 1997 and her ailments soon disappeared.
Her second son, Mr. Wang Dongqing, once said, "My mother has not been sick once in the past 20 years after she took up Falun Dafa. She can work several acres of farmland to support this family."
After the persecution started in July 1999, Ms. Wang was arrested four times because she refused to renounce her faith, and her health subsequently declined.
Ms. Wang and a few practitioners went to Beijing to speak up for Falun Dafa after former Chinese communist regime leader Jiang Zemin launched the persecution on July 20, 1999. The police seized her and put her in Yangzhuang Town Hall after she returned. The head of Yangzhuang Village demanded that her family pay 2,000 yuan before he would release her. Her family could not afford such an amount and bargained it down to 500 yuan.
The village head brought several officers to Ms. Wang's home one night in October 1999. They ransacked her place and confiscated her Falun Dafa books, tapes, and a recorder, claiming that those were evidence of her practice. The police put her in Sanhe City Detention Center for 15 days before taking her back to Yangzhuang Police Station, where she was locked in a metal cage and forced to sleep on the concrete floor for over a month.
Ms. Wang was arrested again one night in late 2000, while she was giving out Falun Dafa fliers. The police handcuffed her to a railing in the police station and made her stand facing the wall for hours. The fatigue caused her legs to start shaking. She held a hunger strike in protest. Only two days after she was released, the police arrested her again and locked her in a metal cage in the police station for months. She was given one year in Kaiping Forced Labor Camp in Tangshan City in February 2001.
Liu Fuqiang, head of the Sanhe City 610 Office, went to Ms. Wang's home on July 8, 2004, one and a half months after her oldest son was arrested. Her parents, who were in their 80s, tried to block the door to protect her. Liu tried to deceive them by claiming that he was a friend of her oldest son. After hours of standoff, Liu called in a group of officers, who forced their way into her home. They restrained her parents by holding their hands behind their backs and took Ms. Wang to Langfang Brainwashing Center, where her son was also detained.
When the Chinese Supreme People's Procuratorate and Supreme People's Court announced the acceptance of all cases filed with them in 2015, Ms. Wang joined hundreds of thousands of practitioners in filing criminal complaints against Jiang Zemin for ordering the persecution.
She mailed the complaint to the Supreme People's Procuratorate, Supreme People's Court, National People's Congress, and other judicial and legal organs in Hebei Province and Langfang City in May 2015. In February 2016, she sued the police in Sanhe City Police Department and a judge in the city court for the wrongful arrest and six-year prison sentence of her oldest son.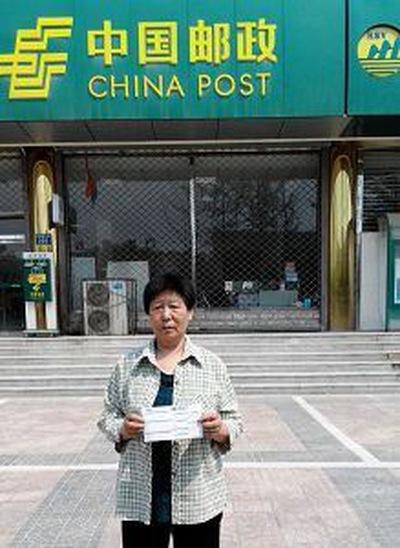 Ms. Wang Lianshuang mailed out her criminal complaint against former leader Jiang Zemin on May 27, 2015.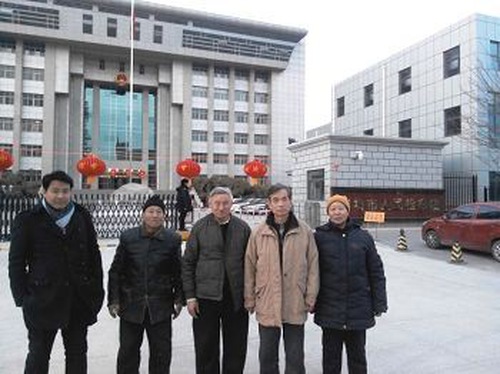 Ms. Wang (first right) and her husband (second left) and her lawyers submitted her criminal complaint to Langfang City Procuratorate on February 4, 2016.
In retaliation against Ms. Wang's complaint, a dozen police officers from Sanhe City Domestic Security Office and Yangzhuang Town Police Station scaled the wall and broke into her home in August 2016, claiming that someone reported her for doing the Falun Dafa exercises.
Without identifying themselves, they ransacked the place and confiscated her Falun Dafa books, pamphlets, and 4,000 yuan in cash. Her second son and his wife tried to stop the police. They pleaded with the police, saying that their father, Mr. Wang Fujiang, was seriously ill and relied on Ms. Wang for care.
The police deceived them, saying that they would only take Ms. Wang to the police station to answer a few questions, and would release her soon. When her son insisted that the police not take his mother away, the officers restrained him and threatened to arrest him and his wife as well.
The police forcibly dragged Ms. Wang over 100 yards and threw her into a police car at around 1 a.m. The dragging injured her feet and she lost feeling in her insteps for over a month. Her left shoulder and arm were in excruciating pain. Her left collarbone was dislocated and she experienced much pain while breathing.
The police interrogated Ms. Wang and verbally abused her upon taking her to the police station. They kept her in a metal cage, without giving her food or water for a day. When she asked for food, they called her family to bring her food. She suffered from hypertension as a result of physical and mental stress.
On the second day, they took her to a hospital for a health exam. Knowing that she had pain in her left arm, the police pulled her left wrist to cause more suffering. She felt as if her arm was falling off.
After Ms. Wang passed the health exam, the police put her in criminal detention in the Sanhe City Detention Center. She was interrogated twice, on August 24 and 26.
The guards forced Ms. Wang to assemble plastic flowers for hours each day and only let her eat rancid buns and corn mush. Her arrest was approved on September 6, 2016.
The persecution caused her family a lot of pain and suffering. Her oldest son was in prison at the time because of the persecution, and her second son, whose right eye was blind, struggled to work and provide for his two school-aged children. Her husband, who had a stroke years prior and could not walk or talk well, was the only person who went to the Sanhe City Hall on February 13, 2017, to demand her release.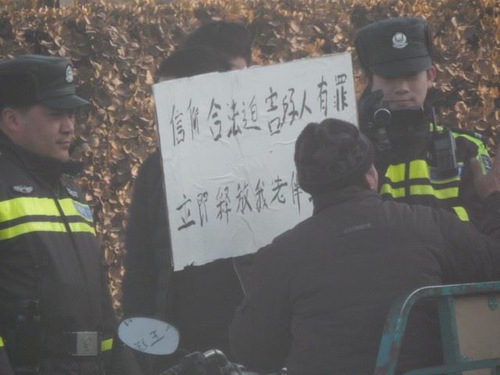 Mr. Wang Fujiang protests in front of Sanhe City Hall. The sign says "Having belief is legal and persecuting good people is a crime. Immediately release my wife."
Ms. Wang suffered a medical condition during the hearing of her case on June 16, 2017, at Sanhe City Court and the judge adjourned the hearing. At her second hearing on June 22, her two lawyers argued that she should be acquitted because the literature in her possession were legal publications she legally possessed, and practicing her spiritual belief was her constitutional right. The judge sentenced her to one year in prison on June 29, 2017.
The police harassed her two more times, first in March 2021 and then on August 17, 2021.
Grave Persecution of Mr. Wang Zhanqing
Ms. Wang's oldest son Mr. Wang Zhanqing, now 47, graduated from Langfang Normal University. He taught art at Sanhe City No. 3 Middle School since 1998.
After the persecution started, the authorities arrested and detained Mr. Wang seven times, which resulted in him being given two years of forced labor in 2008 and a six-year prison sentence in 2014. To prevent him from protesting, the school authorities transferred him to a remote area and put him under house arrest many times as he kept escaping. He became destitute twice to avoid the frequent arrests and detention.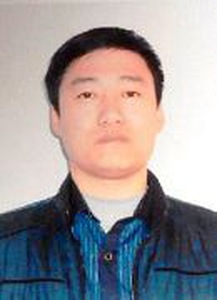 Mr. Wang Zhanqing
Mr. Wang went to Beijing to appeal for the right to practice Falun Dafa on July 20, 1999. The Beijing police arrested him and had local officials escort him home the next day. The deputy chief of Sanhe City Bureau of Education locked him up, yet he escaped the next day and went to Beijing to appeal again. The Beijing police beat and kicked him and had his local police come to take him back. The police held him in the Sanhe Detention Center for eleven days.
The authorities at the Bureau of Education transferred Mr. Wang to a remote school in September 1999. The local officials put him under house arrest in his dorm on October 1 that year and had two teachers watch him around the clock.
The authorities frequently put Mr. Wang under house arrest on sensitive days to make sure he did not go out to protest the persecution. The school principal suspended him from teaching and put him under house arrest on April 25, 2000 (the first anniversary of 10,000 Falun Dafa practitioners appealing to the central government for the right to practice their faith). Three months later, the deputy chief of the education bureau put him under house arrest on July 20 (the first anniversary marking the onset of the persecution) and had two teachers monitor him.
Mr. Wang escaped the surveillance and went to Beijing to appeal in December 2000. The police arrested him and held him in the Sanhe Detention Center for two weeks. The school authorities then locked him in a classroom building and did not let him go home for the Chinese New Year.
In March 2001, the school authorities took Mr. Wang to a brainwashing center in an elementary school, where he and other Falun Dafa practitioners were frequently beaten. The school principal again put him under house arrest in a school building, where he was monitored around the clock. He managed to escape. To avoid future persecution, he left home and moved from place to place.
The police found Mr. Wang at practitioner Mr. Liu Jie's home in June 2001. Seven officers broke into the place and shocked him with an electric baton before taking him back to Yangzhuan Town Police Station. Mr. Liu's motorcycle and two printers were confiscated.
The police shocked his sensitive parts with an electric baton and whipped him with a belt until they were tired. They tried to torture him into pleading guilty and revealing the whereabouts of Mr. Liu and his wife. He refused to comply.
The following day, the police took Mr. Wang to Sanhe City Detention Center. He went on a hunger strike to protest the abuse. The school authorities picked him up from the detention center eight days later and locked him in a room with a barred window and security door. He continued his hunger strike. The principal prepared an electric baton to torture him and gave him barely enough food to survive. The principal checked his room every night to make sure no one gave him tools to help him escape.
While Mr. Wang still managed to escape, he was arrested again three months later. The computer and printers worth tens of thousands of yuan he used to print informational materials about Falun Dafa were confiscated. The police took him to Sanhe Brainwashing Center and tortured him in the Tangshan Forced Labor Camp for a week.
Agents from the 610 Office, along with school officials, kept harassing Mr. Wang after he was released. Because he was good at computers, the authorities often suspected him of helping local practitioners submit information to the Minghui.org website to expose the persecution.
While Mr. Wang was teaching on May 26, 2004, the police showed up. They covered his mouth and dragged him out of the classroom in front of his students. The took him to a brainwashing center. His computer and DVD burner at home were confiscated. To avoid possible prosecution, he left his parents, wife, and child, and went to work in Beijing in October 2004 to avoid future persecution.
The police in Sanhe later located Mr. Wang in Beijing. They followed him and monitored him daily for over a month before arresting him in August 2008. His work computer, the several hundred yuan in cash, and an MP4 in his bag were confiscated.
The police collected his fingerprints and photographed him at Shuangyushu Police Station in Beijing. They slapped him in the face and handcuffed him behind his back overnight when he refused to answer their questions.
After torturing him overnight, they made him pay for a health exam before putting him in Qinghe Detention Center, where he went on a hunger strike. The guards tried to force-feed him but didn't succeed.
The next day the authorities transferred him to Sujiatuo Detention Center, where he continued the hunger strike. The guards took him to an urgent care center, cuffed him to a bed, and force-fed him. They also drew his blood and injected him with an unknown substance. He removed the feeding tube many times and the guards always inserted it back into his nose. His shirt was covered in blood. This went on for three weeks.
The authorities put him in Tumuji Forced Labor Camp in Inner Mongolia on January 20, 2009, to serve a two-year term. Three days later the guards handcuffed him and shocked him with two electric batons. They relentlessly hit him with a rubber baton. He was severely burned, and his back and buttocks were black and purple. He could only sleep on his stomach.
A practitioner named Mr. Song Yuzhi protested the heavy load of forced labor and demanded to be allowed to call home. The guards beat him and cuffed him to a heating pipe. When Mr. Wang and other practitioners demanded that the guards stop torturing Mr. Song, the guards beat them and shocked them with electric batons.
The guards also locked Mr. Wang in solitary confinement and stripped him to his underpants. The freezing cold worsened his hypertension, and he had severe dizziness. Three days later a guard ordered him to work overtime at night, which he refused to do. The guard handcuffed him to a heating pipe during the day and put him in solitary confinement at night. After four days, his wrists were swollen and his shoulder was in great pain.
The police and agents from the 610 Office harassed him a few days after he was released in June 2010.
The police arrested Mr. Wang and three other practitioners on April 22, 2014, for sending group text messages about Falun Dafa. The police confiscated their belongings, including Falun Dafa books, cars, televisions, computers, cell phones, cash, and bank books.
A Sanhe City Court judge held four joint hearings of the four practitioners' cases from June 19 to August 18 in 2015. The authorities mobilized over 400 police officers for the first hearing. At the second hearing, one of the practitioners' lawyers was removed from the courtroom for protesting the illegalities. Mr. Wang was given six years on November 5, 2015. His parents went to Langfang City Procuratorate to file a complaint against the police and the presiding judge on February 4, 2016. The Langfang City Intermediate Court upheld the original verdict on May 13.
When his parents contacted Wang Chaohe, the head of Sanhe City Detention Center, about which prison Mr. Wang was taken to, Wang lied to them, saying that he was sent to Shangbancheng Prison in Chengde City. His parents got up at 4 a.m. and traveled over 300 miles to the prison on June 23, 2016, only to find that their son wasn't there.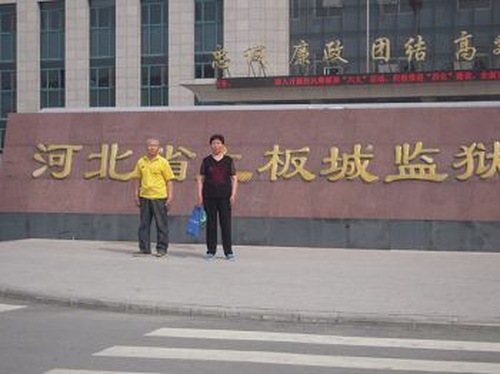 Mr. Wang Fujiang (left) and Ms. Wang Lianshuang traveled to Shangbancheng Prison only to find that their son was not there.
Related reports:
Son Imprisoned, Mother Detained, Paralyzed Father Abandoned
Lawyer Files Motion to Dismiss Case Against Falun Gong Practitioner
Hebei Woman Sentenced to Prison on Fabricated Charges
Elderly Couple Not Allowed to Visit Their Son in Jidong Prison
Hebei Province: Four Locals File Complaints Against 610 Office Head and Court Officials
Lawyer Tossed into Street for Protesting Court Violations in Joint Trial of Falun Gong Practitioners
All content published on this website are copyrighted by Minghui.org. Minghui will produce compilations of its online content regularly and on special occasions.