Tailor on Hunger Strike After Being Arrested for Practicing Falun Gong
(Minghui.org) A tailor in Shenyang City, Liaoning Province is on hunger strike after being arrested in mid-October for practicing Falun Gong, a spiritual discipline that has been persecuted by the Chinese communist regime since 1999.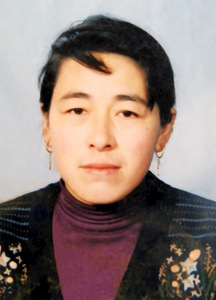 Ms. Zhao Xiuli
Ms. Zhao Xiuli was seized by the police at her tailor shop on October 17, 2022. Prior to her arrest, five officers had spent an hour searching her home earlier that day. They claimed to have found the clothes and shoes she was wearing while distributing Falun Gong materials, which had been recorded by surveillance cameras. Her Falun Gong books, computer and printer were also confiscated.
Ms. Zhao is now held at the Donghu Police Station. The police took her to do a COVID-19 test every morning and then brought her back. Her husband has been delivering food to her every day, but she is on hunger strike to protest the persecution. The Yuhong Domestic Security Office is now in charge of her case.
Ms. Zhao, 57, took up Falun Gong in April 1996. In less than six months, her many illnesses, including rheumatism, breast hyperplasia and migraines, disappeared. Her relationship with her mother-in-law also improved.
Since the onset of the persecution, she has been incarcerated twice for upholding her faith prior to her latest arrest. She was given two years of forced labor following her first arrest on December 31, 2000. While serving time at the Shenxin Forced Labor Camp and Longshan Forced Labor Camp, she was forced to work with toxic products and sometimes worked until midnight.
Ms. Zhao filed a criminal complaint in 2015 against Jiang Zemin, the former head of the Chinese Communist Party who launched the persecution in 1999. She was arrested on August 11, 2016, after being deceived by the police into going to their office.
The Heping District Court held a hearing of her case on January 23, 2018. Her husband, son and daughter weren't allowed to attend. The judge sentenced her to two years on July 19. She was released from the Shenyang City Detention Center three weeks later.
Perpetrators' contact information:
Tao Hongfei (陶洪飞), chief of Donghu Police Station: +86-24-25201510, +86-24-25203020, +86-24-25201215Fan Jinghui (凡景会), deputy chief of Donghu Police StationGe Xuejun (革学军), instructor of Donghu Police Station
Related report:
Liaoning Woman Detained for Suing Former Chinese Dictator, Police Refuse to Meet With Her Family
All content published on this website are copyrighted by Minghui.org. Minghui will produce compilations of its online content regularly and on special occasions.