NTD 8th International Chinese Vocal Competition Showcases Traditional Vocal Arts
(Minghui.org) The finals of New Tang Dynasty (NTD) Television's 8th International Chinese Vocal Competition were held on October 2, 2022 at the Merkin Hall of the Kaufman Music Center in New York.
The competition promotes traditional bel canto vocal arts, through which the artists express pure authenticity, pure goodness, and pure beauty. The competition also aims to provide a global arena for all Chinese vocalists to showcase their talents. Contestants were required to sing two songs with at least one song in Chinese.
A total of 11 contestants from four countries made it to the finals. They were awarded silver, bronze, and honorable mention awards. There was no gold award winner.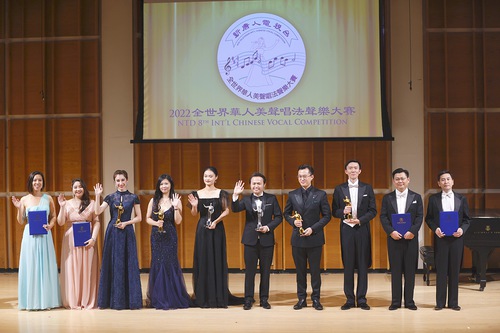 Winners of the NTD 8th International Chinese Vocal Competition held on October 2 at the Merkin Hall of Kaufman Music Center in New York (The Epoch Times)
Judge: Contestants Singing With Their Hearts
Vocalists from the world-renowned Shen Yun Performing Arts served on the judging panel. Soprano Min Jiang, the head judge, was joined by sopranos Haolan Geng and Tian Li and tenors Gu Yun and Gao Liang.
Tenor Gu Yun said, "The overall level of the contestants is very high, not only in terms of singing techniques but also their interpretation of the songs. They sing with their hearts, letting you feel their emotions."
Gu Yun also liked the format of singing bel canto style in Chinese. "To sing in our own language about our own culture is the way to revive the culture."
Soprano Tian Li praised the contestants for having "superb control" of their repertoire, and a "very fitting interpretation" of the deeper meaning of the Chinese songs. "I am very glad that NTD provides a platform for Chinese vocalists to shine on a world stage."
No one won the gold award this year. Tian Li said that one important judging criterion was for a voice that is close to traditional Italian singing.
The vocalists at Shen Yun Performing Arts use the long-lost technique of traditional bel canto, as well as traditional Italian opera singing. According to Shen Yun's website, "Ancient Chinese theater and early European opera once shared the same singing technique (known in traditional opera as bel canto), which is believed to produce the most beautiful and pure tone of voice."
Tian Li explained that traditional bel canto "uses the most natural way to produce sound, which is the state of talking, to sing." This was also the standard used by the judges to examine contestants' skills.
Although Chinese songs are difficult to sing, Tian Li still encourages Chinese singers to continue, "Because China's songs contain China's five-thousand-year-old traditional culture." She said it's the same case with Western classical songs. "Whether it's Western opera or ancient eastern music, they're all interconnected. They're all connected to the divine. And that part is the most traditional path, the most classical voice," she said.
Feedback from Contestants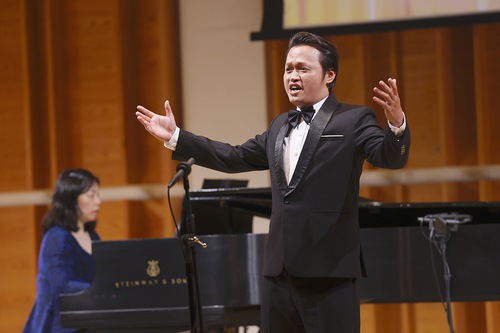 Male division silver-award winner tenor The Tung Lam from Vietnam (The Epoch Times)
The male division silver award went to tenor The Tung Lam from Vietnam. His repertoire included "Che Gelida Manina" from Puccini's opera, and "La Bohème" and "The Song in My Heart" in Chinese.
Mr. Lam said that he had to overcome many obstacles to travel to New York and participate in the competition. He was very grateful to meet fellow artists and to improve his singing.
He said he enjoyed singing the Chinese song and was moved by the lyrics, from which he could feel a very strong energy, and through which he was able to connect to the audience. "I felt the energy connecting to the audience. I felt no pressure, but a wonderful connection with the audience," he said.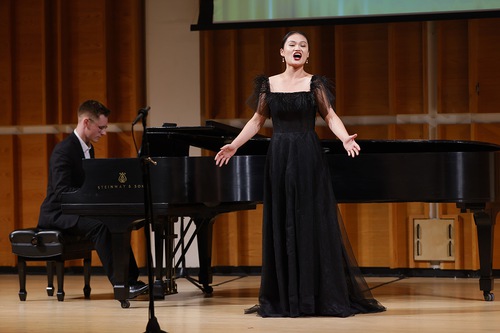 Female division silver-award winner mezzo-soprano Jingjing Xu from Canada and pianist Chris Knopp (The Epoch Times)
The female division silver award went to mezzo-soprano Jingjing Xu from Canada. She sang "No More Sitting Alone by the Fireside and Grieving" from "Cinderella," and an ancient Chinese poetry song "You Lan Cao" ("Virtues of the Silent Orchid").
Ms. Xu said that this competition was an important milestone in her career. "It's an acknowledgment of all my hard work over the years. I am happy," she said.
Chris Knopp was Ms. Xu's piano accompanist. He said he enjoyed the competition and playing the Chinese songs. "It's two art forms at once, music and poetry. I learned a lot about music in general. I also improved my own piano playing," he said. "Through playing classical music, whether it's composed by a German, an Italian, or a Chinese, I can feel the human connection. That is the same, especially across time periods. There is something that connects us all. It's beautiful."
Hsinju Lo, a bronze-award winner of the women's division, said that participating in this competition, "felt quite good. I made many good friends." She is from Taiwan and has won gold multiple times in international competitions. She performed "Quando me'n vo" from "La Bohème" and a Chinese song, "That Is Me."
Rachael Bastick, also a bronze-award winner of the women's division, said that the most important thing is the mentality you bring to your singing, "If it's a pure mentality, purely for the good of others, and to help them enjoy the performance, I think that will bring the best result."
Moments from the Competition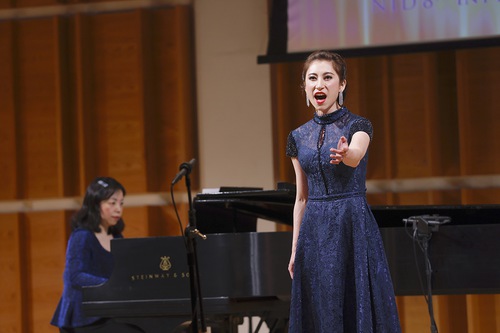 Female division bronze-award winner Rachael Bastick from New York performing "Quando me'n vo" from "La Bohème" (The Epoch Times)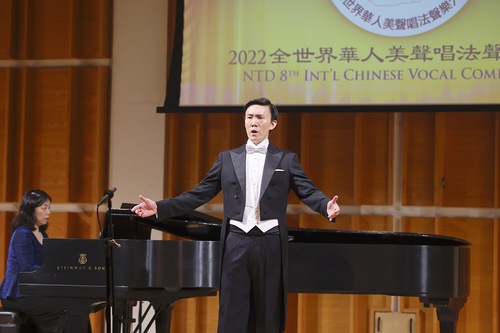 Male division bronze-award winner Richard Li from New York performs "Da Jiang Dong Qu" ("River of No Return"). (The Epoch Times)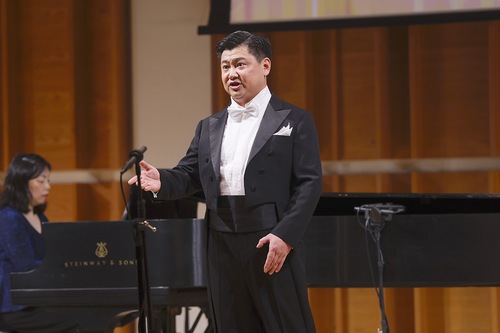 Male division honorable-award winner Peter Huang from New York, performs "You Lan Cao" ("Virtues of the Silent Orchid"). (The Epoch Times)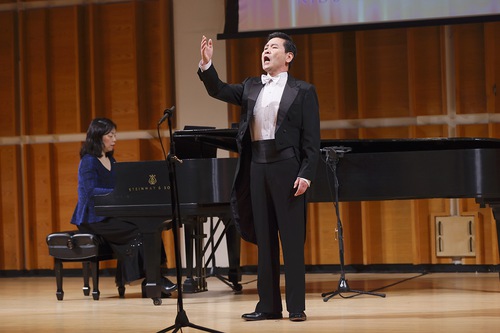 Male division honorable-award winner Tony Tang from New York performs "Che Gelida Manina" from "La Bohème." (The Epoch Times)
Audience Members: "Incredibly Moving"
"Oh my goodness! It's incredible and such a really beautiful representation of traditional culture. In voice, lyrics, in performance, it's incredibly moving and it touches the soul, it touches the heart, truly, like penetrates it right to the core," said Mika Hale, a professional vocalist.
Ni Dong, one of the directors of the Southern Academy of the Arts in California, said, "I think this really is world-class. I'm very moved... Also, because this is a competition for the Chinese, I feel like on the world stage, to be able to use the Chinese language to promote traditional Chinese culture – this is what makes me the happiest."
Ling Zhang, director of ASA University Community Outreach, said, "I think through this platform, a contestant's career will have a great boost and elevation."
Joseph Ma, a composer and sound mixer, enjoyed listening to the performances live. "Listening through a CD or speaker and listening live are two completely different things... When sound goes through electrical compression by modern technology and is then played, it has already lost a lot of energy." He believed that singing interpreted and performed by professional vocalists can "achieve penetrating the heart, and transmit many things," he said.
Mr. Liu watched both the semi-finals and finals. "The format of the competition is very good. It allows contestants to release their professional skills. It's truly great!... Why were many ancient prophecies passed on through folksongs and children's folk rhymes? It's because they had lyrics and music and could be passed on through singing... The competition is very meaningful in promoting and reviving traditional culture," he said.
American writer Chen Pokong said, "It inspires people's love for music, art, and traditional culture. I think this competition has many layers of meaning."
"I felt it was really a world-class standard. I was very moved while listening to it," said Jason Sun.
Violinist Kornela Rad said that she benefited from listening to the artists. "For me, sitting in the audience, I can see what I can do better as a musician by observing other people. It's very educational for me as well."
List of Winners
Male Vocal Group
Gold Award: VacantSilver Award: The Tung LamBronze Award: Richard Li, Wade ParkHonorable Award: Peter Huang, Tony Tang
Female Vocal Group
Gold Award: VacantSilver Award: Jingjing XuBronze Award: Rachael Bastick, Hsinju LoHonorable Award: Jeannette Lee, Cindy Huang, Pauline Hsu
Views expressed in this article represent the author's own opinions or understandings. All content published on this website are copyrighted by Minghui.org. Minghui will produce compilations of its online content regularly and on special occasions.