Reported in 2021: Over 550 Chinese Citizens Faced Consequences for Persecuting Falun Gong
(Minghui.org) The suppression of Falun Gong in China remains unabated since the Chinese Communist Party (CCP) launched a nationwide campaign against this peaceful mind-body practice in July 1999. It was confirmed in 2021 that 132 Falun Gong practitioners lost their lives to the persecution that year, 1,187 practitioners (the oldest being 88) were sentenced to prison, and 16,413 practitioners were arrested and harassed for their faith. 
Yet the persecution harms more than those whom it targets specifically. Many people, both regular citizens and CCP agents who were involved in persecuting innocent practitioners for their faith in Truthfulness-Compassion-Forbearance, have met with consequences over the years, including 553 reported by Minghui.org in 2021. 
Among the 553 people, 384 faced consequences in 2021 and 169 in previous years. Thirty percent (166 out of 553) of these people worked in the police system (including detention centers), 117 (21%) concerned agents of the Political and Legal Affairs Committee (PLAC) or the 610 Office, and the rest worked in the judicial system (procuratorates and courts), government agencies, state-owned enterprises and institutions.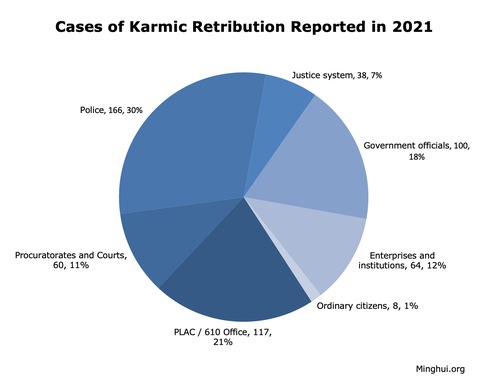 In both Western and Chinese culture, the principle of karmic retribution, that is, being held ultimately accountable for one's own actions, is widely accepted. The fundamental teaching of Falun Gong is Truthfulness-Compassion-Forbearance. The universe will reward acts that are in harmony with these principles, while beating, torturing, and killing people will incur karmic retribution. Stated another way, good deeds will be rewarded with good, while doing evil will meet due retribution. Articles such as this are meant as a compassionate reminder of this principle to those who would commit wrongdoing.
The Chain of Command
Under the command of the PLAC and the 610 Office, the two agencies specifically tasked with overseeing the persecution of Falun Gong, government officials at different levels are mobilized to carry out and enforce the eradication policy against Falun Gong practitioners.
Police departments are charged with arresting practitioners, procuratorates with indicting practitioners, courts with sentencing them, and detention facilities with torturing practitioners in an attempt to force them to renounce their belief.
Finally, the general public is also involved in the persecution. Managers of state-owned enterprises are charged with monitoring and turning in practitioners within their organizations, as well as providing financial assistance to brainwashing centers and other illegal detention facilities. Even average citizens are compelled to report practitioners, who are then arrested and tortured.
Some of the officials have participated in the persecution for a long time. Zhao Nan, former Yi County Party Secretary (1999 – 2002) in Liaoning Province, actively followed the persecution policy. In addition to making plans to persecute practitioners, he often said in various meetings, "Let's send them all to prison!" During those three and a half years of his tenure, at least 72 practitioners were sent to labor camps for their faith and 254 were arrested. Among them, Mr. Xiao Peng died at age 30. 
Zhao was later reported to the authorities for corruption. He was removed from office and sentenced to 6 years in prison. After suffering from diabetes and a stroke, he committed suicide by jumping from a 20-floor apartment building on June 11, 2021. 
The 553 people who were reported in 2021 to have received karmic retribution came from 31 provinces and province-level cities. Heilongjiang Province had the highest number with 91, followed by Hebei Province with 85. The officials among them came from different ranks, including those at the provincial level (head of provinces or equivalent), bureau level (between provincial and county levels), county level, and township level. Ordinary civilians also faced consequences for reporting on practitioners.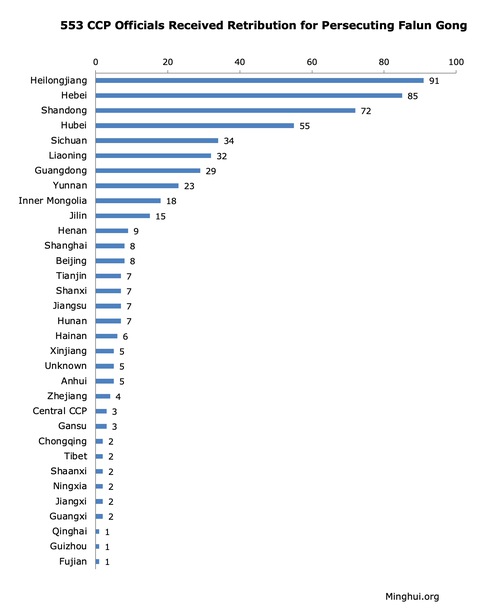 Below is the breakdown of retribution cases, organized by agency or other entity involved in the persecution. A detailed name list can be downloaded here.
1. Political and Legal Affairs Committee
There were 86 officials in the CCP's PLAC reported to have received retribution, including:
– 1 in Beijing (Wang Yu)– 1 in Fujian Province (Wu Rongcai) – 1 in Guangxi Province (Li Shuiheng) – 1 in Jiangxi Province (Gong Jianhua) – 1 in Shanxi Province (Li Xiaoming) – 1 in Shanghai (Lu Yan) – 1 in Chongqing (Li Chuan)– 1 in Tianjin (Sun Baoshun) – 1 in Ningxia Province (Xie Guowang) – 2 in Sichuan Province (Chen Min, Xian Mingfan) – 2 in Tibet (Li Yunfeng, Zhu Jiang) – 2 in Yunnan Province (Li Zhengde, Shi Hongjia) – 2 in Zhejiang Province (Sheng Xiafeng, Jiang Xunbo) – 2 in Jiangsu Province (Wang Libin, Wang Like) – 2 in Hainan Province (Chen Xiaoya, Li Deshen) – 2 in Hunan Province (Yuan Weixiang, Chen Lijun) – 3 in Anhui Province (Ling Yong, Xu Gang, Hou Hua) – 3 in Hebei Province (Niu Xinghui, Yin Huiqiang) – 3 in Xinjiang (Yang Fulin, Meng Fangang, Miao Yi)– 3 in Henan Province (Yu Donghui, Gan Rongkun, Ma Jiansong) – 4 in Jilin Province (Geng Weiyan, Zhang Kainan, Tian Ye, Xia Mingjun) – 6 in Liaoning Province (Zhang Mingyou, Yang Jiuying, Yin Xun, Cong Zhihong), three in Inner Mongolia (Wu Guorui, Li He, Suyi Rabatu) – 7 in Hubei Province (Li Donghui, Chen Yuesheng, Jin Guanyin, Li Donghui, Zhu Zhengxing, Zhao Changxi) – 8 in Guangdong Province (Peng Dingbang, Wu Yongsheng, Chen Wenmin, Chen Junqin, Jiang Kaixin, Huang Yibin, Zheng Jia, Qiu Xiaoliang) – 8 in Heilongjiang Province (He Jianmin, Yang Gang, Sun Bo, Du Xiangshan, Li Li, Wang Enlong, Wo Lingsheng, Yu Zhongyuan, Li Qingping)– 16 in Shandong Province (Liu Maode, Wang Xinghua, Wang Peng, and 12 others)
One example is Li Li, Party Secretary and PLAC Party Secretary of 8511 Farm (also known as Mishan City Agricultural Reclamation Branch) between 1999 and December 2003. Over 10 practitioners within his jurisdiction were arrested during his tenure for practicing Falun Gong, resulting in detention, torture, imprisonment, and broken families.
Later on, Li was diagnosed with a brain tumor. Although he went to Beijing for treatment, the tumor recurred, requiring him to have another surgery. He remained in a coma after the surgery and died in October 2020. 
2. 610 Office
There were 31 610 Office agents who met with consequences in 2021 for persecuting Falun Gong practitioners, including the following:
– 1 in Inner Mongolia (Li Lingyu) – 1 in Shaanxi Province (Li Xinliang) – 2 in Sichuan Province (Liao Weizhong, Xing Lin)– 2 in Central CCP agencies (Peng Bo, Fu Zhenghua) – 2 in Beijing (Guo Zhigui and his wife) – 2 in Heilongjiang Province (Liu Wenpu, Zhang Dali) – 2 in Jiangsu Province (Du Rongliang, Qi Hongting)– 3 in Shandong Province (Hui Congbing, Zhang Guangxiao, Men Zhenliang) – 7 in Hubei Province (Li Dehui, Ye Xinming, Ruan Minggui, Yao Xiong, Chen Xianhan, Wang Guangkun, Zhou Bin)– 8 in Hebei Province (Liu Fuqiang, Ma Yuchan, Zhang Chenghua, Wang Fuhong, Yang Juncheng), one in Henan Province (Sun Jianguo)
Ma Yuchan held numerous key positions in Hebei Province. He became Political Director of the Hebei Public Security Department in 1998, Deputy Chief of the Hebei Public Security Department in 2002, Director of the 610 Leadership Team and 610 Office in 2008, Deputy Party Secretary of the Hebei PLAC in 2009, and Deputy Secretary of the Hebei Commission for Discipline Inspection in January 2011. 
Hebei Province was one of the places where Falun Gong was heavily suppressed. For example, Mr. Chen Yunchuan from Huailai County had 6 people in his family practicing Falun Gong. His first son died of torture in detention at age 33 in 2001, his daughter Ms. Chen Hongping lost her life at 32 in 2003 due to brutality at the Gaoyang Labor Camp, and another son, Mr. Chen Aili died at 35 in 2004. In the end, Mr. Chen and his wife were forced to live away from home to avoid arrest and eventually lost their lives, one in 2006 and another in 2009. 
The news came in July 2021 that Ma was suspected of having violated the law and was under investigation. 
3. Police System 
The number of agents who received retribution in police departments, police stations, and detention centers totaled 166, including:
– 1 in Tianjin (Zhang Jian) – 1 in Chonqing (Jiang Hongchuan) – 1 in Central CCP (Meng Qingfeng, former Deputy Minister of Public Security)– 1 in Guangxi Province (Huang Donggang) – 1 in Hainan Province (Song Shunyong) – 1 in Ningxia (Zhang Rui) – 1 in Qinghai (Rou Zhi) – 2 in Beijing (Zhang Limin, Wang Huaisheng) – 3 in Yunnan (Tu Lijun, Zhang Yaming, Wu Xuezhu) – 3 in Inner Mongolia (Li Chengren, Yu Hai, Liu Caijun) – 3 in Henan Province (Li Junxin, Yang Guoping, Han Baoqiang) – 3 in Hunan Province (Gao Lei, Gu Luwen, Li Xiangjiang) – 6 in Shanxi Province (Liu Xinyun, Wang Wudao, Shao Xi, Yang Meixi, Ma Aiwen, Zhang Baoping), one in Shanghai (Tang Lina) – 6 in Jilin Province (Liu Hongwei, Qian Kongliang, Zhang Huaigan, Li Zimu, Ji Kaiping), one in Jiangxi Province (Ye Guobing) – 11 in Hubei Province (Lu Jun, Yuan Tao, Liu Guohe, Wanhui, Cheng Ran, Liu Jusheng, Wang Quansheng, Deng Hongqin, Shen Minghai, Zheng Shouzhi, Li Guiping) – 13 in Liaoning Province (Li Wenxi, Xue Heng, Li Yongfu, Jiang Weimin, Li Wenjie, Wang Hongkui, Liu Wuren, Chen Aidang, Meng Wei, Wang Kai, Hu Bin, Yang Jianjun, Yang Yuzhong) – 13 in Guangdong Province (Huang Weiting and two family members, Li Huiying, Tong Guozhou, Zhong Guorong, Huang Guipan, Zhong Ming, Liang Jinhai, Zhang Ronghui, Yang Wenwei, Zheng Yingbiao, Zhou Peitao) – 15 in Sichuan (Ma Lianghui, Zhou Zhongping, Yin Jing, Hu Hongli, Qian Jihui, Liu Xiaobing, Zhao Ning, Yang Dalin, Xu Chengwu, Hu Xiaohu, Liu Like, Chen Guichun, Liang Gaohui, Zhuo Yicai, Cui Jingdong) – 21 in Heilongjiang Province (Li Maoshan, Chang Jianmin, Han Feng, Sun Yanbin, Sun Yuqing, Li Yingchen, Li Shulin and son, Zhao Rongzhou, Xu Yuting, Zhang Yuan, Wu Benhong, Yang Zhenfang, Kang Jinsheng, Zhang Changqing, Yuan Luying, Xu Dewen, Shang Hongjun, Zhang Shiqiang, Shao Lianying, Zhang Qingdi) – 26 in Shandong Province (Li Weidong, Liu Mingtai, Li Zhiyong, Yu Songyan, Wang Xingjun, Wang Xingjun's wife, Pan Yunfeng, Wu Chuanhua, Hou Junyan, Cheng Yongxue, Liu Xiuwei, Zhong Yuhua, Qin Lisheng, Li Yanjun, Wang Yong, Wang Guochao, Yan Shengbo, He Jinming, Fu Anliang, Ma Panlong, Yang Bo, Li Jinsheng, Dou Jinguang, Wang Yong, Huang Zaisheng, Qian Wenting) – 32 in Hebei Province (Jia Ruiqin and son, Sun Yongye, Qiao Yuanru, Liu Wenzhan, Tang Guoli, Zhang Hongzhen, Yang Qingshe and wife, Ha Fulong and parents, Dong Junbiao and wife, Liu Jinliang, Zhao Mingzhi, Sun Xuwen, Tang Liandong, Xin Jun, Kang Junyu and son, Qi Xiaoquan and son, Xu Zhenxia, Zhang Qigang, Chen Zhigang, Cheng Weiqing, Gao Quanping and wife, Wang Shunyi, Ma Jinsong)
Zhao Mingzhi, 56, became the Sanhe City Deputy Police Chief in March 2005, and served as Yanjiao Police Department Chief between July 2010 and November 2015. During that time, at least 11 Falun Gong practitioners were tortured to death, 58 lost their lives as a result of torture, three were disabled by torture, 15 were sentenced to prison, 29 were sent to labor camps, and 108 were held at the Langfang Brainwashing Center. 
After receiving a warning in November 2015, Zhao was removed from office. He was convicted of protecting organized crime, and was sentenced to six and a half years in February 2021. 
4. Procuratorate
Among the 14 procuratorial officials, one was in Anhui Province (Liu Yan), two in Hebei Province (Liu Bingwang, Wang Li), four in Heilongjiang Province (Bu Yansheng, Zhao Guojun, Zhao Zhengji, Gao Weili), one in Hubei Province (Sun Yingzheng), three in Liaoning Province (Lin Hui, Guo Changpeng, Liu Zhizhong), one in Shandong Province (Zhao Yingzhu), and two in Sichuan Province (Gou Zhiyang, Yao Zhi). 
Wang Li, Chief Prosecutor at the Lulong County Procuratorate in Hebei Province, died in May 2021 at 45. It took only about a year from her initial cancer diagnosis to her death. Many people linked her death to her mistreatment of innocent Falun Gong practitioners. 
Over the years, the Lulong County Procuratorate has been actively implementing the persecution policy against Falun Gong. After becoming a chief prosecutor in 2016, Wang charged quite a few practitioners and sent them to prison. These included medical expert Li Yanchuan, Pei Yuxian, and more. 
5. Court System
There were 40 officials who met with consequences after their involvement in the persecution, including:
– 1 in Beijing (Zhang Jun) – 1 in Shanghai (Ren Yongfei)– 2 in Inner Mongolia (Du Fengxiang, Jin Zhu)– 3 in Hubei Province (Wu Dejin, Yang Hao, Hou Wangfa) – 3 in Liaoning Province (Kang Yingkang, Wang Yongheng, Yang Deshun), – 5 in Hebei Province (Zhu Wenzhong, Li Hongshui, Zhao Zengguo, Liang Gensheng, Huang Zhong), four in Heilongjiang Province (Xu Zhiguo, Yuan Shuhua, Li Shuguo, Yao Pengfang) – 6 in Sichuan Province (Wei Congming, He Aidong, Duan Bifa, Xie Songfu, Wu Hongshan, Zhou Qi), one in Tianjin (Zhang Lincai) – 7 in Yunnan Province (Zhu Yuhua, Chen Chang, Zhou Yingshu, Xian Dongming, He Linfeng, Liu Yuexiang, Yang Tingjiang)– 11 in Shandong Province (Li Xiuzheng, Chen Sixian, Zhang Xiaoning, Li Zhenghua, Zhao Xifeng, Yu Gang, Pang Guofang, Huang Zongdian, Wang Jianglan, Huang Liangdong, Chu Luning), one in Shaanxi Province (Zhao Xiaoxu)
Chu Luning, Vice President of the Qingdao City Intermediate Court in Shandong Province, was investigated on June 24, 2021, for illegal activities. He committed suicide the following day by jumping from his home in a multi-story building. 
After the CCP began to suppress Falun Gong in July 1999, court officials in Qingdao City framed a large number of practitioners under the pretext of their having violated Article 300 of the Criminal Law. Instead of conducting legal reviews or doing fact checks, the Qingdao Intermediate Court blindly upheld the primary verdicts. This affront broke the law, wronged the practitioners, and harmed their defending lawyers. 
6. Prison System
In China, prisons are managed by the Prison Administration Bureau, which operates under the Justice Department. There were 38 people in the justice system reported to have received retribution, including: 
– 1 in Xinjiang (Fan Jun) – 1 in Anhui Province (Zhang Jian) – 1 in Guangdong Province (Xu Xiangan) – 1 in Sichuan Province (Deng Gang) – 1 in Henan Province (Wang Wenhai) – 2 in Beijing (Liu Yongqing, Duan Bingchuan) – 2 in Jiangsu Province (Yu Airong, Shen Deming) – 2 in Liaoning Province (Li Zhong, Yao Xishuang) – 3 in Inner Mongolia (Xu Huhe, Hao Zejun, Xu Hongguang) – 3 in Tianjin (Feng Li, Zu Wenguang, Liang Qinghai) – 5 in Heilongjiang Province (Zhao Jincheng, Yu Fugang, Liu Feng, Gong Zhaopu, Wei Kai) – 5 in Hubei Province (Tan Xianzhen, Zhou Yukun, He Aimin, Zhang Xinhua, Wang Hongying) – 5 in Yunnan Province (Wang Chunhua, Ma Lin, Chen Bo and wife Zhang Hui, Liu Wenzhi) – 6 in Shandong Province (Wang Wenjie, Liu Baoshan, Qi Xiaoguang, Zhao Huacheng, Yuan Hongzhong, Qi Dingjun)
Yao Xishuang, former Director and Party Secretary of the Liaoning Prison Administration Bureau, was investigated for illegal activities in May 2021. Yao was also Deputy Chief of the Liaoning Justice Department. The Liaoning Justice Department supervises the Liaoning Prison Administration Bureau and the Labor Camp Bureau. After labor camps were shut down in 2013, many of the detained Falun Gong practitioners were sent to prisons. A 2018 Minghui report showed that at least 34 practitioners lost their lives due to torture at the Liaoning Women's Prison alone.
7. CCP and Government Officials
There were 100 CCP officials who received retribution for suppressing Falun Gong, including:
– 1 in Guizhou Province (Wang Fuyu) – 1 in Jiangsu Province (Zhao Zhixin)– 1 in Hainan Province (Wu Chuanzhu)– 1 in Xinjiang (Chen Xiaohu) – 1 in Henan Province (Shang Wenyan),– 2 in Hunan Province (Yang Yiwen, Zhou Xinhui) – 2 in Zhejiang Province (Chu Meng, Tao Chenghua)– 2 in Shanghai (Yang Xiong, Qian Xiaoyan)– 3 in Jilin Province (Guan Lianping, Luo Xiaoli and wife) – 3 in Gansu Province (Li Chongxuan, An Pengxiang, Zhou Qiangnian) – 4 in Liaoning Province (Gao Hongbin, Xu Changyuan, Zhou Jiku, Zhao Nan) – 4 in Shanghai (Li Jun, Zuo Yuanyang, Xiong Guanglin and son, Xiao Lei)– 4 in Yunnan Province (Yang Xianglai and son and daughter-in-law, Wang Bing)– 4 in unknown province (one Secretary of CCP's Youth League and child, one official and son)– 5 in Guangdong Province (Ye Murong, Jin Fanfeng, Zhan Dayang, Huang Zehuan, Lin Zhuangsen) – 5 in Hubei Province (Luo Qingquan, Xu Honglan, Dan Junmin, Liu Mingdeng, Fang Changxi)– 6 in Inner Mongolia (Liu Baitian, Zheng Jun, Wang Yang, Ren Jianhua, Zhang Shujun, Zhao Quanming) – 6 in Shandong Province (Zhang Xinqi, Yan Shengbo, Sun Mingliang, Zhu Lanxi, Lu Guifang and son Li Shiyu)– 21 in Hebei Province (Wang Jingwu, Fan Xuemin, Qi Manxiang, Zhao Ge, Di Yi, Gao Fengling, Zhang Jianmin, Liu Wanshu, Song Qingtong, Rong Shaohua, Li Xingrui, Zhang Shaojie and wife, Deng Chaoling and husband, Wang Jingyi, Liu Senming, Su You, Zhang Fuchun, Li Min, Zhang Zhihe)– 23 in Heilongjiang Province (Yu Baoguo, Liu Shufen, Bao Guorong, Liu Hongjiu, Dong Encai, Zhang Shihui, Zhang Enliang, He Baoshun, Yao Long, Hou Ming, Wu Fulin, Sun Xiao, Li Hongxiang, Li Jingyang, Jiang Tienan, Sun Taiwei, Zheng Bo, Zhai Youcai, Li Jun, Guo Jie, Feng Xiaodong, Liu Weiguo, Zhang Zhenwei)
Zhou Jiku, 64, former Party Secretary of Sijia Village in Xingcheng City, Liaoning Province is one example of a CCP official receiving karmic retribution. Practitioners told him many times what Falun Gong is, but he refused to listen. Instead, he blindly followed the persecution policy, especially during the "zero-out" campaign of 2020 under which Falun Gong practitioners on a government blacklist were targeted in attempts to force them to give up the practice. Working in concert with township and PLAC officials, he tried to coerce practitioners into signing documents renouncing their belief. In early 2021, Zhou was diagnosed with two types of cancer and died one month later. 
8. Public Institutions
Forty officials from public institutions received retribution for persecuting Falun Gong, including:
– 1 in Liaoning Province (Jin Hui) – 1 in unknown province (a school principal) – 1 in Shandong Province (Ding Yanling) – 1 in Shanghai (Jiang Shijuan) – 1 in Tianjin (Peng San) – 2 in Guangdong Province (Huang Yingwei, Wu Jianquan) – 2 in Hainan Province (Yin Jieyu, Kong Deming) – 2 in Jilin Province (Zhao Zhegao and son)– 2 in Yunnan Province (Zhu Chaowei, Zhu Jiajian)– 9 in Hebei Province (Wang Ming and son, Yin Tianwu and granddaughter, Sun Baoyi, Tian Yongjun, Wang Jisheng, Hu Dianpeng and wife) – 10 in Heilongjiang Province (Yu Dingkun, Zhang Wenming, Li Jiuchun, Fu Junlong, Yang Mingjun, Li Wen, Qu Zhentao, Meng Qinggang, Han Peng, Wang Shuguo)– 13 in Hubei Province (Li Hongxia, Li Heping and wife, Huang Xiaoxiu, Liu Jisheng, Meng Xianping, Xu Huadong, Li Qincai, Xu Shiwu, Lan Qiong, Unknown)
To implement the persecution policy, Hainan Radio and Television Station, with Hainan Internet Radio and Television Station, posted a notice in June 2020 calling on local residents to report Falun Gong activities with rewards of up to 100,000 yuan (USD $15,800). Six months later, Yin Jieyu, Editor-in-Chief of Hainan Radio and Television Station, died of illness at 51. Three months later, Kong Deming, Party Secretary of Hainan Radio and Television Station, also died of illness at 51. 
9. Business Units
Twenty people from various businesses were reported to have received retribution, including:
– 2 in Shandong Province (Zhang Yunjin, Zhang Qishun)– 3 in Hebei Province (Liu Jiaxuan, Gao Fusheng and wife) – 3 in Hubei Province (Chen Pingliang and son, and a third person whose name is unknown)– 12 in Heilongjiang Province (Meng Xianguo, Shi Zhonghua, Lin Zhiguo, Wang Jingdong, Yang Min, Li Chuanlin, Chu Yanfang, Wang Bojiang, Huang Zhiyang, Wang Jiaxin, Sun Jihua, Wu Wenning)
Zhang Yunjin, Director of the Transplant Center at Qingdao University, died suddenly at age 57 on February 26, 2021. He was said to have jumped from the 16th floor of the hospital. Numerous articles in Minghui have revealed a connection between Zhang and the Chinese regime's forced organ harvesting of Falun Gong practitioners. 
10. Ordinary Citizens
Eight ordinary citizens also met with consequences for their involvement in the persecution of Falun Gong. They included three in Hebei Province (Shi Lijun, Gao Wanyin, Ma Shulin), two in Heilongjiang Province (Liu and wife), two in Shanghai (Zhou Meiying and husband), and one is Sichuan Province (Zhai Xiuhua).
There is a Chinese saying that "Good is rewarded with good and evil meets with evil." Falun Gong practitioners wish people only goodness, health and safety, and have reached out continuously over the past 23 years, telling people the facts about the practice and exhorting them to stop from doing evil in persecuting Falun Gong. But some officials and ordinary citizens chose not to listen. 
Heilongjiang and Hebei Provinces have played a leading role in suppressing Falun Gong, and the number of retribution cases in these provinces is also the highest. We sincerely hope that more people will act according to their conscience, support the innocent, and reject the CCP for a brighter future. 
Views expressed in this article represent the author's own opinions or understandings. All content published on this website are copyrighted by Minghui.org. Minghui will produce compilations of its online content regularly and on special occasions.