After Years of Incarceration, Dalian Woman Is Given Second 8-Year Prison Term for Her Faith
(Minghui.org) Over the past two decades, Ms. Zhou Haiyan, 56, of Dalian City, Liaoning Province, has been arrested multiple times for upholding her faith in Falun Gong. She was detained in brainwashing centers three times, incarcerated in forced labor camps twice, and sentenced to eight years in prison in 2007. She was arrested again on October 8, 2017, and sentenced to another eight years.
All of her ordeal was simply because she refuses to renounce her faith in Falun Gong. She is currently detained at the Liaoning Women's Prison and still has four years to serve.
Falun Gong, also known as Falun Dafa, is a mind-body discipline that has been persecuted by the Chinese communist regime since 1999.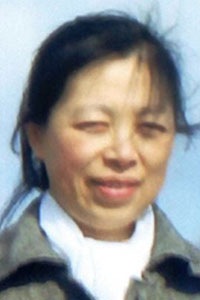 Ms. Zhou Haiyan
Whole Family Benefits from Practicing Falun Gong
Ms. Zhou was an introvert before practicing Falun Gong. She was feeling down each day and her work was not going well. She was diagnosed with uterine fibroids and underwent surgery. After practicing Falun Gong, her health improved and she became cheerful. She stopped quarreling with her mother and became more filial to her.
Ms. Zhou's father, Mr. Zhou Fusheng, was an attending physician in the air force for 40 years. Despite being a senior doctor, he could do little about his own health problems, including hepatitis, heart disease, and high blood pressure. His wife, Ms. Liu Yuqin, was also in poor health and often felt frustrated, especially given that they had three children and a bedridden parent to look after. The couple argued frequently and was on the brink of divorce.
To make things worse, their son, Mr. Zhou Bin, suffered from depression and bipolar disorder.
In May 1995, the couple began practicing Falun Gong, and their health and character improved. When they began to get along well, their three children, including Ms. Zhou, also became practitioners. Their son recovered from his mental issues, maintained a positive attitude, and became more open-minded.
Brief Timeline of Ms. Zhou's Persecution
1) Ms. Zhou Haiyan was held in a brainwashing center located in a drug rehabilitation center from August 8 to September 8, 2000.
2) On October 1, 2000, Ms. Zhou went to Beijing to appeal for the right to practice Falun Gong and was arrested. She was once again detained at a drug rehabilitation center until mid-November. Later, she was arrested again and sent to Dalian Forced Labor Camp.
On April 19, 2001, she was arrested again. She was taken to Masanjia Forced Labor Camp and detained until October 1, 2003. During her incarceration, her home was ransacked and all of her Falun Gong books were confiscated.
3) On October 31, 2006, the Party Secretary of Mingxing Residential District phoned Ms. Zhou and asked her to go to their office to answer some questions. She was arrested upon arriving at the office and was taken to a brainwashing session located in Huanbao Hotel.
4) Officers from the Huanghailu Police Station and 610 Office ransacked Ms. Zhou's home on February 7, 2007, and took her to the Masanjia Forced Labor Camp, where she was held for two years.
5) On October 8, 2017, Ms. Zhou and 19 other Falun Gong practitioners were arrested. She was sentenced to eight years. She appealed but the original verdict was upheld. She was taken to Liaoning Women's Province in December that year, where she continued to be persecuted.
Tortured in Masanjia Forced Labor Camp
Ms. Zhou suffered various forms of brutal torture during her two terms at Masanjia Forced Labor Camp. She was handcuffed to a heating pipe and hung up for a night when she refused to be "transformed." Her hands had turned black by the time she was let down. She continued to have trouble using her hands after she was released.
Another time, Ms. Zhou's hands were tied behind her back and her legs were folded on top of each other and tied up. The torture lasted for a full day. The pain was excruciating.
Torture at Liaoning Women's Prison
At the Liaoning Women's Prison, Ms. Zhou and several other practitioners had their belongings confiscated upon arrival at the prison. They were not given any toilet paper for half a year and were forced to clean themselves with a small amount of water instead. The guards also refused to provide her with sanitary pads, as she refused to write guarantee statements to renounce her faith.
For half a year, Ms. Zhou was forced to sit on a small stool every day, causing her buttocks to fester.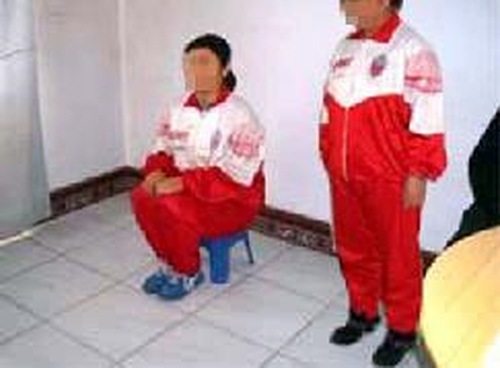 Torture re-enactment: Sitting on a small stool
At the end of 2019, Ms. Zhou's mother went to the prison to visit her, but her meeting request was rejected.
In 2020, the prison did not give water to practitioners who refused to be transformed. The practitioners were also not allowed to wash, not given any toilet paper, and not allowed to buy daily necessities from the prison store.
When Ms. Zhou's mother was turned away from visiting her again in April 2020, she filed a complaint with the prison chief. The captain of the cell where Ms. Zhou was held wrote on a paper slip, claiming to be from Ms. Zhou, saying, "I don't want to see you."
Another time, Ms. Zhou's mother and her younger sister were allowed to visit her. But on the way to the room, the guard asked if both of them practiced Falun Gong. When they said "yes," they revoked permission for the visit.
Family Persecuted, Father Passed Away
After the persecution of Falun Gong began in July 1999, Ms. Zhou's family wanted to share the benefit of the practice, but they were met with harsh persecution when they went to Beijing to appeal.
Ms. Zhou's younger sister, who worked at the Bureau of Certification and was the recipient of numerous performance-based awards, was fired from her job. Her supervisor said if they didn't let her go, all the other employees' bonuses would be revoked and the supervisors themselves might lose their jobs. They also said that the only thing that could prevent her from being fired was to write a statement to renounce Falun Gong, which she refused to do.
Their father, Mr. Zhou, was severely beaten by a young police officer and sustained a serious head injury when he went out to tell people about Falun Gong. He was forced to pay a fine of 1,000 yuan before the police called his wife at about 10 p.m. to pick him up. The next day, the police went to their home to harass and threaten him.
Having served in the military for nearly 40 years, he had never been physically abused by anyone, let alone a young police officer who could have been his grandson. The frustration, depression, and lack of freedom to practice Falun Gong took a toll on his health. He passed away in 2012.
A dozen officers from the Dalian Domestic Security Division and Huanghailu Police Station broke into Ms. Zhou's home on October 8, 2017, and arrested her. They did not let her change her clothes and dragged her away. Her shoes were lost in the process. An officer hit Ms. Zhou in the head. Her head still hurt when her attorney met with her 15 days later.
Her mother, Ms. Liu, was also arrested on the same day on October 8 when she was walking on the street. Without showing any identification, three officers grabbed her and dragged her into a car. The then 72-year-old woman was taken to the police station and locked in a room until the next evening, without being given any food.
On the third night, the police chief said to her that they would release her after taking her fingerprints. She allowed them to take her fingerprints, only to be taken to Yaojia Detention Center and held there until October 16.
Related reports:Eight Practitioners Sentenced to Prison in Dalian City
Husband Dead and Daughter Imprisoned, 73-Year-Old Woman Calls for Justice
Belated News: Dalian Doctor Dies in Depression Due to Persecution of His Family
Views expressed in this article represent the author's own opinions or understandings. All content published on this website are copyrighted by Minghui.org. Minghui will produce compilations of its online content regularly and on special occasions.