Former Flight Engineer Sentenced to 4.5 Years for Practicing Falun Gong
(Minghui.org) Mr. Song Zhi is still being held at the Xi'an City Detention Center after being sentenced to 4.5 years in prison for his faith in Falun Gong, a spiritual discipline that has been persecuted by the Chinese communist regime since 1999.
Mr. Song, a 47-year-old flight engineer in Xi'an City, Shaanxi Province, was arrested on September 28, 2019. During his hearing in the Yanta District Court on July 16, 2020, only two of the three prosecution witnesses appeared to accept cross-examination—the third was serving time in prison.
It was reported that judge Yang Lin requested instructions from the local intermediate court on the length of Mr. Song's sentence, but she never got a response.
After the hearing, the two court-appointed lawyers visited Mr. Song only once, in October 2020. Eager to find out how he was doing, Mr. Song's family hired a lawyer for him in April 2021. The lawyer went to the detention center and was allowed to talk to Mr. Song via a video chat.
The lawyer filed a formal request with judge Yang on June 18, urging her to acquit Mr. Song given the lack of evidence.
Yang instead announced Mr. Song's 4.5-year sentence on July 12, 2021, nearly one year after the hearing.
Past Persecution
Since the onset of the persecution, Mr. Song has been arrested almost every two years for his faith in Falun Gong. He has been held in brainwashing centers and served two labor camp terms for a total of three years and one month. While he was detained, his daughter was born, and his wife was forced to divorce him when the baby was less than a year old. Without any income themselves, Mr. Song's parents, who'd relied on him for their subsistence, were left in dire straits.
Mr. Song was first arrested in December 1999 for going to Beijing to appeal for Falun Gong. He was detained for a month after being taken back to Xi'an and was beaten by the guards.
He was arrested again in April 2000 and detained for over 20 days.
Mr. Song was given two years at Zaozihe Forced Labor Camp after his third arrest in July 2000. The guards hung him up by his wrists on a window frame and didn't let him sleep for seven days. His use of the restroom was also limited. When Mr. Song held a hunger strike to protest the persecution, the guards tied him to a bed and force-fed him more than ten times. He was also constantly beaten and forced to do unpaid labor.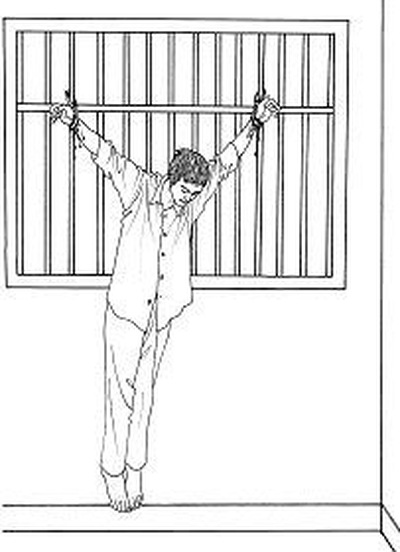 Torture illustration: Hung up by the wrists
At the end of his labor camp term in July 2002, the authorities took him straight to the Lintong District Brainwashing Center and held him for three months before transferring him to the Chang'an County Brainwashing Center him for another three months.
In November 2004, Mr. Song was arrested with his fiancee. She and her mother also practice Falun Gong. His Falun Gong books, computer, and printer were confiscated. Both he and his fiancee were detained for one month. His fiancee's mother was given two years of forced labor.
Mr. Song developed symptoms while in custody and his family had 20,000 yuan extorted from them before the police released him on bail for medical treatment. Shortly after, he was taken to the Weinan Brainwashing Center again and held there for a month.
He was arrested one more time in May 2006 and given 13 months in the Zaozihe Forced Labor Camp. He was denied family visits. Half of his term was spent in solitary confinement. He was forced to work 16 hours a day without pay. The living conditions were abominable. He was subjected to regular beatings and verbal abuse and sometimes denied use of the restroom. The guards also forced him to stand out in the scorching sun in the summer. After his term expired, he was taken to a brainwashing center instead of being released.
Due to his repeated arrests, the Flight Testing Research Institute where he worked issued him a warning in June 2008 and reduced his monthly salary to 1,000 yuan, when an entry-level new-hire was paid 3,000 yuan per month.
Only two months later, during the Beijing Olympics, the officials at his workplace cooperated with the police to arrest him again. He was held in a brainwashing center for four months.
Mr. Song was arrested one more time on March 18, 2010, and held in a brainwashing center for more than 20 days. He was deprived of sleep and had his hands and feet cuffed together.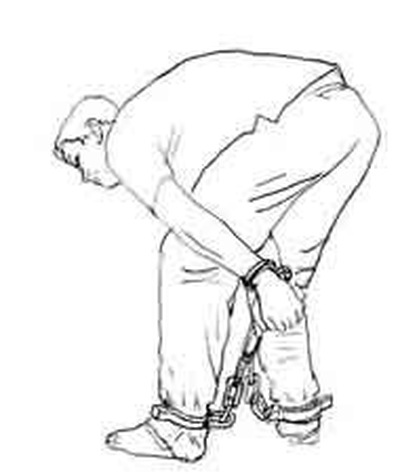 Torture illustration: Hands and feet cuffed together
His next arrest was on September 16, 2012, while visiting a friend. He was detained for over two months.
Mr. Song's ninth arrest (along with several other practitioners) was on July 17, 2014. The police deceived the local villagers, claiming that they were arresting "murderers." Mr. Song was first held at the Xuanpingyuan Brainwashing Center and then transferred to the Yanta Detention Center on August 7. He was released on April 3, 2015, after he held a hunger strike to protest the persecution. The guards once tied him up in a bed for one day.
Perpetrators' contact information:
Luo Chengxing (骆成兴), judge, Xi'an City Intermediate Court: +86-29-87658229Yang Lin (杨琳), judge, the Yanta District Court: +86-29-8120813Zhang Huan (张欢), prosecutor, the Yanta District Court: +86-15502905120, +86-29-85255579
(More perpetrators' contact information is available in the original Chinese article.)
Related reports:
Shaanxi Man Sentenced to 4.5 Years One Year Following His Hearing for Practicing Falun Gong
After Nine Arrests and Two Labor Camp Terms, Flight Engineer Faces Prison Time for His Faith
Persecution of Falun Gong Practitioners from Xi'an Aircraft Industry Company
Views expressed in this article represent the author's own opinions or understandings. All content published on this website are copyrighted by Minghui.org. Minghui will produce compilations of its online content regularly and on special occasions.