Disabled Woman Taken to Prison in a Wheelchair to Serve a Renewed Term for Her Faith
Aug. 17, 2021 | By a Minghui correspondent in Jilin Province, China
(Minghui.org) A 62-year-old disabled woman was taken to the Jilin Province Women's Prison to serve time in early August 2021, after she was sentenced to 1.5 years for practicing Falun Gong, a spiritual discipline that has been persecuted by the Chinese communist regime since 1999.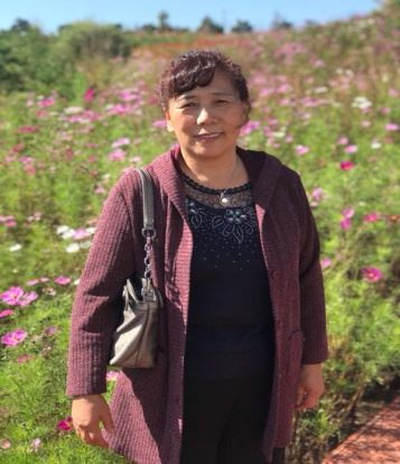 Ms. Zhang Junling
Ms. Zhang Junling, of Huichun City, Jilin Province, was arrested on February 14, 2019 after the police spotted her putting up posters about Falun Gong and talking to people about it. She was held at the local lockup for 15 days and then put under house arrest.
After she returned home, the police and residential committee staff members often called and harassed her. Several police officers went to her home on June 10, asking her to sign a document of additional evidence used to charge her, as well as a statement renouncing Falun Gong. She refused to comply.
The mental distress from the persecution caused Ms. Zhang to suffer swelling and pain around the area where she had a mastectomy years ago. As she had an amputation of her left calf after a train accident in 1981, the artificial leg she was wearing no longer fit after she lost a significant amount of weight. Many other ailments that were cured by practicing Falun Gong have also relapsed.
Ms. Zhang appeared in Longjing Court in a wheelchair on September 26, 2019 and was sentenced to one year in prison. Given her persistent health problems, the judge ordered her to serve time outside of the prison.
Despite her declining health, the police took her back into custody at Yanji Detention Center on June 9, 2021. The police claimed that the one-year term she received in 2019 was no longer valid, because she didn't serve time in the prison. The judge has given her another 1.5-year term, which began on June 9.
Ms. Zhang was transferred to the Jilin Province Women's Prison in early August, in a wheelchair. As the authorities block her family from visiting her, they are now very worried about her health.
Ms. Zhang's family said that none of the officers who handled her case in the past three years have revealed their names, which makes it very difficult for them to hold anyone accountable or seek justice for her.
Perpetrators' contact information:
An Tongyu (安彤宇), head of Jilin Province Women's Prison: +86-431-85375001Wei Lihui (魏丽慧), deputy head of Jilin Province Women's Prison: +86-431-85375006, +86-15312692195Ni Xiaohong (倪笑虹), deputy head of prison ward: +86-13943036094
(More perpetrator's contact information is available in the original Chinese article.)
Related reports:
Convicted for Her Faith, Disabled Woman Taken Back into Custody
Jilin Woman Sentenced to Prison for Raising Awareness about Persecution of Her Faith
Jilin Woman, 60, Detained for Telling People How Falun Gong Restored Her Health
All articles, graphics, and content published on Minghui.org are copyrighted. Non-commercial reproduction is allowed but requires attribution with the article title and a link to the original article.
Category: Accounts of Persecution