Munich: Protest at Chinese Consulate Exposes CCP's Ongoing Persecution and Calls for It to End
July 6, 2021 | By Dexiang, a Minghui correspondent in Germany
(Minghui.org) Falun Dafa practitioners in Munich peacefully protested in front of the General Consulate of China on July 1, 2021. They exposed the brutality of the Chinese Communist Party's 22-year-long persecution of the practice and asked the international community to set aside economic interests and not ignore the persecution.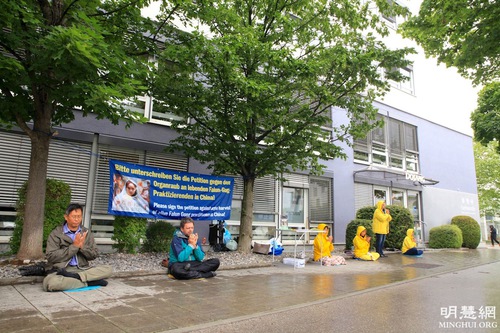 Practitioners peacefully protested in front of the Chinese Consulate in Munich on July 1, 2021.
July 1, 2021, marked 100 years since the establishment of the CCP. Over the decades it has launched numerous political campaigns that persecuted and killed millions of Chinese people. Former Party leader Jiang Zemin, out of jealousy that more people were practicing Falun Dafa than the CCP had members, started the persecution of Falun Dafa on July 20, 1999, turning a blind eye to Dafa's positive contributions to China and the world's people.
Ms. Huang, a Falun Dafa practitioner who participated in the protest, pointed out that many countries took an appeasement attitude toward the CCP's violation of human rights. She said the coronavirus pandemic has now killed nearly 4 million people worldwide and severely damaged the world's economy. She added that the CCP has also stolen a tremendous amount of intellectual property from Western countries.
Ms. Huang said, "International society can't ignore the persecution of Falun Dafa. It can't be oblivious to this issue and must pressure the CCP to stop the persecution."
Daniela Dascalu, a practitioner who protests at the Chinese Consulate every week, said that July 1st was a sad day in contrast to the Party's celebration of its 100 year anniversary. "The CCP has existed for so long and has done so many bad things," she said.
Ms. Dascalu said, "I come here to let people know that we need Truthfulness-Compassion-Forbearance in our lives. I follow these principles in my life. I also tell people about the CCP's crimes of harvesting organs from living Falun Dafa practitioners to sell for profit. Many people have signed a petition to end the persecution and some took fliers to distribute in their workplaces."
She hopes the Chinese people who don't know about Falun Dafa can learn the facts. "The facts are very different from the CCP's propaganda," she said.
Practitioner Chen Gang said that the CCP has been destroying China's traditional culture for 100 years and has persecuted Falun Dafa for 22 years, "I hope the persecution stops immediately and we won't need to protest next year. I hope the CCP will be disintegrated by then so that people in China can freely practice Truthfulness-Compassion-Forbearance."
All articles, graphics, and content published on Minghui.org are copyrighted. Non-commercial reproduction is allowed but requires attribution with the article title and a link to the original article.
Category: Rallies & Protests