Canadian Politicians Stand in Solidarity with Falun Dafa Practitioners in Their Peaceful Efforts to Resist the 22-Year-Long Persecution
July 6, 2021 | By Minghui correspondent Ying Zi
(Minghui.org) This year's World Falun Dafa Day (May 13) marked the 29th anniversary of Falun Dafa's public introduction. Nearly 140 Canadian officials sent in greetings to celebrate the special occasion and to commend Falun Dafa practitioners for their perseverance in upholding the principles of Truthfulness-Compassion-Forbearance despite the Chinese Communist Party (CCP)'s relentless persecution of them since July 1999.
These officials included federal, provincial, and municipal officials, and their greetings were in the form of congratulatory letters or videos. Many said they were moved by the practitioners' courage to resist the persecution and vowed to stand with practitioners to safeguard the universal values of Truthfulness-Compassion-Forbearance and seek an end to the persecution.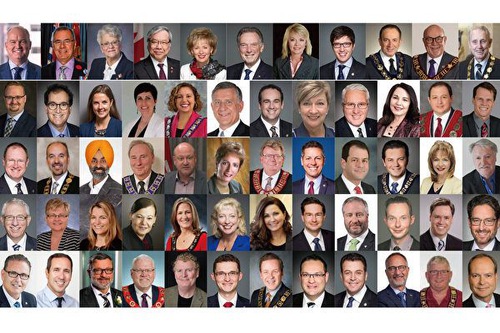 Many federal, provincial, and municipal officials in Canada sent in greetings and congratulatory letters to honor the 2021 World Falun Dafa Day.
Co-chair of the Falun Gong Parliamentary Friendship Group: Building a Better World
"Your compassion, your truthfulness, your principles, and your morals are wonderful attributes to all of you. We should continue to focus on issues of freedom, respect, and love for each other as we continue to build a better Canada and a better world," remarked MP Judy Sgro, one of the co-chairs of the Falun Gong Parliamentary Friendship Group, in a video. "Congratulations to all of you celebrating virtually. I look forward to the time we can meet on Parliament Hill," she said. During her speech to the Canadian Parliament on May 13, she again praised Falun Dafa's principles of Truthfulness-Compassion-Forbearance and expressed her well wishes to all Falun Dafa practitioners around the world.
Another co-chair, MP Peter Kent, said, "This has been another difficult year for millions of Falun Gong adherents who practice the tenets of Truthfulness, Compassion, and Tolerance and meditation exercises under the dark shadow of China's Communist regime. Not only across mainland China, but in Hong Kong, harassment of the Falun Gong community is escalating as the Communist Party widens its brutal persecution of all dissidents.
"But we also know today that Falun Gong, a long legal entity in Hong Kong resisting the regime's intimidation, is an important voice and defense of the democratic principles of free thought, free speech, free assembly, and the rule of law," he added.
MP Scott Reid wrote in his letter, "It is my honor to be able to send best wishes to every practitioner of Falun Dafa on this year's Falun Dafa Day, in their pursuit of Truth, Compassion, and Forbearance, in the face of ongoing persecution, and in a world which has so much to learn from the values that you represent."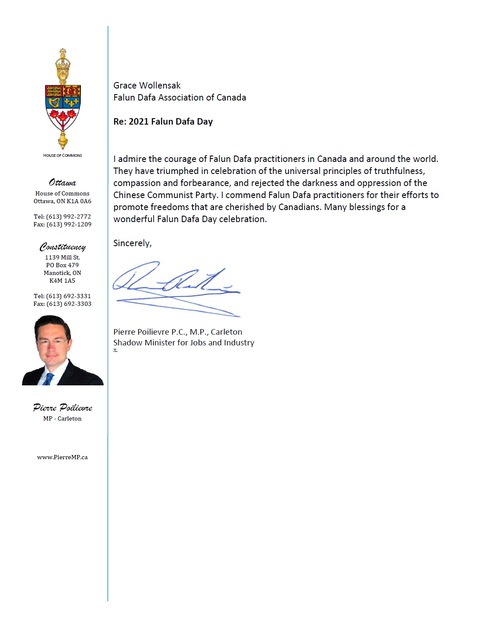 Letter from Member of Parliament (MP) Pierre Poilievre, Shadow Minister for Jobs and Industry
MP Pierre Poilievre said in his letter, "I admire the courage of Falun Dafa practitioners in Canada and around the world. They have triumphed in celebration of the universal principles of truthfulness, compassion and forbearance, and rejected the darkness and oppression of the Chinese Communist Party. I commend Falun Dafa practitioners for their efforts to promote freedoms that are cherished by Canadians."
A proclamation from Mayor Steve Clarke of Orillia wrote, "The great compassion and forbearance demonstrated by Falun Dafa practitioners under the Chinese Communist Regime's most severe persecution have touched every kindhearted human being."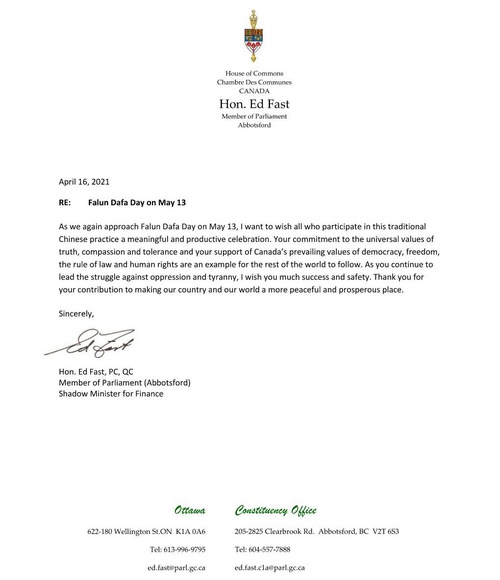 Letter from MP Ed Fast
MP Ed Fast of Abbotsford, Shadow Minister for Finance, said in his letter, "As you continue to lead the struggle against oppression and tyranny, I wish you much success and safety. Thank you for your contribution to making our country and our world a more peaceful and prosperous place."
Co-chairs of the Inter-Parliamentary Alliance on China: Challenges and Inspiration
MP Garnett Genuis, one of the co-chairs of the Inter-Parliamentary Alliance on China, said in his video greetings, "Your commitment to Compassion, Truthfulness, and Forbearance in the midst of very challenging circumstances has been an inspiration to me and to many others.
"One of the key issues that I have been working on is combating forced organ harvesting and trafficking," he continued. "There are cases where people from other countries outside of China go to China and receive an organ that has been taken through [forced] organ harvesting. We want to address that issue by stopping that demand for these organs to contribute to reducing the persecution along the way.
"The bill S-204 would also create a mechanism by which someone could be made inadmissible to Canada if they have been involved in this horrific practice of forced organ harvesting and trafficking," he explained.
Letter from Senator Thanh Hai Ngo
"Falun Dafa is an ancient practice that transcends barriers and embraces people from all walks of life – guided by principles of 'Truthfulness, Compassion, and Forbearance'. Sadly, innocent practitioners of this peaceful discipline continue to be persecuted on ethnic or religious grounds by the Chinese Communist Party," stated Senator Thanh Hai Ngo in his letter, "We must continue to stand in solidarity with adherents of Falun Dafa and all other oppressed religious minority groups, such as Tibetans and Uighurs."
Opposing the Persecution and Standing With Practitioners "Against Tyranny"
MP John Brassard, Deputy Opposition Whip, said, "Despite the teachings of Falun Dafa, too many people are tortured, persecuted and killed because of their spiritual practice. Hatred is wrong in any form, and it doesn't belong anywhere in the world."
MP Michael Cooper said in his video, "We know of the serious human rights abuses that are being perpetrated against peaceful Falun Dafa practitioners every day by the Chinese communist regime, including arbitrary arrests, extrajudicial killings, torture, and mass forced organ harvesting.
"I, as a Member of Parliament, have consistently spoken out against these gross human rights violations and have called on the Government of Canada to take appropriate measures including the imposition of Magnitsky sanctions on those responsible for these egregious human rights violations," he continued, "There is a lot of work to do, and I can assure you I will continue to speak out in support of Falun Dafa practitioners who are being persecuted."
MP Marilyn Gladu, Shadow President of the Queen's Privy Council for Canada, said in her video greeting, "I want to send my greetings to the whole Falun Gong community and to say that I stand with you against tyranny, against injustice for everyone to have the freedom to practice their religion without interference."
"Although this has been a very difficult year, Falun Gong practitioners are sadly far too experienced in dealing with challenging times. No one should ever be persecuted for the beliefs they follow," remarked MP Marty Morantz in his video greeting, "I stand with you against the human rights violations committed by the Chinese Communist Party against Falun Gong practitioners. As you come together today, I hope this virtual celebration of Falun Dafa Day brings you hope for brighter days ahead."
MP Ziad Aboultaif said Canadians have always been proud of Falun Dafa practitioners' commitment to human rights and freedom of belief. "Despite the challenges they have faced over the years, practitioners of Falun Dafa have remained committed to their principles of Truthfulness, Compassion, and Tolerance. These are values that are shared by all Canadians," he explained, "And we stand with you as you stand up to tyranny and suppression."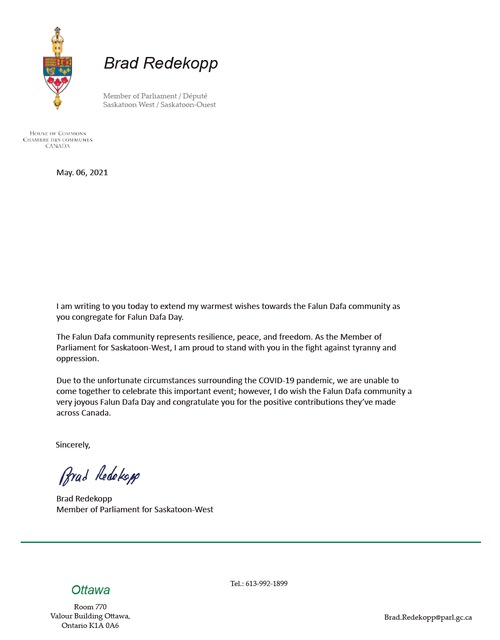 Letter from MP Brad Redekopp for Saskatoon-West
MP Brad Redekopp wrote, "The Falun Dafa community represents resilience, peace, and freedom. As the Member of Parliament for Saskatoon-West, I am proud to stand with you in the fight against tyranny and oppression."
Elizabeth May, Member of Parliament (MP) and Parliamentary Leader of the Green Party of Canada, said in her letter, "I am pleased to extend warmest congratulations to the Falun Dafa community as you gather to celebrate Falun Dafa Day. I stand with you not only in celebration but in solidarity as you fight to protect your right to your spiritual practice."
Fundamental Values of Society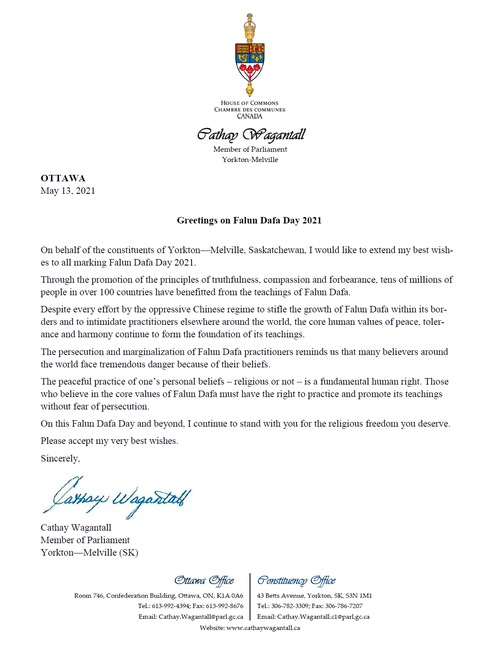 Letter from MP Cathay Wagantall
"Despite every effort by the oppressive Chinese regime to stifle the growth of Falun Dafa within its borders and to intimidate practitioners elsewhere around the world, the core human values of peace, tolerance and harmony continue to form the foundation of its teachings," MP Cathay Wagantall stated in her letter, "The persecution and marginalization of Falun Dafa practitioners reminds us that many believers around the world face tremendous danger because of their beliefs."
"The peaceful practice of one's personal beliefs – religious or not – is a fundamental human right. Those who believe in the core values of Falun Dafa must have the right to practice and promote its teachings without fear of persecution," she continued, "On this Falun Dafa Day and beyond, I continue to stand with you for the religious freedom you deserve."
MP Ted Falk stated in his letter, "Falun Gong shares similar values with my own Christian faith: truthfulness, benevolence, forbearance, and living in peace with one another. These are not only the hallmarks of our two diverse belief systems but also the bedrock values of a truly free and democratic society."
Kenny Chiu, Member of Parliament for Steveston-Richmond East, British Columbia, wrote in his congratulatory letter, "In Canada, we are privileged to embrace the values of openness, diversity, and freedom of belief. In this spirit, your message of truth, compassion, and tolerance is inspiring to people of all backgrounds. It resonates with Canadians where these principles are central to our democratic society.
"Your efforts continue to serve as motivation to all of us that there should always be time made to promote good will and humanitarian acts of kindness," he added.
Andrea Khanjin, Member of the Ontario Provincial Parliament, was from the Soviet Union. "Today is time to think of those who have been wrongfully tortured and even sometimes killed because they are Falun Gong practitioners," she said in her video greetings, "On this solemn anniversary, we remember these martyrs to freedom of conscience and religion, and we admire and applaud the strength and courage of millions of Falun Gong practitioners still suffering persecution under the campaign and fear of intimidation that extends beyond the borders of the People's Republic of China."
"I also want to take this opportunity to thank the Falun Gong community for their contributions to make Canada an even better place to live and to cherish the value of truthfulness. You remind us that we should never take our freedoms for granted and the importance of upholding those freedoms," she said.
Holding Perpetrators Accountable
James Bezan, Member of Parliament and Shadow Minister for National Defence, said he is happy to celebrate the 29th anniversary of Falun Dafa's introduction to the public. "We celebrate this amazing faith that is practiced by so many people around the world, but particularly right here in Canada," he remarked in a video posted on Twitter. "The Falun Dafa principles of truth, compassion and tolerance resonate with Canadians from coast to coast to coast, and it is the one we all aspire to emulate."
"There is no question the ongoing persecution of Falun Gong practitioners in China by the Chinese Communist regime in Beijing needs to be called off. Those who are responsible for committing the atrocities such as the human organ harvesting have to be sanctioned, if not charged with crimes against humanity," he continued,
"As the conservatives continue to call on the liberal government in Canada to use the Magnitsky Law to apply sanctions against those who are using their authority and committing these gross human rights violations, of course, enriching themselves. They should not be allowed to use Canada as a safe haven for travel and for bringing their family here to get education here or hide their illicit wealth," he concluded, adding he also hopes to attend the celebration in person next year instead of congratulating this event virtually from Parliament.
All articles, graphics, and content published on Minghui.org are copyrighted. Non-commercial reproduction is allowed but requires attribution with the article title and a link to the original article.
Category: Greetings