Injected with Toxic Drugs While Imprisoned for His Faith, Former Government Official Dies Seven Years after His Release
July 22, 2021 | By a Minghui correspondent in Shandong Province, China
(Minghui.org) After Mr. Jiang Guobo returned home in 2014 from serving a five-year term for practicing Falun Gong, he suffered long term complications from the involuntary drug administration in prison. He often felt sick and threw up. His abdomen was bloated. He had blood in his stool. He was very weak and dizzy and sometimes fainted. After struggling with poor health for seven years, he passed away on April 29, 2021. He was 58.
Mr. Jiang once said, "I suffered unimaginable torture in the detention center. I was force-fed toxic drugs and strong spicy pepper water. My vomit was green. I was also tied to a cross for 20 days and let down only briefly from time to time. My spine fractured from being rubbed against a wooden block. I couldn't see with my right eye for a long time. I had trouble urinating and once suffered constipation for 26 days. I once lost nearly 100 pounds in just three weeks. I can't remember how many times I was at death's door."
Taking Up Falun Gong
Mr. Jiang used to be a member of the Political and Legal Affairs Committee in Weifang City, Shandong Province. Before practicing Falun Gong, an ancient spiritual discipline, he had late-stage cirrhosis of the liver and a severe lung condition. He sought all kinds of medical help, but nothing had much effect on him. In June 1995, he was introduced to Falun Gong and recovered soon after taking up the practice.
Mr. Jiang lived by Falun Gong's principles of Truthfulness, Compassion, and Forbearance. He maintained his integrity and never took bribes, even though it was prevalent among his colleagues.
In 1999, he donated a significant portion of his income to support people suffering from the effects of the disastrous flooding in the cities of Zhucheng and Gaomi. During this time, he relocated his office to Qingzhou City to better serve people. He drilled wells and repaired roads for the villagers and they held him in high regard. They welcomed him with firecrackers when he went back later to visit.
Brutally Tortured in Two Labor Camps and a Prison
Reacting to Falun Gong's tremendous popularity, the Chinese Communist Party ordered a nationwide campaign to eradicate it in July 1999. For upholding his faith, Mr. Jiang was arrested 13 times. He suffered 77 kinds of torture, including electric shocks, the tiger bench, and being force-fed toxic drugs, while serving two labor camp terms and a five-year prison term. Even some inmates said they'd never seen anyone tortured so cruelly.
At the end of November 2000, Mr. Jiang was given three years in the Changle Forced Labor Camp. A guard named Zhu Weile ordered the labor camp doctor to inject him with a toxic drug on December 17 that year. Zhu threatened Mr. Jiang, "Whether you want it or not, we have to do this injection. If you resist, we will tie you up and beat you."
After two days of injections, Mr. Jiang's eyes began to swell. His kidneys hurt and he was confused. He felt extremely sleepy but couldn't fall asleep.
Although the guards released him on medical parole, they took him back to the labor camp in March 2001. He was tortured for another six months until he was near death again. The guards extorted 5,000 yuan from his family before letting them take him home on a medical parole. Before he fully recovered, the police broke into his home and attempted to arrest him again. Mr. Jiang escaped, but he was not able to go home for five years in order to avoid further persecution.
Mr. Jiang was arrested again on October 3, 2005. He was held in the Hanting Detention Center and brutally tortured. His arms and legs were cuffed to a cross for more than 20 days. He lost consciousness as a result of the unbearable pain.
On November 2, 2005, he was taken to a forced labor camp for the second time, this time for three years. He was confined in isolation in a tiny dark room only four meters square. He protested by going on a hunger strike for more than 180 days. The guards force-fed him with unknown drugs again. He had tremendous pain in his head and a hard time relieving himself. His blood pressure and heartbeat were out of whack. Mr. Jiang was again in critical condition.
In March 2006, Mr. Jiang was released on medical parole. He was fired from his job and had to do odd jobs to make a living.
Only three years later, Mr. Jiang was arrested again on February 27, 2009, by four plainclothes officers whose faces were covered. They covered his head with a black bag and took him to the Changle Detention Center.
For the first three months of his detention, over ten police officers took turns interrogating him and didn't allow him to sleep. He developed high blood pressure and was unable to eat.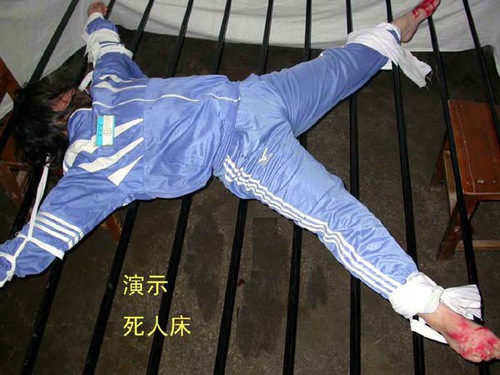 Torture reenactment: Tied in a death bed
After Mr. Jiang held a hunger strike in April 2009, the guards tied him up in a spread-eagle position on a death bed and force-fed him. His hair turned gray due to the cruel treatment and the hunger strike.
Despite his condition, the Kuiwen District Court secretly tried him in December 2009 and sentenced him to five years.
Mr. Jiang was taken to Jinan Prison in Shandong Province around January 15, 2010. He continued his hunger strike and was force-fed every day.
In 2013, he felt extremely unwell for three months. He was weak and nauseous and had blood in his stool for nearly two weeks. He said the symptoms were similar to those he had after being injected with toxic drugs while in the labor camp.
Related reports:
Mr. Jiang Guobo Returns Home after Five Years in Prison
Falun Gong Practitioner Jiang Guobo Due to Be Released from Prison after Hunger Strike to Protest the Persecution
Wrongfully Imprisoned Government Official on Hunger Strike for Three Years
Deputy County Official in Shandong Province on Hunger Strike to Protest Imprisonment and Torture
Deputy County Official in Shandong Province Illegally Sentenced to Five Years in Prison
Arrested 13 Times, Mr. Jiang Guobo Now in Critical Condition
Honest Official Persecuted by the State Security Department after Being Detained over a Dozen Times
The Weifang City Forced Labor Camp Used Drugs to Persecute Practitioner Mr. Jiang Guobo
All articles, graphics, and content published on Minghui.org are copyrighted. Non-commercial reproduction is allowed but requires attribution with the article title and a link to the original article.
Category: Reports of Death Cases