Wrongfully Imprisoned Government Official on Hunger Strike for Three Years
July 30, 2012 | By a Minghui correspondent in Shandong Province, China
Name: Jiang Guobo (姜国波)
Gender: Male
Age: 49 (Born in 1963)
Address: Weifang, Shandong Province
Occupation: Official in political and legal system in Weifang City
Date of Most Recent Arrest: February 27, 2009
Most Recent Place of Detention: Shandong Province Prison (山东省监狱)
City: Weifang
Province: Shandong
Persecution Suffered: Sleep deprivation, forced labor, illegal sentencing, forced injections/drug administration, beatings, imprisonment, solitary confinement, torture, force-feedings, detention,fired from workplace
(Minghui.org) Mr. Jiang Guobo, deputy county-level official in Weifang City, Shandong Province, was arrested and detained 13 times and sent to forced labor camp 3 times because he has persevered in his belief in Falun Dafa. He was arrested again for the 14th time in February 2009 and was sentenced to five years of imprisonment. Currently he is in Shandong Province Prison. He has been on a hunger and water strike to protest the persecution for three years and three months.
In the past more than three years, he has been subjected to various forms of torture and almost lost his life. When he was detained in the Weifang Detention Center, he was tied on the death bed every day and force fed. When he was imprisoned in Shandong Province Prison, he was force-fed seven times every day at first. Later, they switched to twice a day. In winter, the guards did not give him winter clothes intentionally. No matter how brutal the persecution, Mr. Jiang has never cooperated with the evil's commands or requests. Whenever he has an opportunity to talk with guards or inmates, he clarifies the truth to them and encourages them to withdraw from the Chinese Communist Party (CCP) and to not engage in persecuting practitioners. A lot of guards and prisoners have understood and withdrawn from the CCP. The 610 Office personnel and guards secretly admire Mr. Jiang. The conscience of a guard who once beat Mr. Jiang finally caught up with him. He often expressed his sympathy and concern about Mr. Jiang through his family.
Last year, Mr. Jiang formally appealed to the prison, requesting that the prison staff not interfere with his family's efforts to appeal. The prison staff responded, "Appealing is your right." However, during the three months after the New Year, they kept using different excuses to not allow his family to meet with him. In January 2012, as the Chinese New Year was approaching, his family asked to visit him, but the prison didn't allow it. During the following three months, the family went to the prison multiple times, but was never allowed to meet with Mr. Jiang. Mr. Jiang protested and kept clarifying the truth to the guards. After their frequent visits and multiple phone calls to the prison, his family was finally allowed to meet with Mr. Jiang and confirm that he was ok.
Through the efforts of multiple parties, the prison's attitude has changed slightly. They no longer torture Mr. Jiang and have improved his clothing and food.
Mr. Jiang Guobo was an official of the Weifang City Political and Legal Committee. Because he suffered from hepatorenal syndrome, he started practicing Falun Gong in 1995. His physical and mental health improved greatly and he was conscientious at work. When he was an official in Qingzhou City, he drilled wells and built roads for the local villagers. Whenever he visited the villages, the villagers set off firecrackers to welcome him.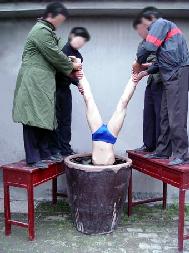 Torture re-enactment: In a water tank in the winter
This honest and well-regarded official was treated unjustly and fired from his job because he remained steadfast in his belief. He was detained in Changle Forced Labor Camp twice in November 2000 and on November 2, 2005. At the end of 2000 when he was in Changle Forced Labor Camp, seven to eight people took off his clothes, tied up his hands and feet, and put him in a water tank in the cold winter weather. They alternately pushed his head under the water or poked a water pipe into his mouth and nostrils continuously so that he couldn't breathe. They tortured him this way each time for over half an hour. In 2005, when he was in Changle Forced Labor Camp, the camp director, Xu Lihua, instigated the inmates to put drugs into Mr. Jiang's food that damage the nervous system and hinder urine production, which caused Mr. Jiang to suffer from dizziness and irregular heartbeat.
At 9:00 a.m. on February 27, 2009, while Mr. Jiang was working a temporary job at the company, he was arrested by police from the Domestic Security Division of Weifang City. Four plainclothes officers with masks covered his head and neck with a black bag, carried him into a car, and took him to Changle Detention Center. They did not allow his family to visit. Ten people, including Weifang Domestic Security Division agents and guards from Changle Detention Center, took turns interrogating Mr. Jiang for a long time. They deprived him of sleep, and his blood pressure went up. In April 2009, Mr. Jiang went on a hunger strike to protest the persecution and was force-fed.