Australia: Members of Parliament Call on People to Help Stop the Persecution of Falun Gong
July 19, 2021 | By a Minghui correspondent in Australia
(Minghui.org) Twenty-two years ago in July 1999, the CCP (Chinese Communist Party) initiated a nation-wide campaign against Falun Gong practitioners. Thousands of practitioners in China have been detained, tortured and even killed for their belief.
Practitioners in Australia and around the world continue to expose and peacefully resist this persecution by holding activities such as rallies and candlelight vigils. Since November last year, through letters, parliamentary speeches and interviews, many Australian Members of Parliament, politicians and people with a sense of justice from all walks of life have expressed their admiration for practitioners' persistence in two decades of raising awareness about the persecution.
Many Australian Members of Parliament thanked Falun Gong practitioners for their efforts in promoting traditional Chinese values with noble, virtuous principles. They also expressed admiration for the meditation practice's contribution in improving people's quality of life and bringing hope to the world through the guiding principles of "Truthfulness, Compassion, Forbearance."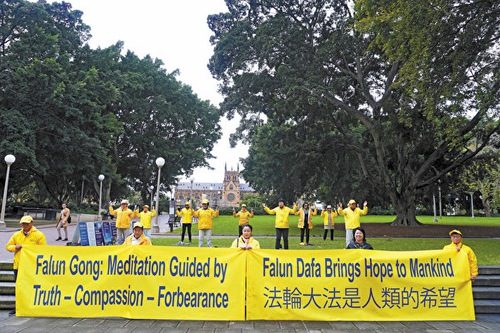 Practitioners in Sydney displayed banners with information about Falun Gong and demonstrated the exercises in downtown Sydney on July 17, 2020.
Australian Senator: Falun Gong's Resistance Helps Expose the CCP's Evil Nature 
Senator Hon Concetta Fierravanti-Wells said, "Falun Dafa has improved the lives of millions of people worldwide through its gentle exercise movements, sitting meditation and advocating adherence to the principles 'Truthfulness, Compassion, Forbearance.'" 
She said that in the past two decades, practitioners were persecuted, detained, tortured and even killed for upholding their freedom of belief which posed a challenge to the CCP's dictatorship and atheism. The brutalities continue today. Yet Falun Gong practitioners are one of the first groups to warn the world about the regime's widespread violation of human rights.
She wrote, "The courage, bravery and mental resilience of Falun Gong practitioners is commendable."
Mr. Eric Abetz, an Australian Federal Senator said, "Falun Gong practitioners' steadfast resistance against the CCP's persecution has been a great boost to exposing the nature of the party--destroy any movement or thought that is a threat to its evil ideology. Yet Falun Gong achieved this through peaceful defiance and raising awareness among the international community."
"To those like us who are fortunate to enjoy freedom, let us be grateful to them. Let us fight for freedom together courageously with people like Falun Gong practitioners."
Member of Parliament from Victoria Mr. Tim Wilson said, "As a government that holds onto its power through violence and social pressure, the CCP's persecution of Falun Gong is especially outrageous. With regard to the CCP's barbaric actions to enforce cultural supremacy, all free, democratic countries in the world should ensure that all places and everyone enjoy the rights to freedom of religious belief."
Mr. Lyle Shelton who will be a Member of the NSW upper house Parliament in November this year said, "The CCP has been brutally persecuting Falun Gong practitioners and Christians for many years. Since the pandemic, the world suddenly awakened to how evil the regime is. I am especially grateful to the Falun Gong organization for spreading the truth and hope to people as well as the contribution its members have made to human rights and peace in Australia."
A Member of the Qld Parliament, Sam O'Connor, said, "I thank you, Falun Gong practitioners, as a part of the local, varied community. Every time I meet with your representatives, in all the activities you hold and your behavior while volunteering for the community, your adherence to the principles of 'Truthfulness, Compassion, Tolerance' is visible for all to see. You have kept the core values passed down from ancient history and continue to display these qualities in adverse situations. Your positive contributions to the community will not be forgotten."
Mr. Sameer Pandey, a Councilor of Parramatta City in Sydney wrote in his letter, "I have always supported organizations like yours that work with the community to improve people's health and welfare, promote peace and harmony and give hope and assistance as well as build a moral foundation for the community. I firmly believe Falun Dafa will do all these for everyone in this community. I thank you and congratulate the Falun Gong organization for sharing with us the tradition of self cultivation based on the principles of 'Truthfulness, Compassion, Forbearance.'"
Councilor of Blacktown City in Sydney Mr. Jess Diaz said: "The cultivation of Falun Dafa elevates people's minds to even higher spiritual realms. I thank them for organizing the many online forums, cultural events and outdoor exercises to help Australians improve their physical and mental well being. Falun Gong practitioners have shown the world their courage and determination in pursuing the truth."
Mr. Indu Harikrishna, President of Sydney Community Group, one of Sydney's largest grassroots organizations, said, "Falun Dafa has helped people in all parts of the world imrpove their health, purify their hearts, raise their moral consciousness and deepen their understanding of life. I thank Falun Gong practitioners in Sydney for sharing the beauty of practicing Falun Gong with the community and offering free classes. This has given everyone in the community from individuals, businesses, groups, recreational clubs and schools an opportunity to understand Falun Dafa, improve their well being and pursue an even more meaningful life. It has also benefited the Australian society."
The president of the Vietnamese Community in Australia's Queensland Chapter, Dr. Cuong Bui, began to follow the persecution of Falun Gong practitioners in China since 2000. He said, "At present, moral values of people in society are very low. Many don't care about human conscience. When people do bad deeds, they no longer feel guilty about betraying their conscience. People only think about gains in front of them and don't consider what they should or should not do from the perspective of the long term or conscience. Therefore, this society needs people like Falun Gong practitioners in order to elevate humanity's moral standards. Falun Gong has brought hope to the world." 
Member of Victoria Parliament: The CCP Is Everyone's Enemy 
In mid November last year, two Victorian Members of Parliament Mr. Bernie Finn and Mr. David Limbrick condemned the CCP's persecution of Falun Gong during their speeches at the Victorian Legislative Council.
Mr. Limbrick said of practitioners, "They're a peaceful group of people who courageously stand up against persecution from the Chinese Communist Party to practice their beliefs. I feel very honored to know many Falun Gong practitioners in Melbourne. They have displayed the values of 'Truthfulness, Compassion, Forbearance.'" 
Mr. Finn said, "Falun Gong practitioners are all good people, very kind. There are few governments in the world like the CCP that vilely persecute human rights. The Chinese government is not only an enemy of Australia, it is also an enemy of its own citizens and everyone."
He said he will always support Falun Gong and their rights to practice cultivation.
Member of the SA Parliament Ms. Tammy Franks said, "I thank Falun Gong practitioners for sharing such a beautiful practice and tradition with all of us. I stand together with you today as well as everyday afterwards, fighting against the CCP's persecution. We know there is no legal basis for the CCP's persecution and it is extremely brutal and unjust. No one should be oppressed for their belief. As always, we will continue to oppose such human rights violations."
Do Dang Lieu, Representative of Viet Tan, South Australia Chapter also praised Falun Dafa for its positive influence on China and the world as well as the efforts made in reviving traditional Chinese culture. He said, "I greatly admire the tremendous efforts and courage of Falun Gong practitioners. Everything you have done is necessary, precious and a valuable contribution to the world in suppressing the evil, promoting the good. I thank you all!"
Member of the Order of Australia (AM) and Chair of the Australian Multicultural Council, Dr. Sev Ozdowski, said that in his long term working relationship with Falun Gong practitioners, he discovered that they are a group of people with moral tenets and determination. He thinks the CCP's attempts to suppress and abuse practitioners for their faith is futile and destined to fail. Falun Gong will win in the end, he said.
Ms. Sophie York, a lawyer, writer and expert on International Humanitarian Law applauded Falun Gong practitioners for helping Westerners distinguish between traditional Chinese culture and CCP culture. She said, "Falun Gong practitioners enabled Westerners to know Chinese people and their culture is totally different from the present political system (that is Communist ideology) in place currently. Chinese people are kind, warm, polite, hardworking, intelligent and considerate. They are unlike the CCP, devoid of human nature, overbearing, cunning, deceitful, ill-mannered, autocratic and without any morals."
"Falun Gong practitioners have great resolve and it is truly inspiring. I will never stop supporting you and supporting your principles in upholding human rights. Not only have you suffered injustice, you have experienced violence. Organ harvesting is a crime of killing. This is happening at present. The whole world should listen and condemn the CCP for its crimes of organ harvesting! The perpetrators should be brought to justice in the international courts. Anyone in any country should not purchase organs. This will help stop the crime of stealing organs."
She said, "All kind people in the world need to oppose the evil together. At present, more and more people are finding out what is really happening in the world... this evil must end. We will continue to pray and work towards this. Thank you for your spirit of never giving up!"
Background: What is Falun Dafa?
Falun Dafa (also known as Falun Gong) was first introduced to the public by Mr. Li Hongzhi in Changchun, China in 1992. The spiritual discipline is now practiced in over 100 countries and regions worldwide. Millions of people have embraced the teachings—which are based on the principles of Truthfulness, Compassion, Forbearance as well as five gentle exercises—and experienced uplifted health and well-being.
Jiang Zemin, former head of the Chinese Communist Party (CCP), perceived the spiritual discipline's growing popularity as a threat to the CCP's atheistic ideology and on July 20, 1999, issued an order to ban the practice.
Minghui.org has confirmed the deaths of thousands of practitioners as a result of the persecution over the past 22 years. The actual number is believed to be much higher. More have been imprisoned and tortured for their faith.
There is concrete evidence that the CCP sanctions the harvesting of organs from detained practitioners, who are murdered to supply the organ transplant industry.
Under Jiang's personal direction, the CCP established the 610 Office, an extralegal security organization with the power to override the police and judicial systems and whose sole function is to carry out the persecution of Falun Dafa.
All articles, graphics, and content published on Minghui.org are copyrighted. Non-commercial reproduction is allowed but requires attribution with the article title and a link to the original article.
Category: July 20 Events