Senior Engineer Sentenced to Four Years Again after Serving 11 Years in Prison for Her Faith
(Minghui.org) Ms. Yu Minghui's wish to reunite with her parents was shattered again when her 63-year-old mother was sentenced to four years in prison for practicing Falun Gong.
Since the Chinese communist regime started to persecute the spiritual discipline Falun Gong in 1999, Ms. Yu's family of three in Mudanjiang City, Heilongjiang Province has spent less than two years together. Her father was arrested in 2001 and sentenced to 15 years. His wife was arrested in 2003 and sentenced to 11 years. 
As a teenager, Ms. Yu struggled to grow up by herself. After being admitted to Cambridge School of Visual & Performing Arts in 2010 to study fashion design, she moved to the U.K. and hasn't been able to return to China since. 
When her father was released in 2016, two years after her mother returned to the empty home, they applied for passports in order to travel to UK to visit Ms. Yu, only to be rejected by the police and told that there is no way for them to ever get their passports. 
On March 31, 2020, Ms. Yu's mother, Ms. Wang Meihong, a geological engineer, was arrested again for talking to people about Falun Gong. After a year of detention, she was sentenced to four years around early May 2021 and has been admitted to Heilongjiang Women's Prison to serve time.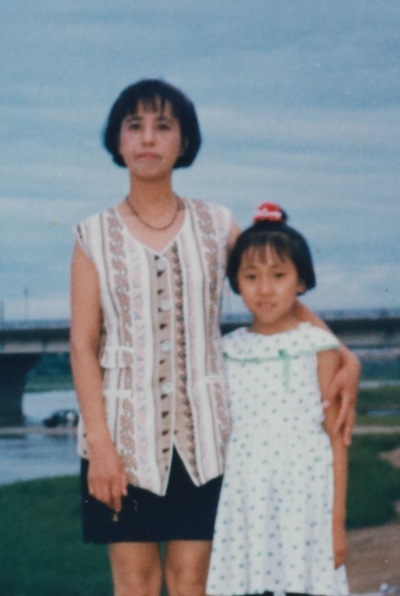 Ms. Yu Minghui and her mother Ms. Wang Meihong 
While attending an event in the U.K. in April 2021 calling for an end to the persecution, Ms. Yu said, "I don't know when my mother will be released. I came here today to protest the CCP (Chinese Communist Party) because my mother did not commit a crime in practicing Falun Dafa. My parents are now in their 60s. They were imprisoned for over a decade. Their lives are extremely difficult." 
"I am very worried. I hope they can release my mother immediately and give her back her freedom. Stop harassing her. It is not wrong to believe in Truthfulness, Compassion, Forbearance," she said.
Arrested Again in 2020 and Sentenced to 4 Year in Prison
Ms. Wang was arrested on November 23, 2020, near the Heilongjiang University for talking to people about the persecution of Falun Gong.
After she was arbitrarily detained at the Haxi Police Station for 15 days, she was put on criminal detention and transferred to a detention center without her family's knowledge. The police attempted to have Ms. Wang's family persuade her to give up Falun Gong so that she could avoid being sentenced, but they didn't comply.
Ms. Wang was indicted by the Daoli District Procuratorate on February 2, 2021. On March 30, 2021, the day before Ms. Wang's online hearing, her lawyer Xie Yanyi went to the Daoli District Court to submit his Power of Attorney. Judge Jian Cheng, however, told lawyer Xie that he has appointed a lawyer to represent Ms. Wang and he refused to accept Xie's Power of Attorney.
Lawyer Xie argued that it's illegal for the judge to reject his representation of Ms. Wang. He pointed out that it's Ms. Wang's own choice to decide which lawyer to represent her and how many lawyers she'd like to hire. The judge can't block her legal representation with his own opinion.
On the day of the hearing, the judge insisted to have the court-appointed lawyer represent Ms. Wang and enter a guilty plea for her. Ms. Wang protested and demanded to be represented by her own lawyer Xie, but the judge rejected her pleas and refused to allow Xie to attend the hearing.
Judge Jian later sentenced Ms. Wang to 4 years in prison. She has been taken to Heilongjiang Women's Prison at the time of writing.
Imprisoned for 11 Years for Upholding Her Faith
Ms. Wang once had chronic inflammatory breast tissue, hemorrhoids, and gynecological diseases. After she took up Falun Gong and strove to live by the principles of Truthfulness, Compassion, Forbearance, all her illnesses disappeared. She became a kind person who never hesitated to help others and earned the respect of her family, neighbors, and coworkers.
After the persecution started, Ms. Wang endured a great deal. Officers from the Xinhua Police Station arrested her at her aunt's home in Mudanjiang City on October 22, 2003. Six officers beat her and dragged her from the 7th floor to the 1st floor and threw her into a police vehicle.
At the police station, an officer grabbed her by the hair and pulled her to the 2nd floor, ripping out a lot of hair in the process. Another officer repeatedly smacked her face with a heavy book.
Two dozen officers took turns interrogating Ms. Wang around the clock while she was shackled to an iron chair for three days and was not allowed to sleep.
Persecution reenactment: Shackled to an iron chair
Five months later, a judge at the Aimin District Court sentenced Ms. Wang to 11 years in prison. She was taken to Heilongjiang Women's Prison on March 24, 2004. A captain forced her to stand all day when she was not put to work.
Ms. Wang worked in a room with two big machines that operated at a temperature as high as 180 °C (400 °F). It was especially exhausting in the summer and it took a toll on her health over time. 
The prison authorities transferred Ms. Wang to another ward in November 2006 because she refused to renounce her faith. There she had to sit still on a small stool for a long time every day, which injured her buttocks, back, and legs. A prisoner was assigned to watch her and follow her around the clock, no matter what she did. She couldn't talk to other practitioners there without being berated.
The persecution worsened in February 2008. The authorities put Ms. Wang in the 6th Ward and a felon with a record of assaulting practitioners was also transferred to that ward. The ward was cold and damp and Ms. Wang suffered back pain, heart problems, and developed a cough. One day, while Ms. Wang meditated on her bed, a guard and the felon dragged her down from the bed and attacked her. In the process, her right knee hit the ground so hard that it caused permanent damage.
The prison authorities separated Ms. Wang from other practitioners in December 2011 and had two prisoners monitor her every move. She couldn't talk to other practitioners and had to ask for permission for simple activities such as purchasing necessities.
Related Articles:
After 11 Years of Imprisonment for Upholding Her Faith, Engineer Arrested Again
A Young Artist's Ever Incomplete Family Portrait
Facts of the Persecution Inflicted on Mr. Yu Zonghai and His Family from Mudanjiang City, Heilongjiang Province
All content published on this website are copyrighted by Minghui.org. Minghui will produce compilations of its online content regularly and on special occasions.