After 11 Years of Imprisonment for Upholding Her Faith, Engineer Arrested Again
Dec. 7, 2020 | By a Minghui correspondent in Heilongjiang Province, China
(Minghui.org) A woman in her 60s was arrested on November 23, 2020, near Heilongjiang University in Harbin City, Heilongjiang Province. Ms. Wang Meihong, a senior engineer at Heilongjiang Geological Exploration Institute, was arrested for talking to people about the Chinese Communist Party's (CCP) persecution of Falun Gong, which has been ongoing since July 1999. 
Ms. Wang practices Falun Gong, a spiritual discipline based on the principles of Truthfulness-Compassion-Forbearance. Officers arbitrarily detained her for 15 days at the Yaziquan Detention Center. Prior to the latest incident, Ms. Wang was arrested in October 2003 and tortured in prison for 11 years for not renouncing her belief. 
Arrested in 2003, Abused in Detention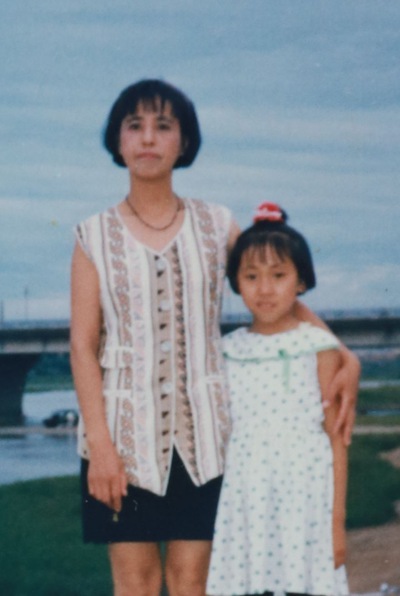 Ms. Wang Meihong and her daughter Ms. Yu Minghui
Ms. Wang once had chronic inflammatory breast tissue, hemorrhoids, and gynecological diseases. After she took up Falun Gong and strove to live by the principles of Truthfulness, Compassion, Forbearance, all her illnesses disappeared. She became a kind person who never hesitated to help others and earned the respect of her family, neighbors and coworkers. 
After the persecution started, Ms. Wang endured a great deal. Officers from the Xinhua Police Station arrested her from her aunt's home in Mudanjiang City on October 22, 2003. Six officers beat her and dragged her from the 7th floor to the 1st floor and threw her into a police vehicle. 
At the police station, an officer grabbed her by the hair and pulled her to the 2nd floor, ripping out a lot of hair in the process. Another officer repeatedly smacked her face with a heavy book. 
Two dozens officers took turns interrogating Ms. Wang around the clock while she was shackled to an iron chair for three days and was not allowed to sleep. 
Five months later, a judge at the Aimin District Court sentenced Ms. Wang to 11 years in prison. She was put in Heilongjiang Women's Prison on March 24, 2004. A captain forced her to stand all day when she was not put to work. 
Ms. Wang worked in a room with two big machines that operated at a temperature as high as 180 °C (400 °F). It was especially exhausting in the summer and it took a toll on her health over time. 
The prison authorities transferred Ms. Wang to another ward in November 2006 because she remained steadfast in her faith. There she had to sit still on a small stool for a long time every day, which injured her buttocks, back and legs. A prisoner was assigned to watch her and follow her around the clock, no matter what she did. She couldn't talk to other practitioners there without being berated. 
The persecution worsened in February 2008. The authorities put Ms. Wang in the 6th Ward and a felon with a record of assaulting practitioners was also transferred to that ward. The ward was cold and damp and Ms. Wang suffered back pain, heart problems and developed a cough. One day, while Ms. Wang meditated on her bed, a guard and the felon dragged her down from the bed and attacked her. In the process, her right knee hit the ground so hard that it caused permanent damage. 
The prison authorities separated Ms. Wang from other practitioners in December 2011 and had two prisoners monitor her every move. She couldn't talk to other practitioners and had to ask for permission for simple activities such as purchasing necessities. 
Persecution of Husband and Young Child
Ms. Wang's husband, Ms. Yu Zonghai, is also a Falun Gong practitioner. He was an artist who worked at the Mudanjiang City Library. Many times he was nominated as a model worker by the city and the province. He contracted a bone disease which disabled his hips and he couldn't bear any weight. His doctor suggested amputation, but fortunately he didn't have to consider it, as he was soon introduced to Falun Gong. After he attended a Falun Gong lecture in 1994, his condition soon recovered. A few days later, he carried nearly 200 lbs of rice up to the 5th floor. 
Police in Mudanjiang arrested Mr. Yu on November 12, 2001, because he explained to people why the persecution was wrong. Officers from the Gonghe Police Station forced pungent mustard oil into his nose and throat during an interrogation.
He was sentenced to 15 years and locked in Mudanjiang Prison, where he suffered beatings and tortures. In 2006 his tear duct ruptured after a beating. The guards poured cold water on him in winter 2009. They broke his rib and legs during the violent beatings. His chest was so injured that he had trouble breathing. Most of his teeth were knocked out. The shocks from electric batons caused severe damage to his heart and head. Despite all the physical injury, he still was made to do hard labor.
The couple's daughter, Ms. Yu Minghui, was taken to a brainwashing center when she was 12 years old. She had to travel between Harbin Women's Prison and Mudanjiang Prison to see her parents. The guards often denied the visits because her parents refused to give up Falun Gong. 
The young girl's grandfather (Mr. Yu's father), a healthy man, worried about his son's safety and was terrorized by the authorities. He died amidst the persecution of his son and daughter-in-law. 
Related reports: 
Washington Post Editorial: Human Rights Should Not Be Sidelined
Artist Recounts Persecution During 15-Year Imprisonment, Including Being Waterboarded for Over 10 Hours