England: Falun Dafa Rally Commemorates Historic Peaceful Appeal, MPs Condemn CCP's On-going Human Rights Violations
May 1, 2021 | By a Minghui correspondent in London
(Minghui.org) On April 25, 2021, Falun Dafa practitioners from London and surrounding areas gathered at the Chinese Embassy in London to hold a peaceful rally in remembrance of an appeal held on April 25, 1999. On that day, over 10,000 practitioners went to Beijing to ask for the right to practice their belief freely. 
Practitioners displayed signs and demonstrated the exercises. The rally made people stop in their tracks and caught the attention of cars passing by.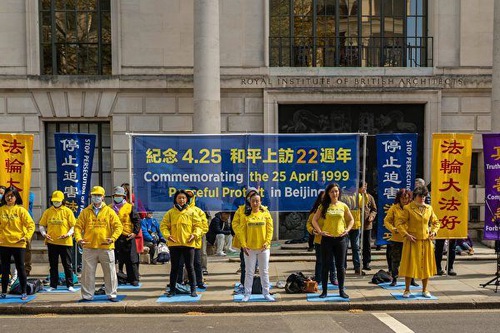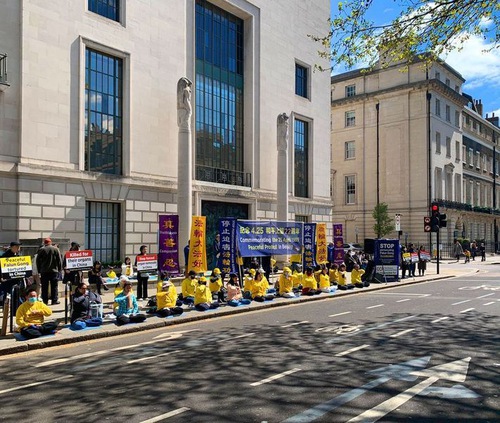 Practitioners in England held a peaceful rally near the Chinese Embassy to mark the 22nd anniversary of the Beijing peaceful appeal.
Professor Liu Wei representing the Falun Dafa Association in England said in his speech, "The kind, rational and peaceful demeanor displayed by the 10,000 practitioners during the appeal that took place 22 years ago is a testimony to their calm inner selves and their courage to hold onto their conscience. The event started a precedent in Chinese history and pushed the spiritual discipline to the international stage, making it the focus of attention in the global community."
Professor Liu said that as the CCP virus (coronavirus) restrictions eased in England, the government relaxed rules on social gatherings. Abiding by local regulations, practitioners in London quickly resumed their activities in London's Chinatown, St. Martin's Place, and other tourist destinations, to raise awareness of the ongoing persecution. He added that besides the rally in front of the Chinese Embassy in London, similar events were held in other cities such as Birmingham and Nottingham.
UK Politicians Support Resisting Human Rights Violations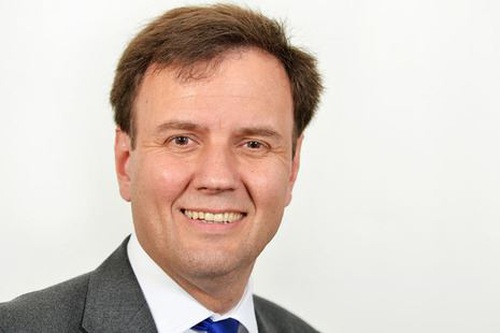 Greg Hands, UK Minister of State for Trade Policy expressed support for Falun Gong.
Professor Liu said that before the activities to commemorate the peaceful appeal, practitioners wrote letters to their respective Members of Parliament regarding the Chinese Communist Party's (CCP) persecution of the practice. They explained in detail the peaceful appeal in 1999 in light of the regime's recent sanction of 9 British citizens and 4 organizations for criticizing its human rights violations. 
Several MPs replied, expressing their respect for human rights and support for freedom of individual beliefs as well as religious beliefs. They also criticized the systematic, state-sanctioned crimes of taking the organs from prisoners of conscience without consent.
Greg Hands, UK Minister of State for Trade Policy, wrote in his reply to Ms. Dunount, who is in his constituency:
"Thank you for contacting me about the persecution of Falun Gong in China.
"Respect for human rights including religious or individual beliefs is the basis of the UK's foreign policy. Therefore England is deeply concerned about the continued suppression of Falun Gong practitioners and other groups in China. Indeed, testimonies of what they went through is incredibly distressing. I completely agree with your concern."
"Britain regularly raises issues on human rights with China including the treatment of religious adherents and minority groups. The Minister of Foreign Affairs has raised the issue with China's counterpart on many occasions. England has routinely raised its concern through the United Nations and will continue to do so."
"Ministers in The Foreign, Commonwealth & Development Office (FCDO) have carefully considered the China Tribunal investigation report organized by the International Coalition to End Transplant Abuse in China (ETAC). The UK's position remains that if this is the case, systematically, state sanctioned organ harvesting would constitute a serious violation of human rights. We sent representatives to attend the public hearing by the ETAC and its final convention where it published the results of its initial investigations. Britain will regard this report as one of the many sources of information in evaluating this matter."
Participant Recalls the Historic Appeal
Dr. Yang who is a manager in a renowned company in London participated in the appeal 22 years ago. He shared about the unforgettable experience.
Dr. Yang began to practice Falun Dafa after receiving a copy of the main book Zhuan Falun in 1994 when he was a first-year university student in Shanghai. He said, "I read the book in one go. Words cannot describe how excited I was by the contents. Many questions I had about life were answered. I understood the purpose of one's life." 
He was working in Beijing when the appeal on April 25, 1999, took place. He felt fortunate to attend and witnessed the historic moment of 10,000 practitioners peacefully appealing for the right to practice freely.
Twenty-two years have gone by. Dr. Yang now has a family and career in England and leads a happy life. He said, "No matter how busy I am with work or family, I try to take part in activities to raise awareness of the CCP's atrocities. In today's society where black and white are reversed, the moral downslide has brought calamity to countless people. I hope more people can recognize this."
Mother Repeatedly Arrested for Her Belief Now Missing
Practitioner Yu Minghui attended the day's rally. Her parents are being brutally tortured by the CCP in China. Her father Yu Zonghai is an artist. Her mother Wang Meihong is a senior engineer. They were arrested many times for practicing Falun Dafa. Her parents were sentenced to 15 years and 11 years in prison in 2001 and 2003. They were released in 2014 and 2016 and finally reunited in 2016. However, the peaceful period did not last for long. On October 23, 2020, her mother was arrested again by the local police station in Harbin City, Heilongjiang Province. To date, she has been detained for 6 months and her family does not know her current situation.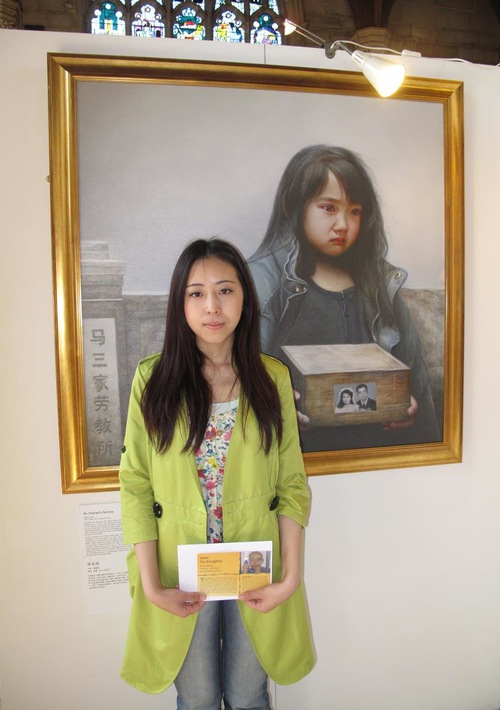 Yu Minghui's mother has been missing since October 23, 2020.
Yu was just a 12-year-old child when the persecution began in July 1999. For more than a decade, from a teenager to a young adult, the CCP cruelly took away her right to parental love. 
She told rally attendees, "I don't know when my mother will be released. I came here today to protest the CCP because my mother did not commit a crime in practicing Falun Dafa. My parents are now in their 60s. They were imprisoned for twelve years. Our lives are extremely difficult. Now, my family does not know how my mother is. The police in China are very malicious. They threatened my father not to reveal their phone number." 
She continued, "I am very worried. I hope they can release my mother immediately and give her back her freedom. Stop harassing her. It is not wrong to believe in Truthfulness, Compassion, Forbearance."
All articles, graphics, and content published on Minghui.org are copyrighted. Non-commercial reproduction is allowed but requires attribution with the article title and a link to the original article.
Category: April 25 Events