(Minghui.org) Two U.S. Secretaries of State, from both the Trump administration and the Biden administration, have recognized that the Chinese Communist Party (CCP) has committed genocide and crimes against humanity.
Former Secretary Mike Pompeo, on his last full day in office on January 19, 2021, announced his determination that communist China "has committed genocide against the predominantly Muslim Uyghurs and other ethnic and religious minority groups in Xinjiang" and that "this genocide is ongoing."
Pompeo's successor, Secretary Antony Blinken, concurred on January 27, one day after he was sworn in. "My judgment remains that genocide was committed against – against the Uighurs and that – that hasn't changed," said Blinken.
The CCP's genocide and crimes against humanity are not limited to Uyghurs, however. The U.S. Department of State has designated China as a Country of Particular Concern–a country with a bad human rights record–every year in its annual human rights report since 1999.
Ever since it was established, the CCP has been persecuting and killing Chinese people. It has carried out many political campaigns against different groups of people since it came to power in 1949, resulting in more than 80 million unnatural deaths.
For example, the Land Reform Movement (1949 – 1953) wiped out the landowner class in China, and Mao Zedong estimated that as many as 2 to 3 million landlords were killed. The Three-Anti Campaign (1951) and Five-Anti Campaign (1952) forced many capitalists and businessmen to commit suicide. The Cultural Revolution (1966 – 1976) targeted Mao's political rivals and capitalists. The Tiananmen Massacre (1989) killed the students and citizens who demanded democracy. Finally, the persecution of Falun Gong (1999 – present) remains unabated after more than two decades.
Among all the groups that the CCP currently persecutes, Falun Gong practitioners have suffered the most brutal treatment.
Genocide Against Falun Gong Practitioners
In July 1999, then CCP head Jiang Zemin and his political clique openly launched a nationwide campaign to eradicate the practitioners of Falun Gong, a mind-body exercise based on the principles of Truthfulness-Compassion-Forbearance.
The CCP developed many persecution processes and methods in its campaign against Falun Gong. It then applied them to other groups, including Christians, Tibetans, Uyghurs, Mongolians, human rights advocates, and people in Hong Kong, Taiwan, or other countries.
Those measures include establishing special controlling organizations such as the 610 Office to override judicial and law enforcement agencies, sentencing people without trial, torturing and murdering them, brainwashing, conducting live organ harvesting, and implementing big data analysis and surveillance.
A leaked CCP "top secret" document obtained by The Epoch Times provided evidence on the CCP's crime. The document is a judicial opinion issued on November 30, 2000, by five agencies, including the Supreme People's Court, the Supreme People's Procuratorate, Ministry of Public Security, Ministry of State Security, and Ministry of Justice.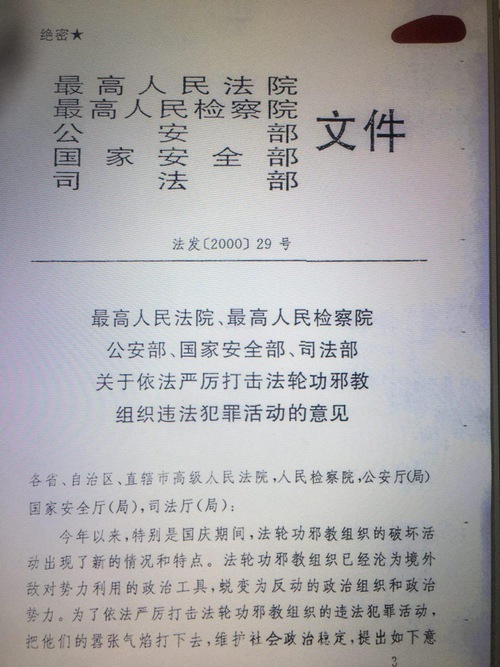 Classified document titled, "Opinions on Severely Cracking Down on the Illegal and Criminal Activities of the Falun Gong Heretical Organization by Law," issued by five CCP departments on November 30, 2000. (Courtesy of The Epoch Times)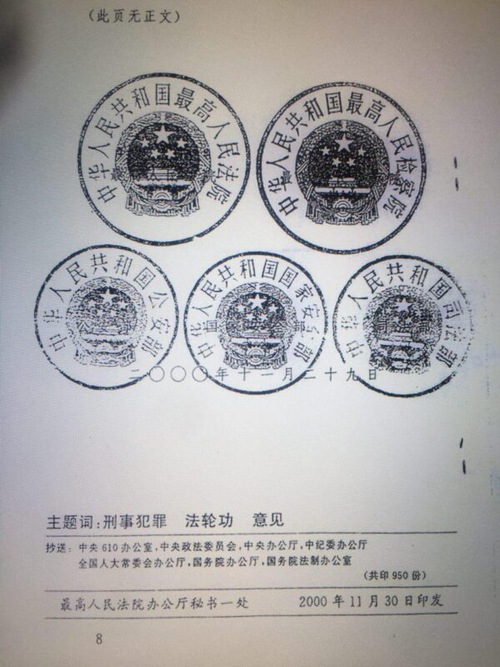 The seals of the five CCP departments stamped on the "top secret" classified document on persecuting Falun Gong. (Courtesy of The Epoch Times)
The document stressed that "political and legal departments at all levels must resolutely implement" Jiang Zemin's "important instructions to eradicate Falun Gong." It listed the criminal charges affixed to various Falun Gong activities and the degrees of punishment.
The document also claimed that the CCP's handling of Falun Gong cases was "political, legal, and policy-oriented" and demanded "political and legal departments at all levels cooperate closely under the unified leadership of the Party Central Committee."
The CCP has carried out the order given by Jiang Zemin "to ruin [Falun Gong practitioners'] reputations, bankrupt [them] financially, and destroy [them] physically" for 21 years. According to data compiled by Minghui.org, at least 4,485 Falun Gong practitioners died due to the CCP's persecution between 1999 and 2020.
In 2020, at least 80 practitioners were persecuted to death. Among them, 21 died while being detained in prisons, detention centers, or police stations. At least 15,235 practitioners were also targeted in 2020, including 6,659 arrests and 8,576 harassment cases. Another 622 practitioners were sentenced to prison.
Killing of Practitioners for Organs
The CCP's live organ harvesting, a "form of evil yet to be seen on this planet," was first exposed in 2006. Since then, over 2,000 voice recordings and witness accounts have shown the existence of a systematic organ harvesting practice controlled by the Chinese state, military, and hospitals. This crime is still happening today.
The latest revelation came from Lu Shuheng, who lives in the U.S., on January 17, 2021, who reported that Mao Shuping, former Deputy Director of the Shanghai Reform-Through-Labor (laogai) Bureau and later Deputy Director of the Shanghai Justice Bureau, and Mao's wife Zhou Qing, the Director of Obstetrics and Gynecology at Pudong Hospital and later President of Wanping Hospital, have participated in the organ harvesting and transplantion business.
Zhou is the sister of Lu's sister-in-law. The couple revealed their involvement in organ harvesting to Lu in an attempt to have him recruit organ transplant patients in the U.S.
Mao was promoted to high positions in Shanghai's judicial system for his active involvement in suppressing Falun Gong. He arranged his wife to extract organs from living Falun Gong practitioners.
The China Tribunal, chaired by Sir Geoffrey Nice, QC, a British leading expert on human rights law, released its final judgment on March 1, 2020, declaring that China's campaign of forced organ harvesting from innocent victims is a "crime against humanity" that constitutes one of the world's "worst atrocities committed" in the past century.
The China Tribunal, an independent people's tribunal in London, was established to inquire into forced organ harvesting from prisoners of conscience in China. It concluded on June 17, 2019 that the CCP had been harvesting organs from living Falun Gong practitioners in China for many years and that this crime still continued.
The tribunal examined testimonies from 29 witnesses and 26 experts in two hearings. The body of evidence included both Falun Gong practitioners who had excessive blood samples collected against their will, as well as voice recordings of phone conversations with top CCP officials, high military officials, doctors, and organ transplant intermediaries.
International Consensus and Sanctions
More and more international communities have recognized the CCP's genocide and crime against humanity.
The Jerusalem Post reported that 921 lawmakers and politicians from 35 countries signed a statement condemning the CCP's persecution of Falun Gong on December 10, 2020, Human Rights Day. "The persecution of minorities in China is among the worst crime against human rights the world has ever seen. It has been described as a genocide by some international observers and judicial authorities," noted Ann-Sofie Alm, a Swedish Member of Parliament.
Samuel D. Brownback, U.S. Ambassador at Large for International Religious Freedom, stated on November 18, 2020, that China has one of the worst religious persecutions in the world, if not the worst.
In its report titled "The Darkness Deepens: The Crackdown on Human Rights in China 2016-2020," released on January 13, 2021, the U.K. Conservative Party Human Rights Commission stated, "The use of abhorrent practices such as the imprisonment and torture of dissidents, mass surveillance, organ harvesting, and the use of slave labour shows the Chinese Communist Party for what it is." It urged the British government to "lead the establishment of an international coalition of democracies to coordinate a global response to the human rights crisis in China."
The international community, especially the United States, has started taking action against the CCP.
Former U.S. President Donald Trump met 27 victims of religious persecution, including Ms. Zhang Yuhua, a Falun Gong practitioner, in the White House, on July 17, 2020.
Former Secretary of State Mike Pompeo issued an official statement on July 20, 2020, stating, "We call on the PRC government to immediately end its depraved abuse and mistreatment of Falun Gong practitioners, release those imprisoned due to their beliefs, such as Ma Zhenyu, and address the whereabouts of missing practitioners. Twenty-one years of persecution of Falun Gong practitioners is far too long, and it must end."
Robert Destro, Assistant Secretary of State, and Amb. Sam Brownback met with five Falun Gong practitioners on the same day of Pompeo's statement.
The U.S. State Department announced sanctions against 17 foreign officials for committing human rights violations, including Huang Yuanxiong, a police station chief in China who "is associated with particularly severe violations of religious freedom of Falun Gong practitioners."
U.S. House Representative Scott Perry, along with Representatives Tim Burchett and Scott DesJarlais, introduced legislation on October 1, 2020, to add the CCP to the Top International Criminal Organizations Target List and provide U.S. law enforcement agencies a strategic directive to target the CCP's malign activity.
U.S. Senator Tom Cotton and House Representatives Chris Smith and Tom Suozzi jointly introduced the Stop Forced Organ Harvesting Act on December 16, 2020. The act "aims to prevent the Chinese Communist Party from harvesting organs from prisoners of conscience." In his statement, Sen. Cotton stated, "According to an international tribunal in London, Chinese doctors harvest organs from detainees in Chinese prison camps—sometimes while patients are still alive—for sale in a market worth $1 billion a year."
The Republican Party's China Task Force at the U.S. Congress unveiled its final report on September 30, 2020. The report recommended the United States take actions and sanction measures against the CCP's forced organ harvesting. Representative Guy Reschenthaler, a member of the task force, introduced "Stop Predatory Organ Trafficking Act" resolution.
Falun Gong practitioners have brought lawsuits to International Criminal Tribunal and courts in the U.S., Canada, Germany, France, the Netherlands, Spain, Belgium, Australia, New Zealand, Taiwan, South Korea and many other countries since 2002. These lawsuits accuse former CCP leader Jiang Zemin and other officials, including Zeng Qinghong and Zhou Yongkang, and the 610 Office of committing crimes against humanity and genocide.
The time to hold the CCP accountable for its crimes against Falun Gong will come soon.