U.S. Ambassador at Large: The CCP Won't Succeed in Its Persecution Against Faith
Nov. 22, 2020 | By Minghui correspondent Wang Ying
(Minghui.org) During a press conference on November 17, 2020, the "2020 Ministerial to Advance Freedom of Religion or Belief," Samuel D. Brownback, U.S. Ambassador at Large for International Religious Freedom, said that the Chinese Communist Party (CCP) is having a war on faith, but they will not succeed.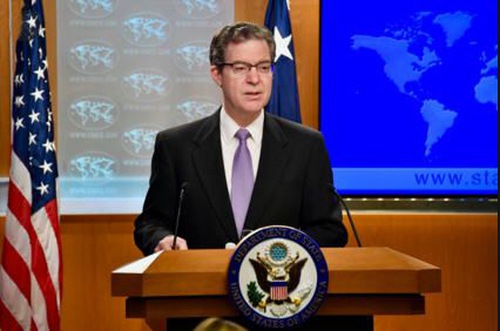 U.S. Ambassador at Large, Samuel Brownback
Ambassador Brownback said that the world is having a global religious freedom movement. He praised Poland for hosting the third annual Ministerial to Advance Religious Freedom or Belief, which was the first one hosted outside of the U.S., and the event was very successful. He also congratulated Brazil for hosting the fourth event next year.
He said that too much religious persecution is happening around the world, targeting nearly 80 percent of the world's population.
He said that even during the pandemic, the U.S. was still working hard to push for freedom of religion and belief. "We advocated for prisoners of conscience to be released during the pandemic, while the incarceration setting is one of the most virulent ways for the COVID virus to be communicated to various individuals. We want to have the practice that you're not locked up for your faith, that people can freely practice their faith without fear of incarceration, and that's our objective moving forward."
He added that he was saddened to see "this level and scale of religious persecution" and he feels the pain. But meanwhile, he said, "We're pushing back against that, and this global movement has now launched and it will not be deterred, it will not be thwarted."
After being asked about the religious persecution in China, Ambassador Brownback said, "What China is doing is absolutely wrong. It's one of the worst religious persecution situations in the world today, if not the worst."
"We continue to call on China to stop their war on faith, which will not be successful anyway, but against the Uyghurs, against the Tibetan Buddhists, against the Christian house church, against the Catholic Church, against Falun Gong. They are persecuting all faiths."
He said that they are working to stop the spread of using technologies to create virtual police states to persecute religious adherence. The CCP is doing that in Tibet and Xinjiang, and rolling out its surveillance of people in different parts of the country. "And we want to stop this from spreading to other countries around the world."
Ambassador Brownback also said at the "2020 Ministerial to Advance Freedom of Religion or Belief" the day before that many countries have recognized the importance of religious freedom and joined the "International Religious Freedom or Belief Alliance." He urged more countries to join the alliance and the global movement to protect religious freedom.
"We can confront nations who most egregiously violate this human right. We can urge nations who sit idly by tolerating abuses committed by non-state actors to immediately end these violations and abuses. We can press for the release of religious prisoners who are detained solely because of peacefully practicing their faith. We can join with other groups to amplify the voices of those who are oppressed and dispossessed."
"The time is now to end religious persecution around the world and we can do it together." he said.
Related report:
U.S. Secretary of State Condemns CCP's Religious Persecution at the Ministerial to Advance Religious Freedom