Family Loses Contact with Imprisoned Man in Serious Condition
(Minghui.org) A 49-year-old man in Lingyuan City, Liaoning Province, suffered kidney and heart failure while serving a 4.5-year term for his faith in Falun Gong. Mr. Zhao Changfu's family hasn't been able to contact him since he was transferred from a regular hospital to the prison hospital. They are very worried about him.
Falun Gong, also known as Falun Dafa, is a spiritual discipline that has been persecuted by the Chinese communist regime since 1999.
Mr. Zhao and his wife, Ms. Sun Guangli, were preparing to take their son to school on August 22, 2018, when they were arrested by the police. Ms. Sun was later released while Mr. Zhao was admitted to Lingyuan City Detention Center.
Mr. Zhao went on a hunger strike on the morning of October 26, 2018, to protest the persecution. He was force-fed and tied up in a spread-eagle position to a 5 by 6 ft wooden board.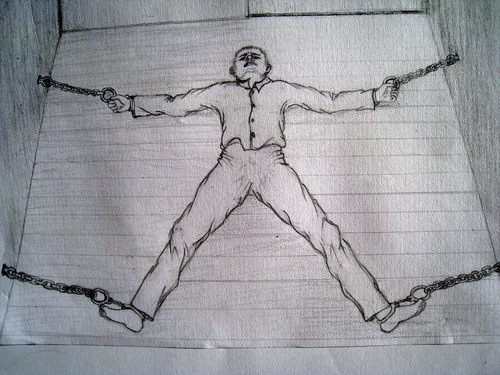 Torture illustration: tied up in spread-eagle position
After over 10 months of detention, Mr. Zhao's feet started festering and discharging pus. He also developed high blood pressure. When his family went to visit him, he was too weak and had to be carried out by four people. He was later taken to Chaoyang City Chinese Medicine Hospital for treatment.
Mr. Zhao was tried by the Lingyuan City Court on June 5, 2019. He was taken back to the detention center on June 17, before being sentenced to 4.5 years.
The authorities transferred Mr. Zhao to the Jinzhou Supervising Prison on September 3, 2019, and then took him to the Kangjiashan Prison about one month later.
As Mr. Zhao suffered kidney and heart failure, he was taken to the Shenyang City No.4 Hospital for treatment. When his condition improved, the authorities transferred him to the Xinkang Prison Hospital, where communication with his family was completely cut off.
Previous Arrests and Detentions
This is not the first time that Mr. Zhao has been persecuted for his faith in Falun Gong.
On October 11, 2000, he was arrested for traveling to Beijing to appeal for Falun Gong and was subsequently given 2 years at Xidayingzi Forced Labor Camp.
Mr. Zhao took a friend to Beijing to see a doctor on January 17, 2010, and was arrested when checking into a hotel. Hotel staff had reported him upon noticing that his information was in the police database of Falun Gong practitioners. He was once again sent to a labor camp to serve two and a half years, during which time he was often beaten and deprived of sleep.
Related reports:
Liaoning Man Hospitalized After Being in Detention for More Than 10 Months for His Faith
Couple Arrested for Their Faith Before Taking Son Back to School
Falun Gong Practitioner Mr. Zhao Changfu of Lingyuan City Tortured
All articles, graphics, and content published on Minghui.org are copyrighted. Non-commercial reproduction is allowed but requires attribution with the article title and a link to the original article.