Woman Dies in Prison Two Days Before Scheduled Release
(Minghui.org)
Chinese name: 苏云霞Gender: FemaleAge: 67City: HarbinProvince: HeilongjiangOccupation: NADate of Death: September 4, 2021Date of Most Recent Arrest: September 7, 2016Most recent place of detention: Heilongjiang Province Women's Prison
Ms. Su Yunxia died while imprisoned, two days before her five-year term for practicing Falun Gong was about to expire.
Falun Gong, also known as Falun Dafa, is a spiritual discipline that has been persecuted by the Chinese communist regime since 1999.
Ms. Su, of Harbin City, Heilongjiang Province, was arrested on September 7, 2016 after being reported for talking to people about Falun Gong on the street. All Falun Gong informational materials she had in her purse, including DVDs and printouts, as well as the banknotes printed with messages about Falun Gong as a creative way to counter strict information censorship in China, were confiscated.
Wang Wei, head of the Sanke Police Station, led a few officers to ransack Ms. Su's home in the evening and confiscated her Falun Gong books, more informational materials, and a tablet.
To seek Ms. Su's release, her bedridden husband went to the police station in a wheelchair with the help of Ms. Su's niece, only to be blocked outside.
Ms. Su's arrest was approved in late September 2016. The Daowai District Procuratorate indicted her on October 27. The Daowai District Court sentenced her to a five-year prison term and a 10,000 yuan fine on March 31, 2017.
Ms. Su was scheduled to be released from the Heilongjiang Province Women's Prison on September 6, 2021, but she was persecuted to death two days prior, before she could return home to reunite with her family. She was 67 years old.
According to an insider, the inmates beat Ms. Su on September 4, as she refused to renounce Falun Gong. The prison also refused to give her the release notice for the same reason.
After she was beaten to death, the guards covered her body with a white cloth and kept it in the hallway in the eighth ward. The inmates were very scared and didn't dare to come out of their cells to use the restroom in the evening.
The Heilongjiang Province Women's Prison has been at the forefront in persecuting Falun Gong practitioners since 1999. Thousands of practitioners have been incarcerated here, with 90% of them being severely injured or maimed due to the torture. At least 31 have been tortured to death here.
Ms. Zhao Chunyan, of Jixi City, was released from the prison on July 16, 2018 in an ambulance. She had lost more than a third of her body weight and was unable to walk. She died 12 days later, at the age of 65.
Prior to Ms. Su's latest prison sentence, she was given forced labor in 2001 and served an unknown term at the Wanjia Forced Labor Camp. The guards pulled her arms up from behind her back and hung her from an upper bunk bed, with her toes barely touching the ground and her mouth taped.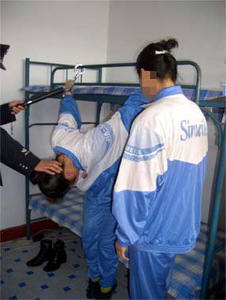 Torture reenactment: being hung up
All articles, graphics, and content published on Minghui.org are copyrighted. Non-commercial reproduction is allowed but requires attribution with the article title and a link to the original article.