Hudson Institute: Online Forum Focuses on Organ Harvesting by the CCP
(Minghui.org) Hudson Institute, a think tank in Washington, D.C., held an online forum on October 18 titled "China's War on Religion." Given the severe persecution of Uyghurs, Muslims, Christians, practitioners of Falun Dafa (also known as Falun Gong), and Tibetan Buddhists by the Chinese Communist Party (CCP), the forum set out to discuss how the U.S. and other democratic countries can help promote greater religious freedom and human rights in China.
Moderated by Nina Shea, Senior Fellow and Director, Center for Religious Freedom at Hudson Institute, the panel also included Xiaoxu Sean Lin (spokesperson for the Falun Dafa Association in Washington D.C.), Robert A. Destro (Professor of Law at Catholic University of America and former Assistant Secretary of State for Democracy, Human Rights, and Labor), and Nury Turkel (Senior Fellow, Hudson Institute).

Speakers participate in the Hudson Institute's online forum titled "China's War on Religion" on October 18, 2021.
Shea specifically invited Lin to talk about the CCP's forced organ harvesting from living Falun Gong practitioners in China. The atrocities have expanded beyond Falun Gong practitioners to other minority groups.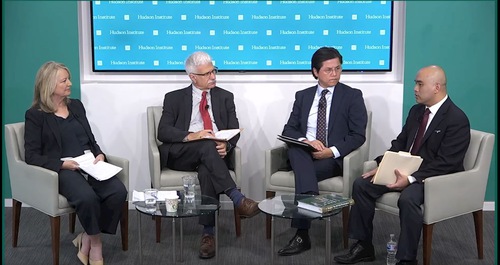 Panel discussion during the forum
Killing On Demand
Many prisoners of conscience have been detained in China, including Falun Gong practitioners and Uyghurs, who are treated as if they are organ farms, Lin explained. By collecting blood type, organ and tissue information from detainees, the CCP has built a large database for organ transplant centers. When there is a need for a particular organ, officials could search the database, locate a specific detainee, and kill the person for the organ to make a profit.
Such a supply chain is made possible by the Chinese police, procuratorate, court, and justice system, as well as the healthcare network. According to a judgment by the independent China Tribunal in London, Falun Gong practitioners are the main source of organ harvesting. Evidence shows that CCP officials could go to a practitioner's home–citing any excuse or no excuse–to arrest that individual and extract his or her organs during detention.
A Crime Against Numerous Groups
The suppression of Falun Gong started in July 1999. Since then, practitioners have been subjected to arrest, torture, forced labor, intense brainwashing, as well as organ harvesting. Unfortunately, the CCP has further extended its persecution of Falun Gong practitioners to other religious groups, while some international organizations have remained silent and even acted as accomplices, added Lin.
The United Nations, in particular, has not taken concrete actions to stop the tragedy. Doctors Against Forced Organ Harvesting (DAFOH), for example, submitted millions of petition signatures to the United Nations Human Rights Council several years ago, urging the body to address the CCP's forced organ harvesting, but no response was ever received from the UN. The World Health Organization (WHO) even worked with the CCP to form a special task force on organ harvesting, with Huang Jiefu, former Vice Minister of Health in China, serving on the task force.
Destro said the CCP initially supported Falun Gong for its physical and spiritual benefits. It also promoted the practice through Chinese embassies. But as Falun Gong became more popular and attracted many practitioners, the regime began to suppress it.
More specifically, once the CCP discovered that the number of practitioners exceeded that of CCP members, it exhausted the country's police forces to suppress Falun Gong, claiming the lives of many practitioners. Even today, the regime views Falun Gong as an existential threat. To help inform Chinese people of what's going on, Falun Gong practitioners have developed tools to help people overcome the CCP's internet blockade and access uncensored information.
According to Minghui.org, at least 674 Falun Gong practitioners were sentenced for their faith in the first six months of 2021. In July and August alone, 24 practitioners died as a result of the persecution.
Sanctioning Perpetrators
Destro said the CCP has acted like a criminal organization that sells organs of Chinese people. He said the victims are largely Falun Gong practitioners, although they also include Uyghurs. Even ordinary students have gone missing under suspicious circumstances. As long as the CCP owns one's DNA information, it could perform tissue matching with organ transplant centers. Instead of admitting it is committing a crime, the CCP proudly advertises its organ transplantation capabilities.
To stop this tragedy, Destro proposed to sanction Chinese doctors involved in forced organ harvesting. For example, she said, they should be barred from entering Europe and the U.S., and prohibited from publishing articles in medical journals.
As Assistant Secretary for the Bureau of Democracy, Human Rights, and Labor (DRL), Destro met with five Falun Gong practitioners on July 20, 2020. He said the U.S. government has been planning actions against CCP officials who participate in forced organ harvesting. They include measures such as lawsuits to hold the perpetrators accountable.
"I can't think of a more horrific human rights abuse than stealing somebody's liver. I mean, this is – this is – we have had consistent reports of this," he said in a U.S. Department of State briefing on October 16, 2020. "We have actually looked into allegations of it."
During the Hudson Institute forum, he further praised Falun Gong practitioners' efforts to expose the CCP's crimes, adding that practitioners have made remarkable contributions in investigating organ transplant hospitals in China, such as their "green channels" to speed up organ transportation. Destro called on more help to get the information out so that more people would know about it.
Shea agreed. She said forced organ harvesting is a crime against humanity and that a campaign is needed to expose and end the atrocity.
Destro said if the CCP's forced organ harvesting is deemed a genocide, more of the public would be made aware. He and other panelists also proposed plans to stop religious persecution in China, including use of the Magnitsky Act, barring Chinese doctors involved in the crime from entry, and banning them from publishing research papers.
All articles, graphics, and content published on Minghui.org are copyrighted. Non-commercial reproduction is allowed but requires attribution with the article title and a link to the original article.