Elected Officials Around the Globe Condemn the Persecution of Falun Gong
(Minghui.org) Falun Dafa, a meditation system based on the principles of Truthfulness-Compassion-Forbearance, has been suppressed by the Chinese Communist Party (CCP) since July 20, 1999. Despite the harsh environment, Falun Gong practitioners both inside and outside of China have been working hard to raise awareness of the persecution and debunk the CCP's defamatory propaganda against the peaceful practice.
While the persecution of Falun Dafa (also known as Falun Gong) has awakened many to the CCP's infringement upon the freedom of belief and violation of human rights, the ongoing coronavirus pandemic has enabled more in the world to further see through the CCP's deceptive nature and disregard for human life. Elected officials and ordinary citizens alike have realized that the harm of the CCP, if left unchecked, could eventually bring down the world.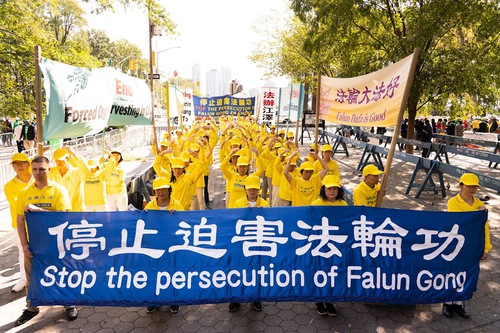 Rally during the United Nations Summit on July 24, 2019
From the United States and Canada to Europe, from Australia to Hong Kong and Taiwan, governments and citizens have begun to reflect on their relationship with the CCP and come to see that the CCP's core ideology of deceit, lies, and violence goes against the traditional values of kindness and tolerance. Many elected officials have spoken up against the CCP and shown support to Falun Gong practitioners in their pursuit to live by the principles of Truthfulness-Compassion-Forbearance.
The United States Administration Calls to End the Brutality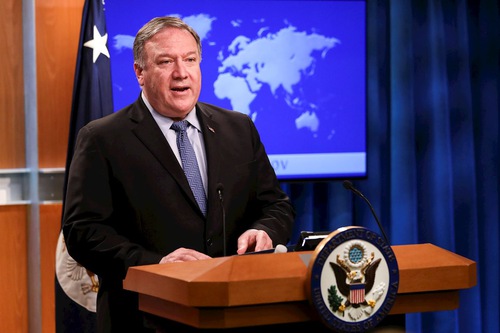 Micheal Pompeo, Secretary of State of the United States
Michael Pompeo, the U.S. Secretary of State, issued a statement on July 20, 2020, calling on the CCP to stop persecuting Falun Gong. "We call on the PRC government to immediately end its depraved abuse and mistreatment of Falun Gong practitioners, release those imprisoned due to their beliefs, such as Ma Zhenyu, and address the whereabouts of missing practitioners. Twenty-one years of persecution of Falun Gong practitioners is far too long, and it must end," he wrote.
Mr. Ma is a Falun Gong practitioner in Jiangsu Province. His wife, Ms. Zhang Yuhua, and four other practitioners were invited to meet Robert Destro, Assistant Secretary for the Bureau of Democracy, Human Rights, and Labor (DRL), on July 20. Sam Brownback, the U.S. Ambassador at Large for International Religious Freedom, also called into the meeting online.
Levi Browde, Executive Director of Falun Dafa Information Center and one of the five practitioners, thanked the US officials for their help of practitioners inside the U.S. and those inside China. He said the persecution and massive hate propaganda against Falun Gong drew on the CCP's experience of launching numerous political campaigns in the past several decades. Many of the CCP's crimes against practitioners, such as brainwashing and torture, especially forced organ harvesting, were also used on other minorities or prisoners of conscience.
Browde also briefed the US officials on the efforts of Falun Gong practitioners in China, who have been exposing the CCP's persecution during the past 21 years. As all legal channels to appeal for the right to practice Falun Gong have been blocked, practitioners in China have been using creative ways to raise awareness of the persecution, including running small family-based centers to print and distribute informational materials. These materials highlight the sharp contrast between Falun Gong's principles of Truthfulness-Compassion-Forbearance and the CCP's violence, lies, and class struggle, and call on people to separate themselves from the CCP. Browde said these efforts are not only critical to China but could also be helpful to other nations as well, as they seek to distance themselves from the CCP.
Both Destro and Brownback asked many questions, including forced organ harvesting and other types of crimes against practitioners. They praised practitioners for their courage and peaceful efforts and welcomed follow-up information exchange on this important matter.
British Foreign Secretary: Deeply Concerned about the Suppression
When speaking in the British Parliament on July 20, Member of Parliament Jim Shannon reiterated the forced organ harvesting and other types of mistreatment against Falun Gong practitioners in China. He said numerous independent investigations had confirmed the brutality and urged the U.K. government to take action, such as a travel ban and freezing assets of human rights violators from China.
Foreign Secretary Dominic Raab expressed deep concerns in the meeting about the religious persecution of Falun Gong and other groups in China.
Joint Statement from 606 Lawmakers in 30 Countries
Recently, 606 legislators from 30 countries signed a joint statement on July 18, condemning the 21-year-long "systematic and brutal" persecution of the peaceful spiritual discipline of Falun Gong. The joint statement was initiated by two senior Canadian MPs, Peter Kent and Judy Sgro, as well as Swedish MP Ann-Sofie Alm.
Other cosigners are current and former officials from the United Kingdom, Germany, France, Italy, Denmark, Ireland, the Netherlands, Switzerland, Belgium, Romania, Austria, Poland, the Czech Republic, Slovakia, Israel, Australia, New Zealand, Latvia, Norway, Argentina, Japan, Taiwan, Venezuela, Chile, Estonia, Hungary, the United States, and Indonesia.
"I want to raise awareness of the many Falun Gong practitioners who have been detained in 're-education through labor' camps, prisons, and other detention facilities as prisoners of conscience. There have been reports of torture and even forced organ harvesting. That is why this joint statement was initiated," wrote Ann-Sofie Alm, Member of Parliament in Sweden, "In fact, the persecution of minorities in China is among the worst crimes against human rights the world has ever seen. It has been described as a genocide by some international observers and judicial authorities."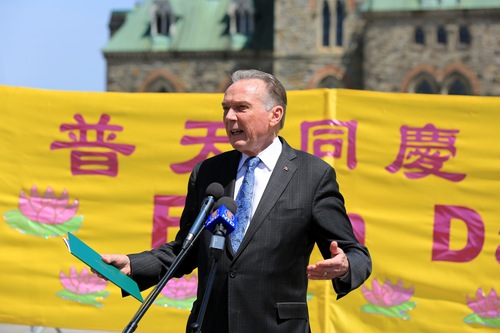 Peter Kent, Member of Parliament in Canada, attended the rally of Falun Gong practitioners on May 9, 2018.
Peter Kent, MP, agreed. "I call on the international community to speak up more forcefully and more publicly in denouncing the Chinese government's continuing state-sponsored denial of fundamental human rights," he wrote, "We must continue to work and hope that China will one day respect rule of law, the freedom of speech, assembly, and religion; a day when the tenets of Falun Gong can be spoken loud in Tiananmen square: Truthfulness, Compassion, Tolerance."
The statement said the CCP's atrocities against practitioners had been well-documented by human rights organizations, governmental bodies, and the United Nations. For example, the European Parliament passed resolution 2013/2981(RSP) in 2013, "expresses its deep concern over the persistent and credible reports of systematic, state-sanctioned organ harvesting from non-consenting prisoners of conscience in the People's Republic of China, including from large numbers of Falun Gong practitioners."
In 2016, the U.S. Congress unanimously passed a similar resolution, H.Res. 343. In 2019, an Independent Tribunal in the UK, chaired by Sir Geoffrey Nice QC, concluded that "forced organ harvesting has been committed for years throughout China on a significant scale and that Falun Gong practitioners have been one—and probably the main—source of organ supply."
"We, the undersigned, therefore urge the Chinese government to respect international norms and the United Nations International Covenant on Civil and Political Rights which China is a signatory to, and to immediately stop the persecution of Falun Gong in China, and to unconditionally release all detained Falun Gong practitioners and other prisoners of conscience," concluded the statement.
Support from Around the World
Inside the United States, 34 Congress members recently sent letters to practitioners, condemning the CCP for its brutality against Falun Gong practitioners and calling for an end to the persecution.
"Today marks 21 years since the Chinese government launched a brutal campaign to eliminate Falun Gong, a traditional Chinese religion based on a philosophy of truthfulness, compassion, and tolerance," wrote Patrick Leahy, Senator from Vermont.
"The Chinese government should immediately cease its arbitrary detention and brutalization of Falun Gong practitioners and other religious and ethnic minorities... The plight of Falun Gong in China demands our attention and condemnation," he continued.
Representative Ken Calvert from California said Falun Gong practitioners had been subjected to abuse, torture, illegal imprisonment, and forced organ harvesting. "This brutal persecution is intolerable and must stop," he said.
Rep. Anthony Gonzalez from Ohio wrote, "I am a proud member of the China Task Force in the U.S. House of Representatives and remain focused on holding the CCP accountable for their gross violations and human rights and brutal practices against their own citizens. I support the Falun Gong's resilience and tenacity in their freedom of information efforts against the CCP."
After the CCP implemented the National Security Law in Hong Kong, councilors praised Falun Gong practitioners for their perseverance in safeguarding their faith despite the harsh persecution.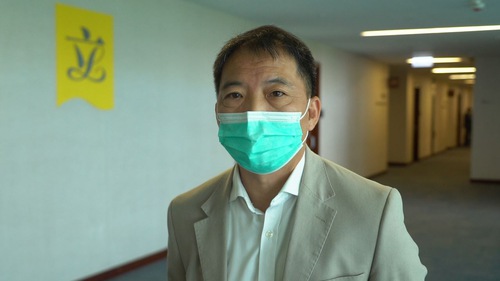 Wu Chi-wai, Chairman of the Democratic Party and Member of the Legislative Council
Councilor Wu Chi-wai said many people in Hong Kong had doubts about the persecution of Falun Gong practitioners because they were misled by the CCP's lies. With the CCP's continued and steady encroachment of Hong Kong's cherished freedoms, residents began protesting the extradition bill last year.
He said people had begun to awaken and realize that Hong Kong is immersed in the CCP's propaganda and brainwashing campaign. Many people now understand that the CCP's persecution of Falun Gong reveals its real, evil nature.