Former Accountant Faces Trial for Her Faith, Family Threatened Not to Speak Up for Her
(Minghui.org) A Guangzhou City, Guangdong Province resident is facing a court hearing on October 15, 2021, for her faith in Falun Gong, a spiritual discipline that has been persecuted by the Chinese communist regime since 1999.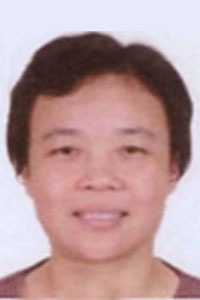 Ms. Zhang Chunhe
Ms. Zhang Chunhe, a 62-year-old former accountant, was arrested at home at 8 p.m. on April 10, 2021, after the police deceived her into opening the door by claiming that she needed to do a coronavirus test.
The police ransacked Ms. Zhang's home. Her Falun Gong books, computer, MP3, flash-drive, cellphone and tablet were confiscated. After she was taken to the police station, the police put a seal on her door, which read, "Sealed by the Xiyuan Police Station of Zengcheng District, Guangzhou City." She has been held at the Zengcheng District Detention Center since.
Through her lawyer, Ms. Zhang asked her family to put away the 80,000 USD she kept at home. Her family made numerous requests, but the police didn't remove the seal and allow them to go inside the home until three weeks later. Ms. Zhang's family couldn't find the money, despite having searched everywhere several times. They again asked the lawyer to ask Ms. Zhang where exactly she had placed the money, but they still couldn't find anything after repeated searches.
Ms. Zhang's family understands that there is no evidence of who took the money, but they said they are positive that the money would not have disappeared had the police not ransacked her home. 
Her family also visited the police station many times and demanded her release. The police refused to release Ms. Zhang and threatened the family, ordering them not to speak up for their loved one. 
In June 2021, Ms. Zhang's family filed complaints with the Guangzhou City Procuratorate and the Guangdong Province Procuratorate. Their arguments included the following points: 1) No law has ever criminalized Falun Gong in China; 2) Ms. Zhang was merely practicing her faith and striving to be a good person; and 3) No evidence indicated how she had "undermined the law enforcement" – the standard pretext used by the authorities to imprison Falun Gong practitioners.
Ms. Zhang has also written at least five letters to the police herself to explain the facts about Falun Gong and demand her release. 
The Zengcheng District Procuratorate approved Ms. Zhang's arrest on May 17. After the police submitted her case to the procuratorate on July 6, the latter transferred the case to the Haizhu District Procuratorate in early August. The Haizhu District Procuratorate, which has been assigned to handle most Falun Gong cases in the Guangzhou region, soon indicted Ms. Zhang and moved her case to the Haizhu District Court. She is scheduled to appear in court on October 15.
It's reported that the police have begun to monitor the phone calls of Ms. Zhang's family members, as well as Falun Gong practitioners who had contact with her.
After Ms. Zhang was arrested, the local police and various residential committees frequently harassed Falun Gong practitioners across the province, and ordered them not to contact each other or get involved in the efforts to rescue Ms. Zhang. Many practitioners were summoned to their local police stations and interrogated. One practitioner was detained for a day after the police found she'd contacted another practitioner through WeChat to discuss details about how to secure Ms. Zhang's release.
Ms. Zhang's family also told a Minghui correspondent that the police were monitoring her banking activities very carefully. Some practitioners in other cities have been asked by the police why they borrowed money from Ms. Zhang.
Perpetrators' contact information:
Gao Yonghui (高勇辉), guard, Zengcheng District Detention Center: +86-13609091933Liu Zhi (刘智), secretary, Xingfa Residential Committee: +86-20-82731475Lin Jishen (林继深), prosecutor. Haizhu District Procuratorate: +86-20-89017703
(More perpetrators' contact information is available in the original Chinese article.)
Related reports:
Former Accountant Arrested for Refusing To Renounce Her Faith
Ms. Zhang Chunhe Has Been Detained for Seven Months, Now in Serious Condition
Ms. Zhang is in Critical Condition at the Zengcheng City Detention in Guangdong Province
Ms. Zhang Chunhe, Critically Ill, Still Detained by Zengcheng City 610 Office
Ms. Zhang Chunhe Continues to Be Persecuted in the Armed Police Hospital, Guangdong Province
Ms. Zhang Chunhe in Serious Condition, but Police in Zengcheng City, Guangdong Province Still Intend to Send Her to Prison
All articles, graphics, and content published on Minghui.org are copyrighted. Non-commercial reproduction is allowed but requires attribution with the article title and a link to the original article.