Former Accountant Arrested for Refusing To Renounce Her Faith
Aug. 31, 2021 | By a Minghui correspondent in Guangdong Province, China
(Minghui.org) A Guangzhou City, Guangdong Province resident has been detained for four months following her arrest for not renouncing her faith in Falun Gong, a spiritual discipline that has been persecuted by the Chinese communist regime since 1999. It was reported that Ms. Zhang Chunhe is experiencing a medical condition and her family is very worried about her.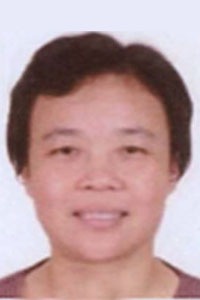 Ms. Zhang Chunhe
Ms. Zhang, a former accountant, began to practice Falun Gong in 1994. For holding fast to her faith, she has been constantly harassed and arrested five times. She was once held in a brainwashing center for over six months. She also served one year of forced labor and three years in prison. Unable to bear the pressure, her husband divorced her.
The communist regime launched the "Zero-out" campaign in October 2020, aimed at forcing every Falun Gong practitioner on the government's blacklist to renounce their faith. Ms. Zhang was targeted and subjected to over two months of brainwashing. Huang Jiechun of the Licheng Street Commission, Liu Zhi of the Xingfa Residential Committee, and Abbott Wuzhen of the Changshou Temple all participated in the brainwashing. Ms. Zhang stayed firm in her faith and urged the perpetrators not to participate in the persecution.
Unable to transform Ms. Zhang, the officials reported her to the police, with the excuse that she promoted Falun Gong to them.
A dozen officers from the Zengcheng District Police Department and Xiyuan Police Station broke into Ms. Zhang's home at 8 p.m. on April 10, 2021, after tricking her into opening the door by claiming the need to do a coronavirus test.
After Ms. Zhang was taken to the police station, the police put a seal on her door, which said "Sealed by Xiyuan Police Station of Zengcheng District, Guangzhou City."
Using Falun Gong books and materials confiscated from Ms. Zhang as prosecution evidence against her, the police submitted her case to the Zengcheng District Procuratorate. The prosecutor approved her arrest on May 17 and transferred her case to the Haizhu District Procuratorate in early August. The Haizhu District Procuratorate has been assigned to handle Falun Gong cases in the Guangzhou area to expedite the prosecution process.
It was reported that Ms. Zhang recently experienced low blood sugar and her condition is serious.
Perpetrators' contact information:
Zhang Weixiong (张伟雄), deputy head of Xiyuan Police Station: +86-13802809771Liu Biquan (刘碧泉), police officer: +86-13928914886Guo Xiaogang (郭肖刚), officer of Zengcheng District Domestic Security Office: +86-13312831000Mai Weiguang (麦炜光), officer of Zengcheng District Domestic Security Office: +86-13928921993
(More perpetrators' contact information is available in the original Chinese article.)
Related reports:
Ms. Zhang Chunhe Has Been Detained for Seven Months, Now in Serious Condition
Ms. Zhang is in Critical Condition at the Zengcheng City Detention in Guangdong Province
Ms. Zhang Chunhe, Critically Ill, Still Detained by Zengcheng City 610 Office
Ms. Zhang Chunhe Continues to Be Persecuted in the Armed Police Hospital, Guangdong Province
Ms. Zhang Chunhe in Serious Condition, but Police in Zengcheng City, Guangdong Province Still Intend to Send Her to Prison
All articles, graphics, and content published on Minghui.org are copyrighted. Non-commercial reproduction is allowed but requires attribution with the article title and a link to the original article.
Category: Accounts of Persecution