Four Siblings of a Yunnan Family Concurrently Sentenced and Imprisoned for Upholding Their Faith in Falun Gong
Jan. 26, 2021 | By a Minghui correspondent in Yunnan Province, China
(Minghui.org) The police broke into Ms. Gao Guilian's home in Kunming City, Yunnan Province, on April 19, 2014, while her family was having a meal with friends. Without showing any legal documents, the police arrested 14 people, simply because of their shared faith in Falun Gong, a spiritual discipline that has been persecuted by the Chinese communist regime since 1999.
Four siblings from the Gao family were later indicted and sentenced to prison. Two visiting practitioners, Ms. Zhou Qionghui and Mr. Zhang Guangqi, died as a result of torture while in custody.
Below are the detailed accounts of each of the siblings.
The Eldest Sibling – Ms. Gao Cuilian
Ms. Gao Cuilian, 49, is the eldest sibling in her family. She suffered muscle atrophy at age 23 and became handicapped. With other chronic illnesses, life became unbearable for her. She even thought about ending her life. It was only after she began to practice Falun Gong in the winter of 1998 that her life turned around. All of her illnesses went away and she became happy even though she still couldn't walk. She followed the principles of Truthfulness-Compassion-Forbearance, and her entire family lived in harmony.
Arm Fractured During Arrest
On April 19, 2014, Ms. Gao's family and several friends, 16 in all, were gathered at her place when the police broke in. The officers claimed that they were from the Beida Village Police Station and that the family had been reported for having an illegal gathering. Her father, Mr. Chen Louchang, and Mr. Yang Zixiang, a handicapped veteran and cousin of the Gao siblings, were the first two to be arrested.
Because Ms. Gao was unable to walk due to her disability, she called out for help. "The police are arresting good people!" she shouted.
More officers came, and one twisted Ms. Gao's left arm and pushed her down.
Her husband, Mr. Fu Peisheng, happened to be returning from work just then. He hurried over and tried to lift her up, only to be dragged away by a dozen officers who kicked his body and head.
The police arrested everyone else at the gathering who was able to walk, including Ms. Gao's husband and her two sisters.
Both Ms. Gao and her brother, Mr. Gao Kuaqi, who was in a wheelchair due to issues with his feet, were left behind. They watched the police turn the place upside down. One officer claimed that her place was messy and that he would shoot her if he was in charge. When Ms. Gao asked the officers for their names, they all replied, "We are the people's police."
Two days later, on April 21, Ms. Gao's parents-in-law took her to the hospital and learned that she had a spiral comminuted fracture and needed surgery on her arm. They did not have the money for the operation and went home. They took her to the Beida Village Police Station to file a compliant, but the director was not there and no one took her case.
Ms. Gao went to another hospital on April 23 for an X-ray of her arm.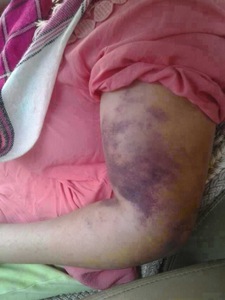 Ms. Gao Cuilian's arm was broken by a police officer when her home was raided.
After Ms. Gao's husband, Mr. Fu Pengsheng, was released, he took her to a third hospital on April 26, 2014. The doctor told them that government agents had informed the hospital that her surgery fees would be covered as long as she admitted that she broke her arm herself. But she refused to.
Ms. Gao's husband borrowed money for her operation, but tests before the operation showed she was allergic to the anesthesia, so surgery was no longer an option.
After returning home, Ms. Gao resumed practicing Falun Gong and her arm healed without surgery.
She filed a complaint with the Kunming City Procuratorate about police brutality. The staff there directed her to the local appeals office. She went there several times, but no one ever received her.
Sentenced to Prison
Ms. Gao, her three siblings, and their cousin Mr. Yang were later indicted. They appeared in the Shilin County Court on December 9, 2014. Ms. Gao's husband carried her into the courtroom. Her brother's son carried his father in. Her youngest sister, Ms. Gao Qiongfang, also had trouble walking that day.
Ms. Gao submitted her account of how the police broke her arm to the court. But the judge dismissed her claim and said they didn't find anything the police used to beat her.
The judge sentenced Ms. Gao, her brother, and Mr. Yang, in his 50s, to three and a half years in prison and her two sisters, Ms. Gao Cuifang and Ms. Gao Qiongfang, to three years each.
Ms. Gao was taken to the Yunnan Province Second Women's Prison in a wheelchair on Ju 9, 2015. She was closely monitored by an inmate during her entire term. Her family went to visit her six times, but was only allowed to see her the last time. She was released on December 8, 2018.
The police and residential committee staff members continued to harass her after she returned home. She were harassed seven times between January 2, 2019 and August 11, 2020.
On June 2, 2020, a residential committee staff member called her daughter and son to harass them. A month later, on July 10, 2020, the staff member called her husband and asked for their son's address, then found their son and asked him to sign a statement promising not to participate in any illegal activities. After Ms. Gao found out about it, she called the staff person who'd harassed her son and said it was illegal for her to harass him. The staff person replied, "Don't talk to me about the law."
The Second Sibling – Mr. Gao Kuaqi
Mr. Gao Kuaqi, 47, is the only son in the Gao family. He used to have severe gout. When his leg hurt, he was unable to walk and bedridden for days. He desperately sought a cure in many hospitals but to no avail.
A family member recommended Falun Gong to him in 2010. He took up the practice and his condition improved.
Following his sentence of three and a half years in prison, Mr. Gao was taken to the Yunnan Province First Men's Prison on June 9, 2015. Because he protested the illegal sentence by not complying with the prison rules, including wearing a badge or doing the required labor, the guards ordered inmates to torture him. They dragged him by his feet to the workshop, lifted him up, and then threw him down. They kicked and beat him in front of many inmates, and verbally abused him.
For some time, Mr. Gao noticed that his eyesight became blurry after he ate. He paid attention and discovered that an inmate was putting unknown drugs in his food. When he confronted the inmate and asked what the drug was, the inmate said it might be medicine for high blood pressure. Mr. Gao asked a guard about it since he did not have high blood pressure. The guard was unable to answer but criticized the inmate for telling him the truth.
Mr. Gao was released from prison on December 8, 2018, and the police from the Beida Village Police Station came to his home to harass him the same day. They attempted to take photos of him, but Ms. Gao Cuilian, who was also released that day, and their mother stopped them.
The Third Sibling – Ms. Gao Cuifang
Ms. Gao Cuifang, 44, is the third sibling in the Gao family. Her husband lost his mother when he was 14. He didn't finish school and began to work on construction sites to earn money. He once took on a project that turned out to be a scam. He lost a lot of money and owned a big debt.
To pay off the debt, Ms. Gao worked hard raising milk cows while caring for their child. The work took a toll on her health and she was diagnosed with Meniere's disease in 2007. She often felt very dizzy. Later, she also had seriously herniated lumbardisc which caused her so much pain that she could no longer work. She couldn't afford the 70,000 yuan operation and had to come back home. Life became too difficult for her, and her whole family was in deep despair.
Her sister, Ms. Gao Cuilian, had recommended Falun Gong to her before, but due to the demonizing propaganda spread by the CCP, she dared not accept it. Out of options, Ms. Gao decided to give Falun Gong a try. By studying the principles of Falun Gong and practicing the exercises, all of her ailment disappeared and she fully recovered. She has since been full of energy.
First Prison Term of Three Years
Having benefited from Falun Gong, Ms. Gao wanted to tell people about it and about the persecution. For talking to people in a market in 2008, she was arrested and later sentenced to three years in prison by the Kunming Intermediate Court.
Ms. Gao was taken to the Yunnan Province Second Women's Prison on March 19, 2009. From day one, she was forced to sit on a small stool from 6:00 a.m. to 11:00 p.m. without moving. She was verbally abused whenever she did. She was only allowed to use the toilet four times a day and was not allowed to take a bath. She was tortured like this for five and a half months. During this period, she felt dizzy and had a weak consciousness.
She was transferred from the ninth ward to the third ward on September 8, 2009. There, she became weaker and weaker. Her eyes ached, her stomach swelled, and her face, hands, and feet were numb. She sometimes could not move and had to sit on the ground.
Ms. Gao was taken to the prison hospital in June 2010 and a lump was discovered on her neck. The lump grew bigger and bigger, until she could no longer swallow the steamed buns the prison served. But the guards and doctors refused to provide her with food that she could swallow. When her condition worsened, the prison officials released her on April 12, 2011.
Her husband was living a hard life with two young children at home and barely enough food during the time she was imprisoned.
After returning home, she resumed practicing Falun Gong and the lump on her neck disappeared in less than a month.
Second Prison Term of Three Years
Ms. Gao Cuifang was also at the group gathering at her sister's house on April 19, 2014. After the police broke in, they knocked her down and dragged her by her feet more than 100 yards, pulling off her pants and shoes and tearing her underwear. She was taken to the Shiling County Police Department and interrogated on atiger bench for two days while being deprived of sleep. She was taken to the Kunming City Detention Center on April 21.
She was incarcerated in the Yunnan Province Second Women's Prison again after being sentenced by the Shilin County Court. The guards ordered the inmates to monitor and torture her. She was not allowed to leave the cell or talk to anyone. She was not given enough to eat and she ended up malnourished and dizzy. It was not until the prison doctor said that she needed nutrients that she was allowed to buy additional food.
Before she was released, her husband had an affair and their house was demolished. Her husband was in serious debt and couldn't afford to pay their daughter's high school tuition. Their 21-year-old son borrowed money to pay his sister's tuition.
Her husband later hit a person while he was driving and had to borrow more money to pay the person's medical expenses. Seeing that he didn't have any money, his mistress left him.
All the chaos upset Ms. Gao's son so much that he threatened to move out.
Third Sentence of One and a Half Years
After Ms. Gao was released on April 19, 2017, she forgave her husband and tried her best to bring the family together. She and her husband took on another construction project for a local resident. While talking to the owners, she clarified the facts about Falun Gong and gave them a Falun Gong sticker. The owners appreciated her and put up the sticker at their new home. However, when officials came to inspect the house, they noticed the sticker and arrested Ms. Gao again on April 29, 2018, when she was visiting her parents.
The police handcuffed her behind her back and dragged her away by the handcuffs. She was beaten and interrogated in the Jinsuo Police Station. The police also tightened her handcuffs and made her hands swell.
Ms. Gao's health deteriorated every day after she was taken to the Kunming City Detention Center. She couldn't eat or speak. She became too dizzy to stand up and often fainted. The police claimed that she was pretending and paid her no heed. Another detainee confirmed her condition, and she was taken to the hospital, where she was diagnosed with late-stage thyroid cancer. The detention center officials requested her release but judge Zhang Yunjiang of the Xundian County Court didn't agree to it.
Ms. Gao made her first court appearance on August 10, 2018. She was too weak to remain standing after a short while. A doctor was called in but he went along with judge Zhang and claimed that she was fine, so the hearing continued. The trial was later adjourned when Ms. Gao's lawyer asked to review more evidence.
Ms. Gao's second hearing was held in a makeshift courtroom in the Kunming City Detention Center on October 9, 2018. She was too weak to maintain a sitting position or even lift her head to answer questions during the hearing. At her lawyer's insistence, judge Zhang adjourned the hearing. He ordered her to be carried outside the courthouse and sat on the ground, still handcuffed.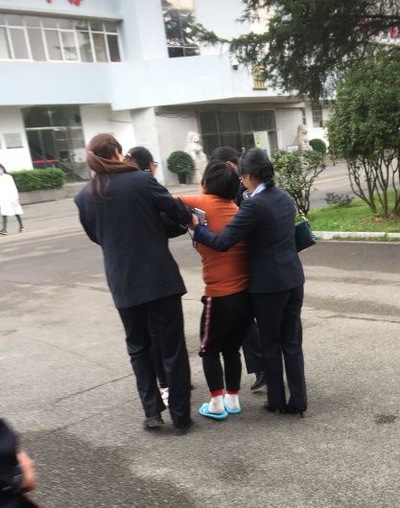 Ms. Gao Cuifang nearly collapsed at her hearing.
During the break, the lawyer cited Ms. Gao's recent physical exam that indicated her life-threatening condition and requested medical parole for her. The hearing ended early, at around noon.
The local procuratorate had Ms. Gao's husband sign a document on October 10 and said they would release her on medical parole in two days. Ms. Gao's family went to Xundian Court on October 12 to demand her medical parole, but judge Zhang refused to see them.
Ms. Gao was sentenced to a year and a half in prison on October 16 and taken to the Yunnan Province Second Women's Prison on December 20, 2018, despite her condition. Her health continued to deteriorate in prison. She became very weak, couldn't speak, had difficulty eating, and hurt all over. Her mother wrote to the prison to request her medical parole but to no avail.
Ms. Gao held steadfast to her faith in Falun Gong and knew it would be her only hope of surviving. Through practicing Falun Gong, her condition gradually improved.
When Ms. Gao was released on November 28, 2019, Yiliang County 610 Office agents and police officers went to the prison to harass her. She also discovered that the 1,800 yuan in her bank account had been frozen by the court.
Youngest Sibling – Ms. Gao Qiongfang
Ms. Gao Qiongfang, the youngest in the family, was also dragged into a police car and taken to the Shilin County Police Department when she was arrested on April 19, 2014. She was deprived of sleep and beaten during two days of interrogation.
Ms. Gao was taken to the Kunming City First Detention Center on April 21, 2014. She was repeatedly interrogated, beaten, and intimidated. She could not walk by the day of her trial in Shilin County Court on December 9, 2014. She was sentenced to three years in prison.
Ms. Gao was transferred to the Yunnan Province Second Women's Prison on June 5, 2015. She and other Falun Gong practitioners were placed under strict control and ordered to write a guarantee statement not to practice anymore.  They were also forced to sit on a small bench for a long time and not allowed to move or use the toilet.
She ended up with high blood pressure, high blood sugar, and poor liver function.
Persecution of the Parents
The four siblings' father Mr. Chen Louchang, 71, and their mother Ms. Gao Fengying, 67, were also arrested at the family's gathering on April 19, 2014. Two police officers twisted Mr. Chen's arms and arrested him. They took him to the Lufu Police Station in Shilin County. His hands and feet were tied to a tiger bench from 9:00 p.m to 10:00 a.m. the next day. His feet and hands were so swollen afterward that he could barely walk.
He was taken to the Shilin Detention Center on April 21, 2014. His lawyer visited him on May 13 and brought the news that his eldest daughter's arm had been broken. He wept and was very concerned about her. So he signed the guarantee statement against his will and was released on May 17.
Ms. Gao Fengying was taken to the Lumeiyi Police Station on the night of April 19, 2014. She was handcuffed to a stool for five hours while being interrogated. She was taken to the Kunming City First Detention Center on April 21, 2014. She was interrogated every two to three days while handcuffed. She was concerned about her eldest daughter and signed the guarantee statement against her will. She was then released.
Mr. Chen and Ms. Gao took up Falun Gong in 1998 when both suffered from various ailments and were in seriously bad health. Through Falun Gong practice, they regained their health.
Two Practitioners Die Following Persecution
While about half of the practitioners who were arrested during the police sweep at Ms. Gao Cuilian's home were released from detention 28 days later, two were later sentenced along with the Gao siblings and Mr. Yang. Ms. Ma Ling, in her 50s, was sentenced to four years, and her daughter Ms. Zhang Ji was sentenced to three and a half years. They are both from Kunming City
Two other practitioners died. Mr. Zhang Guangqi, about 70, from Yiliang County, was taken to Shilin Lufu Police Station on the night of April 19, 2014, and later transferred to Shilin Detention Center. Due to police violence and intimidation, his health deteriorated and he was on the verge of death. Fearing that he might die in the detention center, the police released him. At home he grew weaker and weaker and soon passed away.
Ms. Zhou Qionghui, in her 50s, from Yiliang County, was detained in Kunming City Detention Center for 28 days following her arrest. After she was released, the authorities often harassed her and tried to force her to sign the statement renouncing Falun Gong. The officers also harassed her daughter and ordered her to report any Falun Gong practitioners when they came to visit Ms. Zhou.
Living in fear, Ms. Zhou became weaker and weaker. Her breast cancer that had been cured by practicing Falun Gong relapsed. She passed away on June 12, 2015.
Related reports:
Lawyers Highlight Police Beating of Handicapped Practitioner
Practitioner's Arm Fractured by Police; Restored after One Month of Practicing
Cancer-Stricken Woman Appeals Wrongful Prison Sentence, Lawyer Pleads for Her Release on Parole
Cancer-stricken Woman Forced to Stand Trial and Sentenced to Prison, Lawyer Files Complaint Against Judge
Hearing Adjourned After Critically Ill Woman Became Too Weak to Talk
All articles, graphics, and content published on Minghui.org are copyrighted. Non-commercial reproduction is allowed but requires attribution with the article title and a link to the original article.
Category: Accounts of Persecution